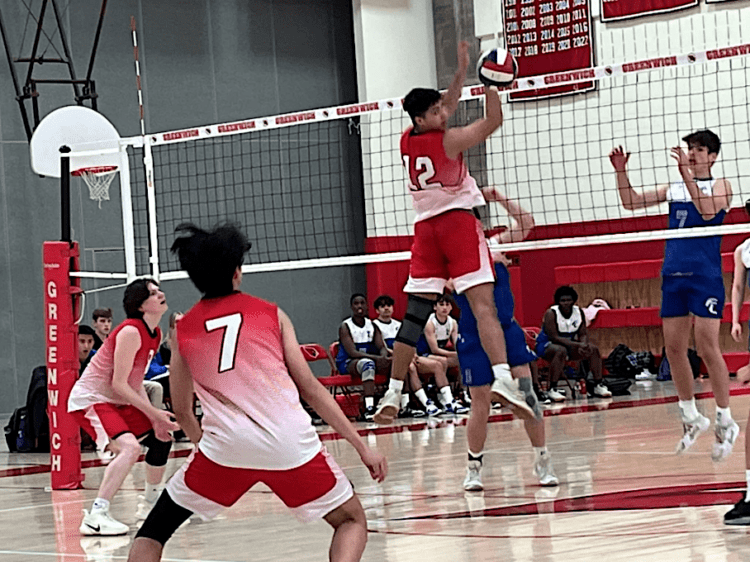 By David Fierro
After winning its previous two matches in impressive fashion, the Greenwich High School boys volleyball team seemed to carry the momentum they recently gathered into Monday's match against Fairfield Ludllowe, winning the first game against the Falcons.
Yet Ludlowe rallied, taking the next three games to put the breaks on the Cardinals' two-match winning streak.
Greenwich, which defeated Stamford and Bridgeport Central in its previous two matches, dropped a 3-1 decision to visiting Fairfield Ludlowe in an FCIAC matchup. The loss puts the Cardinals' record at 2-4.
"It was a good start, we did what we were supposed to do, then in games two, three and four, we started to do other things and we made unnecessary errors," Greenwich coach Marianna Linnehan said. "We have really good athletes and a lot of new players who are learning. We just have to put the pieces together."
Senior co-captains Ben Bowers and Ricardo Prado helped pace the Cardinals against the Falcons. Bowers, a two-season captain, registered 13 kills and 17 digs to help ignite Greenwich's offense.
"It's disappointing, it's a tough loss for sure," Bowers said. "A big change was our energy, we came out and were explosive and energetic. The second set, we got a little complacent. We took our foot off the gas and needed more energy."
Prado had two aces and one block for the Cardinals, who received six kills and 13 digs from junior James Kovac.
"We got off to a strong start in the first game," Prado noted. "But they are good and had some good sets in the second game. But we tried our best and we'll come from this. We're looking forward to the rest of the season."
Sophomore Keito Kukushima posted 15 digs for the Cardinals, whose best moments came during the opening set. The Cards builts leads of 10-3 and 12-3 with senior Jack Konigsberg serving.
Later in the set, Prado gave Greenwich a 15-9 lead with a kill and the home team carried the momentum thereafter.
The Falcons led for most of the second set, taking it 25-19. They also won the third and fourth games by the same score, as they played from in front the majority of the time.
Linnehan noted that the Cardinals have a lot of depth and are working on creating chemistry.
"The new players are catching on," Linnehan said. "I don't have a set lineup right now, I'm trying to figure out what the best situation is. It's good, because I have different scenarios and could put people in so many positions. It's just about what is going to mesh the best."
Said Prado: "We have some new players and our first two games were a little rough and we are all getting connected. The first year players are adjusting pretty well and are willing to learn new things. They're doing amazing for their first year on the team."
Greenwich has two more FCIAC matchups this week. The Cards visit Trumbull tomorrow, then host Danbury on Friday.
"We have a lot of height, a lot of potential," Bowers noted. "But almost our entire team have not played volleyball before. So, we just need more time. A lot of people we have on our team have so much potential."
"We need to be more stable and focus on consistency. We have incredible game play and moment, so we need to keep it up on a consistent basis."