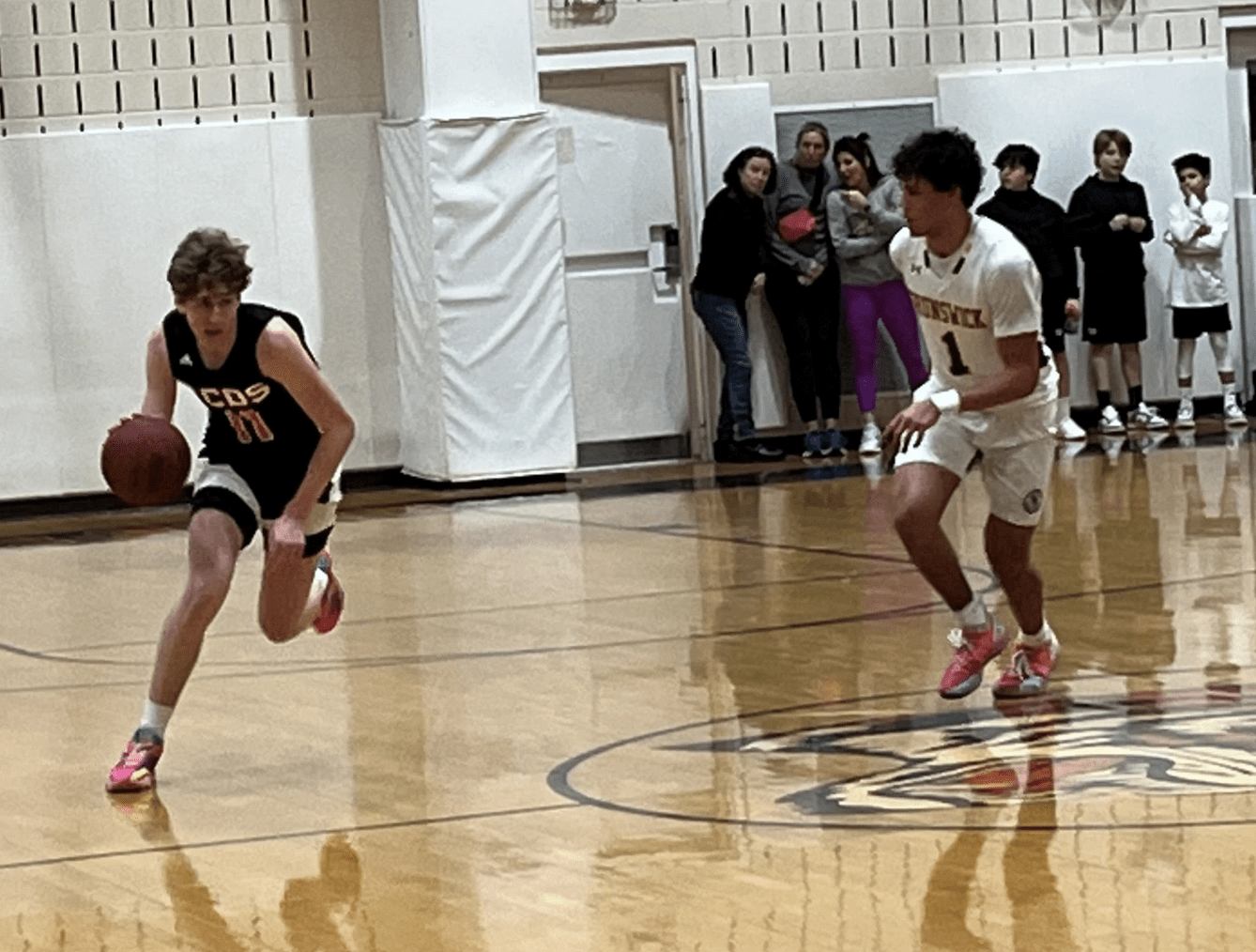 By David Fierro
First place in the FAA and the No. 1 seed in the league tournament was on the line when Greenwich Country Day School hosted Brunswick School Wednesday night in a basketball showdown in which both teams had their moments before the jam-packed house.
The Bruins' best moments, however, came during the game's final eight-plus minutes of action – a span that sparked them to their most significant win of the season to date.
Senior 6-foot-7 forward Wyatt Triestman ignited Brunswick's second-half surge, scoring 20 of his game-high 24 points to lead the Bruins to a hard-fought 77-72 comeback win over Greenwich Country Day. The victory raised the Bruins' record to 8-0 in the FAA and gave them the No. 1 seed in the eight-team FAA Basketball Tournament, which begins on Feb. 20. Like Brunswick, Greenwich Country Day entered the matchup with a record of 7-0 in the FAA. Now at 7-1 in the league, the Tigers are seeded second in the FAA Tournament.
Sophomore guard Ethan Long complemented Triestman in the scoring department, pouring in 22 points, 12 of which came in the first half, for the Bruins, who have an overall record of 16-5. Greenwich Country Day took a 38-33 lead into halftime.
"We've been in that situation more times than I care to remember this season, where we're down at halftime," said Brunswick coach Steve Juricek, who has seen his squad erase several second-half deficits on the way to victories. "But to the boys' credit they always rise to the occasion. They've been there before and that experience paid off."
The Tigers, who are 10-6 overall, were powered by a 24-point performance by junior guard John Berbano, a 22-point effort from sophomore guard/forward Reggie Grodin and a 17-point game from sophomore forward Taj Walters.
"Our guys played really hard," GCDS coach Patrick Scanlon said. "We had the right energy. It was just one run in the second half, where Brunswick did a good job of executing defensively and they got out in transition. When they get out in transition, they're tough."
Triestman tied the score at 57-57 by driving down the light to his right for a layup with 6:41 remaining in the second half. A pair of foul shots from Long gave the Bruins the lead for good, 59-57, with 6:18 left to play. Using mid-range jump shots and strong moves to the basket, Triestman scored 20 second-half points to lift Brunswick out of a 10-point hole.
"I came out slow in the first half, so I had to figure out what went wrong," Triestman said. "I had to get my shot straight and once I made one shot, it was dominoes from there. Everything fell together and I was trying to be really active on defense and do whatever I can do to keep the team it the game."
Indeed, the Bruins knew they needed scoring from Triestman in the second half.
"We a conversation with Wyatt at halftime," Juricek said. "His shots weren't dropping, so I told him we needed a big half from him. We needed him taking the ball to the rack and we needed him to shoot more, while being a menace on defense and he did just that."
A 3-pointer from Berbano, his third of the game, brough the Tigers to within 61-60 at the five-minute mark of the second half. Triestman then scored from the low post and swished a 3-pointer from the right corner, extending the Bruins' advantage to 66-60 with 3:55 to go. A foul line jumper by Triestman, followed by a basket off an offensive rebound by junior center Matty Augustine made it 70-63 with just over two minutes remaining.
Berbano converted three free throws after being fouled while attempting a shot from 3-point range, then after a Brunswick basket, Berbano drove around traffic and made a layup, cutting the Bruins' lead to 72-68 with 1:06 left to play.
Long helped seal the win for the Bruins, shooting 7 for 8 from the foul line over the final minute of play.
"Ethan was cool as a cucumber under pressure as usual," Juricek said. "The game plan at the end was to get the ball to him to ice it and he did just that."
The game had the feel of a championship-level playoff game and could have been a preview of the FAA Tournament final, if both teams play up to their seeds and advance in the upcoming tournament.
"We never doubted ourselves, we always click in the second half and that's what it is," the 6-foot-2 Long said. "GCDS is a great team, we definitely had to prepare a lot for them. We worked our butts off and we did what we needed to do."
Will Graves, a 6-3 sophomore guard and Jon Sigurdsson, a 6-10 senior center, totaled 14 and eight points, respectively for Brunswick and helped their team start quickly in the opening half.
Graves scored 10 first-half points, while Sigurdsson had all eight of his points in the opening half. A 3-pointer by Long, followed by a basket off a putback by Sigurdsson put the Bruins ahead, 11-3, with 12:30 to go in the first half. Later in the half, a jump hook by Sigurdsson and 3-pointer from Graves made it 18-13 in favor of the visitors.
"It set the tone early, that's what we were trying to do," Sigurdsson said of the Bruins' fast start. "It was awesome out there – the crowd and the rivalry – it was a great game to play in. We saw this on our schedule, 6 o'clock, so we've been waiting for this."
The Tigers, who like the Bruins had topped every league opponent, entered the second half with the momentum. Walter's baseline drive for a basket, Berbano's 3-pointer and Grodin's basket off an offensive rebound, gave the home team a 27-22 advantage with just over four minutes remaining in the first half.
Grodin went the length of the court for a layup, then nailed long two-pointer from the right side just before the buzzer sounded, putting the GCDS on top, 38-33, at intermission.
"I feel like the team played great," the 6-foot-5 Walters said. "In the beginning of the game, we played together as a team, we came out with a lot of energy. It was a packed gym, a lot of my friends and family were here and they were cheering me on. It was a great environment."
Greenwich Country Day's biggest lead came in the second half, after a Walters' layup made it 50-40 with 11:45 left to play. That basket came after junior forward Cooper Edwards buried a 3-pointer from the right wing for the hosts.
"I feel like as long as we play as a team and trust in each other, everything will go well," Walters noted. "When we run the floor hard, play in transition, play as a team, and get steals, we can be as good as can be."
Said Scanlon: "Our guys have done a great job of playing together offensively. We move the ball really well, we've got talented guys, they're very unselfish and they're trying to make the right plays."
Layups from Augustine and Triestman, a jump hook by Augustine and a dunk by Long, brought Brunswick to within 52-50 at the 9:27 mark of the second half.
"We definitely knew we could run the floor on them, but we had to be smart and limit our turnovers," Long said.
Augustine added eight points for Brunswick, which received two points from senior guard Malik Samms and one point from junior forward Luke Michalik. Edwards had six points, while junior Colder Truesdale had two points for the Tigers.
"We game planned for them the past couple of days," Juricek said. "It's a Greenwich rivalry and the boys came out ready to go – so did GCDS."
Brunswick played Greens Farms Academy today in a non-FAA game, then like Greenwich Country Day, receives a first-round bye in the FAA Tournament. After a Tuesday bye, the Bruins will host the semifinal-round of the FAA Tournament on Thursday (Feb. 22) and the Tigers will do the same.
The championship game of the FAA Tournament is scheduled for Feb. 25 at the higher seed. Yesterday's win also gave Brunswick the FAA regular season title.
"I feel really good about our team," Sigurdsson said. "I've been here four years we are really close. It's probably the closest I've been to a team, so I'm looking forward to the tournament."