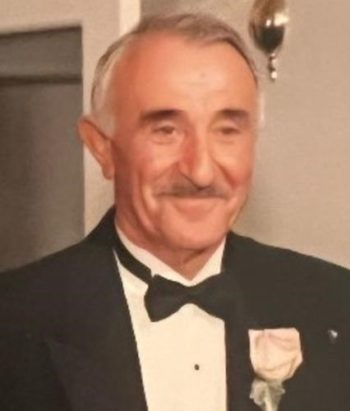 Stephen Sucic, son of Jakov and Iva Sucic, passed away on November 20 at the age of 90, surrounded by his loving family. Stephen, a very proud Croatian, was born on September 27, 1932 in Livno, Bosnia and Herzegovina.
After an education that was cut short to help work for the family, Stephen was later conscripted to join the Yugoslav military. Wanting to escape communism and pursue a better life, Stephen and his closest and most loyal friends secretly fled Yugoslavia by foot on August 15, 1957. The three friends made their way into Italy, where they spent 2 months at a refugee camp, prior to making their journey to Paris, France, to reunite with family and friends.
Stephen spent the next 3 ½ years working in Paris with jobs ranging from construction to factory work, prior to immigrating to the United States in April of 1961.
After a short time in New York City and with the advice of members from the New York City Croatian Church, Stephen moved to Greenwich, CT to pursue work and a brighter future. Once settled, he brought his three brothers to Greenwich and ultimately met his wife, Inger Johanne Skipnes, a nursing school graduate, 12 years his junior from Opdal, Norway. They were married in October of 1968 and raised their three children in Greenwich. Stephen ultimately started a construction company, Sucic Bros. Construction with his brother, Marko, and was a partner in Sucic Bros. European Cars with his brothers, Marko, Mirko and Jozo.
Stephen will always be remembered for his love of life, travel, ability to light up a room, dance moves, keeping everyone's glasses and plates fuller than full, delicious garden goodies, playing Santa Claus at the annual family Christmas celebrations, and most importantly putting his entire family first.
Stephen was predeceased by his parents, Jakov and Iva Sucic; and sisters, Elisabeta Saric and Perka Istuk.
He is survived by his beloved wife, Inger Sucic; son, Jan Eric Sucic and wife, Elizabeth Sucic of Old Greenwich; daughter, Eva Pecorin and husband, Clayton Pecorin of Riverside; daughter, Stephanie Sucic of Riverside; brothers, Marko, Mirko and Jozo; and four grandchildren, Karoline, Christopher, Emme and Jane.
A funeral service was held Saturday, November 26 at St. Catherine of Sienna Church, Riverside. No calling hours were held.
In lieu of flowers, the family requests that you please consider donations to St. Jude Children's Research Hospital stjude.org. Services are under the care of Thomas M. Gallagher Funeral Home, Stamford. For online condolences, please visit Gallagherfuneralhome.com