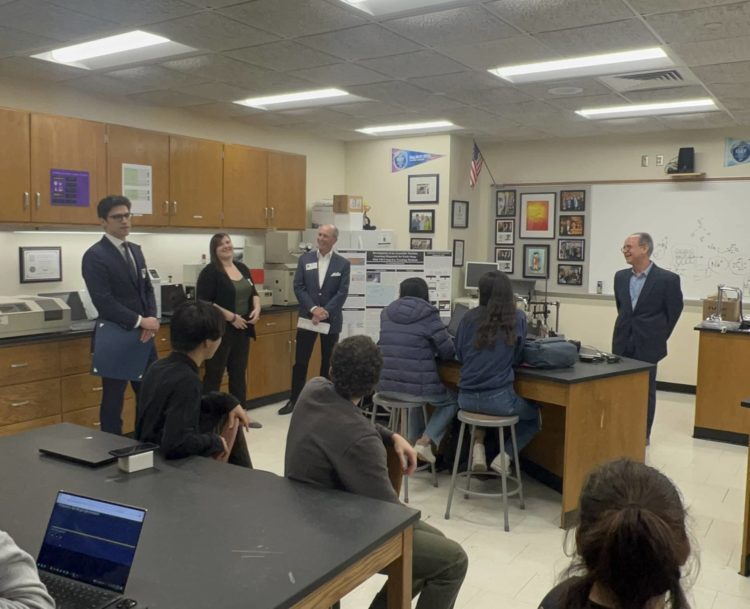 The Pharmaceutical Research and Manufacturers of America (PhRMA) announced an educational grant of $2,000 for Greenwich Point Conservancy to support the science, technology, engineering, and math (STEM) programs offered to the Greenwich community's students, joined by Senator Ryan Fazio.
PhRMA partnered with the Greenwich Point Conservancy to bring this vital funding to local students. This funding will go to support the Science Research seminar program and class at Greenwich High School, as well as the Junior Innovators program for the Greenwich Middle School researchers. The science research seminar program enables students to develop a passion for STEM through scientific research. Students in the STEM research seminar program develop their own research proposals and, with the mentorship of GHS science teacher Mr. Andrew Bramante, enter their projects in science and engineering fairs and competitions on state, national, and international levels. This educational grant will support age-appropriate STEM educational activities offered for Greenwich students in grades 6-12.
Senator Ryan Fazio said, "Preparing today's high schoolers and middle schoolers to become the innovators and inventors of tomorrow begins with STEM education programs. STEM programs challenge young thinkers to tap into creative problem solving, while also instilling in them twenty-first century skills like communication, entrepeneurship, tech literacy, and leadership. I am grateful students in Greenwich have opportunities to cultivate those skills."
Mr. Andrew Bramante, Greenwich High School science teacher and research seminar program mentor, thanked PhRMA for the grant on behalf of the Greenwich Point Conservancy and students. He said, "This funding will help fund the Independent Science Research seminar program at Greenwich High School, as well as the Junior Innovators program for the Greenwich Middle School researchers. It will enable these students to access the materials necessary for their research projects and support their efforts to create innovations in medicine, environmental engineering, as well as other technologies. Many of these innovations will be featured, at their completions, at state, national and international science and engineering competitions. We are so grateful to everyone who helped make this grant a reality."
"PhRMA represents the country's top biopharmaceutical research companies that allow the United States to be a leader in innovation, particularly in the fight to combat COVID-19. Programs like this are an excellent way for students to develop an interest in STEM careers. PhRMA is proud to support the Greenwich Point Conservancy and their commitment to offering students quality STEM education opportunities," said Stami Williams, PhRMA spokeswoman.