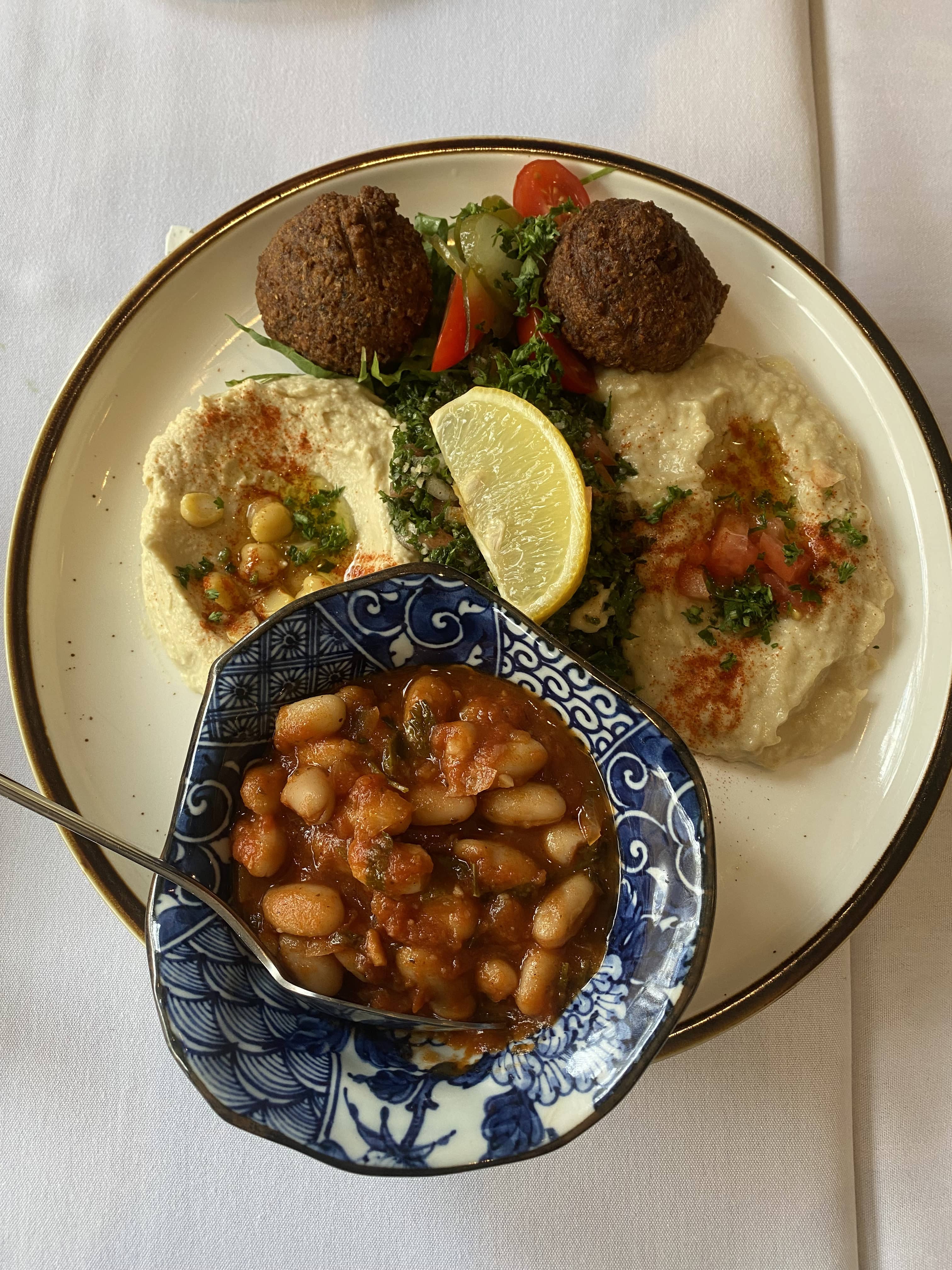 Now that Halloween is over and the holidays are looming large, now is the time to decide to eat healthy for those all important few weeks in between. There no healthier place to eat than Greenwich Flavors … and the good news is that it is also delicious. Take another look at our review from last fall and make a point of stopping in to see Myrnah!

By Emma Barhydt
Welcome to the best restaurant in Greenwich that you've never heard of: Greenwich Flavors by Myrnah. Greenwich Flavors is owned and operated by Myrna and her husband Pierre, who bring love, culinary expertise, and a celebration of their cultures to every dish they artfully create and serve. Greenwich Flavors is a Mediterranean restaurant full of bright flavors and light textures.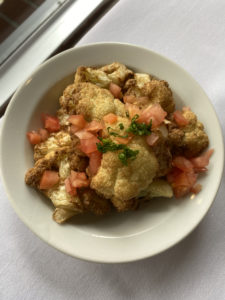 When we went, we were there for a little over two hours and left with full stomachs, but without the heavy feeling that often comes from eating such a large meal. That's by design. Everything Myrna and Pierre make in their restaurant is created with the best ingredients and health in mind. Greenwich Flavors creates just about everything from scratch with the best organic ingredients on the market. For Myrna and Pierre, having good food isn't just about a good flavor but a dish that's all around good for your mind, body, soul, and taste buds!
Everything about Greenwich Flavors is designed with the customer in mind, from how many ways you can access their food (delivery, take away, dine in) to the way their menus are organized. They have both an eat in and a take away/delivery menu. While their dine in menu is fairly standard, their take away menu features helpful sections featuring their combination meals. Their combo meals section makes it so easy to order a well rounded meal. 
When we went for our review, we had the opportunity to do a well rounded sampling of their dishes from appetizers through dessert. The first dish we started with was the Tzatzikin which was a beautifully creamy and light greek yoghurt (made in house)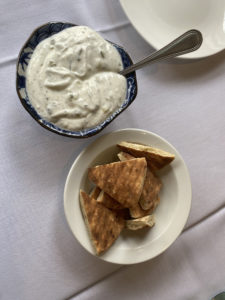 mixed with cucumbers, garlic, and mint leaves and served with their warm and beautifully fluffy pita bread. The first bite was incredible and it just kept getting better from there. Somehow the meal got better from the Tzatziki!
The most standout dish of the afternoon was the seared halloumi cheese. On all levels it was unexpected and delectable. Dates, strawberries, arugula, and of course the seared halloumi all came together for an amazing bite. This dish was perfectly sweet and savory at the same time, it was an amazing balance both texturally and in flavor. 
We also enjoyed the vegetarian combo meal which features their hummus, baba ganoush, falafel, lima beans, and tabouli salad. All of the flavors were balanced and bright. Nothing overpowered any other part of the dish and it was just the perfect bite every time.
We had the opportunity to try three of their kebabs; the chicken, lamb, and beef kebabs. I had never before had flavors like this probably in my life and I was glad for the eye opener! The meat was so tender and fragrant, it just melts in your mouth. I know I've said it already, but truly each dish was so perfectly balanced I finished my plate wanting for nothing. The rice to meat ratio was perfect and each sauce or topping that came with complimented it perfectly.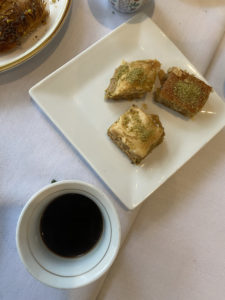 After eating more than I thought was possible to eat in one sitting, we finished the meal with their homemade baklava and a cup of their cardamom coffee. The sweet baklava juxtaposed with the robust coffee made for a great ending to an amazing meal. 
One of the most interesting things about Greenwich Flavors is how versatile they are if you have food sensitivities or are on a special diet including vegan, vegetarian, or even kosher. They make substitutions for almost anything in just about all of their dishes.
The portion sizes are almost as generous as the owners themselves! While we were finishing sipping our coffee, Myrna came over to our table and we got to hear all about why she started her restaurant, how she balances running a small business and being a mom, and why she and her husband have made the culinary choices they have with the restaurant. It was a wonderful experience getting to talk to her, and I'm glad to say we weren't the only table she stopped at. Myrna was helping serve guests, checking on their meals, laughing and chatting with everyone in the restaurant.
Family means everything to Myrna and Pierre, and that is how they treat everyone who comes through the doors of Greenwich Flavors. Inspired by both of their culinary backgrounds, they wanted to open a restaurant to share the food they love with as many people as possible. Myrna's mother was a private chef and taught Myrna all her trade secrets and Pierre was a chef in France before moving to the United States. Greenwich Flavors by Myrna is open every day Monday through Saturday. But don't stop by on Sunday because, as Myrna reminded us, Sunday is for family.
Greenwich Flavors by Myrna is located at 148 Mason Street in Greenwich and is open Monday – Thursday 9am to 9pm, Friday 9am to 10pm and Saturday 10am to 10pm.

Greenwich Flavors