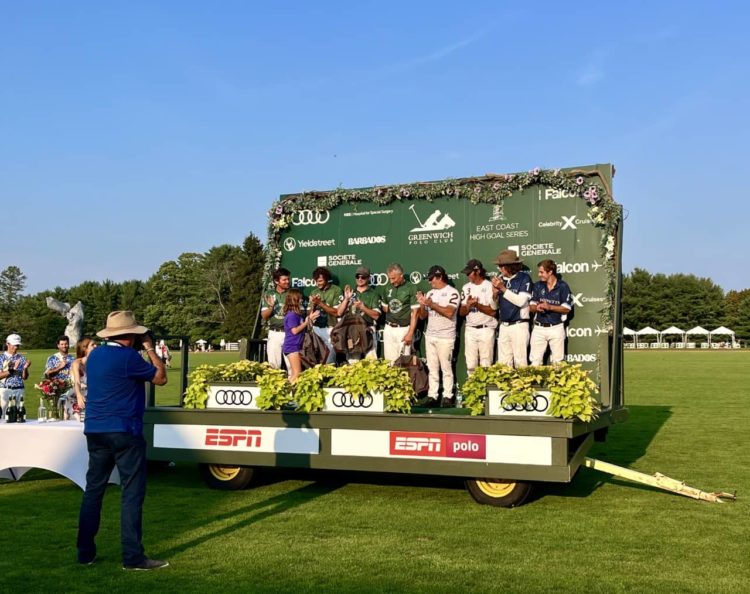 By Liz Leamy
Last Sunday was another storybook-like day filled with sun and fun as a handful of standout amateurs from the New York-metropolitan area along with a host of professional high-goal players faced off against one another in two four-chukker matches at the Greenwich Polo Club.
Playing in front of a lively and engaged crowd of nearly 3,000 people, the players and horses competing in these Pro-Am matches put the pedal to the metal as they flew around the massive Conyers Farm field at turbo-charged speeds with the goal of knocking in all-important points.
The four teams participating in these Pro-Am matches included Round Hill, Loudmouth/Willow Tree and two Steel Polo crews, all of who displayed the expertise, skill and focus of accomplished professionals much to the delight of spectators and everyone else there.
In the final tally, Round Hill GTFO defeated Steel Polo/Hameets 4-3, while Loudmouth/Willow Tree tied Steel Polo/Roxbury Raider at 4-4.
"This has been such an exciting day of polo. Everyone was so engaged with what was happening out there," said Michele Remsen of New York City, a frequent visitor of the Greenwich Polo Club and equestrian who rides in Bedford, New York. "The polo is always incredible here and this is such a pleasant way to spend a Sunday afternoon. The whole vibe here is always just very nice and welcoming."
Others there concurred.
"The polo is amazing and it's such a beautiful, tranquil and serene setting," said Jason Yearwood, Business Development Officer of the Barbados Tourism Marketing Inc. based in New York City, a business partner of the Greenwich Polo Club. "It's always so nice to be here and it's been a great season. You can see everyone is so happy and relaxed here and today has been wonderful. It is still summer, but you can see fall is coming, which is exciting."
This past season, the Barbados photo booth has been a big hotspot for the Greenwich Polo Club crowd, as it has provided a place where people can take photos that are printed on site so they have tangible memories of being at this renowned outdoor sports venue.
"We're going to have the finals of our photo fashion contest here next week," said Yearwood, in reference to one of the many activities the Barbados Tourism Marketing Inc. plans to have next Sunday in celebration of Barbados Day at the club. "It means a lot to be involved with the Greenwich Polo Club because polo is so popular in the Barbados. Everyone there, like everyone here, dresses up to celebrate and enjoy the whole experience of being at polo."
Certainly, the sport of polo is always thrilling to watch and at the same time, presents an array of opportunities for those involved with it on so many levels, especially for those amateurs who competed in last week's matches.
"To play at the Greenwich Polo Club in front of a crowd is an amazing experience for anyone to have," said Ellie Briana Molyneux, an accomplished polo player and instructor based out of the New York City-metropolitan area who is also U.S. Director of Vakiano Artisans, the renowned Argentine craft providers and cultivators. "It's been such an exciting day and you can see the players and horses are all just so powerful, agile and fast. The Greenwich Polo Club is so unique in that it represents a space where you can watch those who have developed their polo game."
Without a doubt, watching the players and horses on center stage at this venue with all of their terrific power, skills and agility is always an incredible experience.
"It's great to be here. The players seem to be so fearless out there and it is such an art in the way they play," said Dafina Mexhuani, Store Manager of Rodd and Gunn on Greenwich Avenue, the New Zealand-based manufacturer and retailer of clothing, footwear and accessories with 14 stores in the U.S. and shops in London, Paris, New Zealand and Australia, whose retail spot has been a popular stopping ground for Greenwich Polo Club spectators. "It's such a friendly and exciting environment here and we're meeting so many people and getting such good exposure. Everyone here works together like a team."
The final match of the 2022 Greenwich Polo Club season will be held on Sunday, September 25th at 3pm.
For more information, please visit the club's website at: www.greenwichpoloclub.com