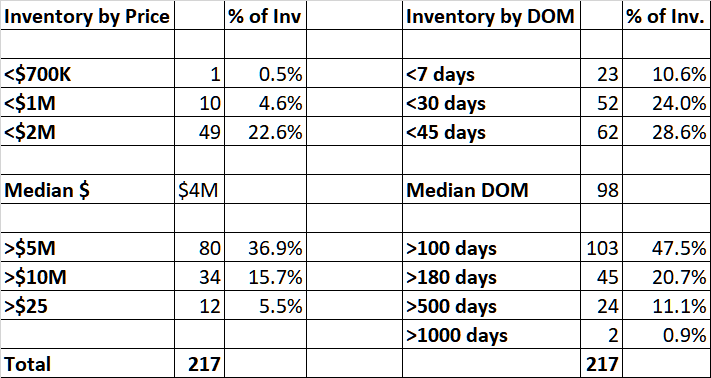 By Mark Pruner
We have 217 listings on the market and only one listing is under $700,000 which is 0.5% of the market. Under $1 million we only have 10 listings, and only 1 of those 10 listings has been on less than 45 days. Listings that have been on for 45 days in this market are feeling pretty middle-aged. We actually have more listings over $25,000,000 than we have under $1,000,000; 12 ultra-high-end listings versus the 10 sub-$1M listings.
So far, we have sold 33 single family homes, which if you monthlyize (which at least one other website says really a word), we might expect 43 sales by the end of September. This is a 64% drop from September 2021, when we had 118 sales, the highest sales month in 2020. Last year, we dropped to "only" 81 sales in August 2022.
Grossing up our 33 sales to 43 looks pretty poor against the Covid years. Those 43 sales are lower than our 10-year pre-Covid average of 48 sales. However, it's more the knock-on effects of the Fed's dramatically raising, than the higher rates themselves. Higher rates are leading to fewer contingent contracts, but the stock market drop is having a bigger effect at the high-end than higher interest rates are affecting sales under $1 million.
The increase in interest rates causes bond prices to drop and investors to move money out of the stock market towards those higher interest rates. As a result, what's really dropped is the wealth of high-end buyers with lower bond, stock and crypto prices. (It always amazes me the number of people in Greenwich who have some or a lot of money in crypto-currency or related companies.)
Along with this drop in wealth has come an increase in uncertainty. Nothing slows a housing market like uncertainty. A lot of the growth wealth we saw in the Covid years was on paper and many people are still up a good amount of where they were pre-Covid. Any crypto investors who bought in a while ago, are still seeing triple digit appreciation, but are these people going out to buy a $10 million house?
After that set up, you'd expect a resounding "No", but not so fast. Since the Great Recession, we've seen many of our high-end sales happen from September to year-end. We do have 18 contracts for properties listed over $5M, this compares to 3 contracts over $5M in August 2018. We will see an upturn in sales over our 10-year average, for the $5 – 10 market with 78 sales so far compared to 31 sales in 2018.
What this market has not been good for so far is our over $10 million at least compared to the market under $5 million where months of supply is measured in a few months not a couple of years. This year we have had only 8 sales over $10 million, but then that's only 2 less than we had in the hot market of 2021.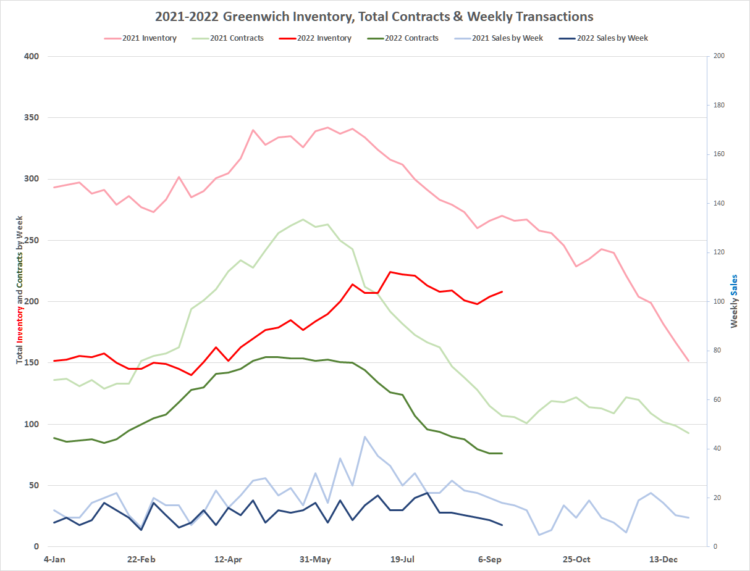 This year , we've had no sales over $18 million and we have 18 listings above that amount. While the over $5 – 10 million have done well so far. That's not the case once you get over $10 million. Don't expect this number to go soon as we have no contracts over $10 million, though we do have 2 contracts on houses listed over $9.7 million. Not all of the poor ultra-high-end market is due to a weak buyer demand. Sellers are also keeping sales down with some aspirational pricing. In Greenwich, you never want to price your house off of national news stories regardless of the price.
The other thing that we are seeing are more price reductions. We have less than two months left in the fall market, so now is the time to take a price reduction. The property at 562 North Street just got relisted at $2,995,000 a price drop of $400,000. If you have to reduce a listing, you want to only do it once and get it sold. It is seeing a lot more interest.
Overall, our inventory is ticking up slightly, but contracts are falling as they do each year, but without more inventory, we are going to see the days on market continue to rise. The buyers that need a mortgage are feeling squeezed with the number of their offers down, but so far, we've got plenty of cash buyers, or at least buyers that don't need a mortgage contingency in their purchase contracts. Of our 78 contracts only have 15 have contingencies.
Stay tuned and hope that the month that came in like a lamb goes out like a lion . . .
Mark Pruner is a Realtor with Compass. He can be reached at 203-817-2871 or mark.pruner@compass.com