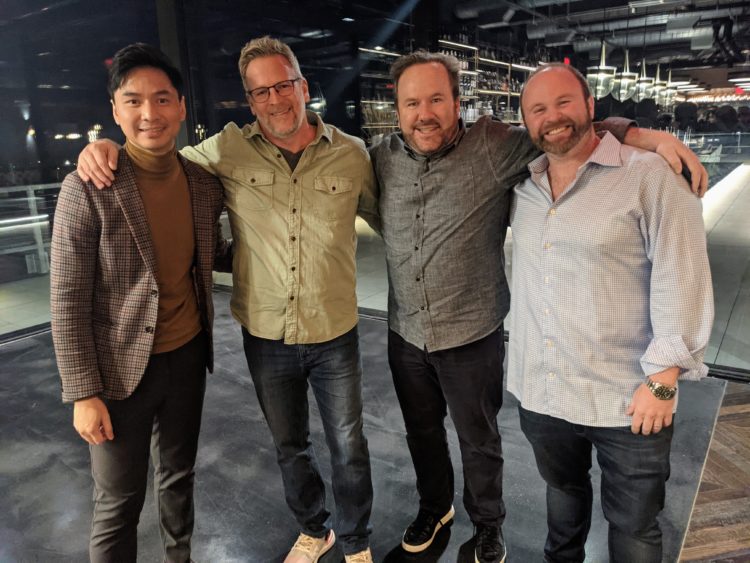 By Sarah Bamford
K Dong isn't your average restauranteur, and his concepts, partnerships, and products are gaining attention and praise from the region's top food and beverage professionals. I met K in the spring of 2019 about a month after he opened Miku Sushi on Greenwich Avenue. The meeting was somewhat arranged. I was intrigued after reading a rave review by Leslie Yager describing his restaurant's "exquisite sushi, craft cocktails, superlative hospitality". It was that same week that I attended an event with Mari.b Interiors at Granoff Architects and met Andrea Blume, Chair of the Pemberwick Glenville Association. I mentioned the restaurant to Andrea who coincidentally happened to know K from Miku's sister restaurant in Scarsdale, New York, Kumo Sushi, and she offered to make the introduction.
We went for dinner with my friend Michael Benjamin and sat at the sushi bar because every seat in the restaurant was taken. K spoke to us for a while about his concept, connection to the famous Tokyo fish Market in Japan, and his commitment to great service at his Japanese-inspired restaurant. He also told us about his business partner, Chef Steven Chen, and how dedicated they are to offering something fresh to the Greenwich community. I knew then that I wanted to help him promote his new business. On a side note, this year Chef Steve will be honored as Innovative Chef at this year's Greenwich Wine + Food celebrations.
When I met K I'd already been to Japan 6 times to visit my Buddhist temple at the foot of Mt Fuji, my 7th trip would happen later that year. I love the experience of being in Japan so much that the idea of working with a talented business owner that incorporated the country's Eastern philosophy and culture into their brand was very exciting. During our first meeting, K passionately described the inspiration behind the restaurant's name, Miku, meaning a beautiful moment in Japanese. He spoke about creating the restaurant's design and building the interiors, how he worked with Chef Steve to perfect each detail, and also emphasized the food quality that the restaurant offered. He let me know that he grew up working in the restaurant industry and had previously bartended in Europe and other parts of the world. I learned that K truly has hands-on experience in all aspects of both the kitchen and dining room and he leverages that to help him grow as a successful businessman in the hospitality industry.
During the early months of the COVID-19 pandemic, K faced the most challenging time in his career although this pushed him to become more innovative. As a natural problem solver with a solution-based mindset, he worked closely with his teams to make important decisions. K also reached out to the restaurant community to also develop partnerships. In August of 2020 K and Chef Steve were featured on the cover of Greenwich Magazine the following month he launched a partnership with Tony's at the J House that is still going strong today. Earlier this year Miku received Editor's Pick by Connecticut magazine for the best Japanese restaurant in the state.
Just before the pandemic, he launched the Miku non-profit partnership campaign which promotes local organizations through a monthly Specials menu. Today that campaign has raised close to $60,000 for local non-profits like Kids in Crisis, the YWCA of Greenwich, American Red Cross New York Metro-North chapter, Food Rescue Fairfield County, Bruce Museum, Breast Cancer Alliance, and the Make-a-Wish Connecticut chapter just to name a few. This month Miku is partnering with the Alzheimer's Association Connecticut chapter. "It's important for me to be involved in the local community. Giving back is a big part of what we do," K explained during a recent meeting with Malta House, an organization that will be featured in partnership with Greenwich Lifestyle magazine during the month of October.
In response to the pandemic, K also expanded his catering division at both Fairfield and Westchester County restaurant locations. K and Chef Steve would regularly cater events at the local country clubs since the opening of their Westchester location in 2014 so naturally, they pivoted the idea to bring the restaurant experience home. K launched "At Home Pop-Ups" where sushi chefs would prepare a meal for 8-12 at a private home in the same way they would at the sushi bar. The idea first launched at Miku and then caught on at Kumo, a 4x Best of Westchester winner.
Last year K and Chef opened Hinoki, their third restaurant concept and second in Greenwich. The restaurant is across from Meli-Melo Creperie and partnered with Mike's Organic and The Village in Stamford last November. The restaurant won a Best of the Gold Coast award this year. This summer Hinoki partnered with Rowayton Seafood to host a special Omakase event on the new waterfront deck and Miku is now delivering fresh sushi to the newly renovated Market at Rowayton Seafood on a daily basis. "I love collaborating with other chefs and restaurant owners, it is entertaining for us and our customers to try something new! I'm always looking for new opportunities and open to new ideas," he explained in a recent interview. In my humble opinion, he has the right attitude to achieve incredible growth and success. "Community over competition" as my friend and fellow PR pro, Kellie Kerwin, would say.
These days K is working on the expansion of the Hinoki location on Greenwich Avenue set to double in size this month and two new Hinoki locations, one in Weehawken, New Jersey across from Hudson Yards and another in Darien at the new Corbin District development. In addition, he is developing new ways to expand his existing brands and creating a fourth concept that he hopes to open in Fairfield County next year. What I find most impressive is his ability to train and promote his staff so that he has time to spend with his wife, daughter, and their dog, Niko. K intuitively sees potential in others and has the patience to help his staff develop into leaders. What sets him apart is that he is a team player that consistently motivates his employees to work hard. He is focused on the big picture and long-term success. K is not afraid to fail because he understands that failure is the mother of success. He reminds me of an old soul, K plays jazz music, has a business savvy far beyond his years, is generous, professional and most importantly his word is gold.