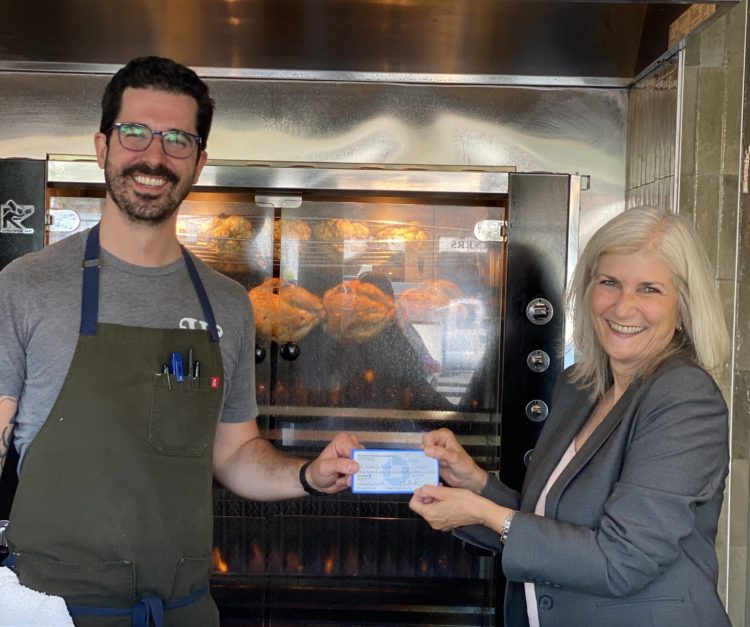 On Tuesday, July 12, Margaret Goldberg, Executive Director of Neighbor to Neighbor, visited Ben Pote, owner of Wildacre Rotisserie in central Cos Cob, at his newly opened fast casual rotisserie chicken restaurant. Ben has been a partner and supporter of Neighbor to Neighbor's mission since the inception of Wildacre. Ben committed his opening day proceeds to Neighbor to Neighbor and Margaret visited Wildacre to receive his generous donation. Ben also donated his test dinners to the food pantry as he was planning his inspired menu. Ben has a tremendous amount of experience in the food and restaurant industry and appreciates the importance of supporting the whole community.
Neighbor to Neighbor is the sole food pantry in Greenwich and currently provides weekly food assistance to approximately 500 households. Neighbor to Neighbor is also providing, in addition to their weekly food assistance, a weekly summer supplement program to 300 households with school-aged children, providing orange juice, milk, eggs, turkey bacon, fruit, bread, oatmeal, and canned tuna.
Neighbor to Neighbor anticipates moving into their new facility later this summer and looks forward to greeting clients in their new client choice pantry located at 248 East Putnam Avenue.