The Lanfredi Signature haircut is changing the beauty industry's approach to beautiful, healthier hair
By Sarah Bamford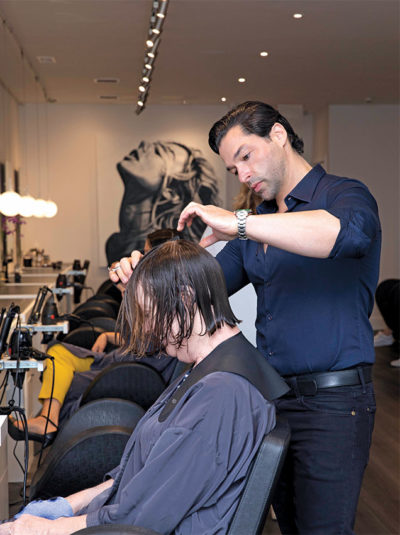 Paulo Lanfredi has lived and worked in Greenwich for almost three decades. Born in Sao Paulo, Brazil, Paulo moved to the United States from Brazil after working in the healthcare industry as a physical therapist. Soon after relocating, he began transitioning his interpersonal and detail-oriented skill set to the beauty industry with encouragement from his friend, a renowned trichologist.
Paulo naturally gravitates toward a modern aesthetic and guides his clients on a journey to healthier-looking hair within his salon's ultra-chic interiors. His process requires several visits but his successful track record proves his talent and time to be worth the investment. Last year, Paulo announced the international copyrighting of the signature haircut that he created to identify damaged hair and promote lustrous growth. His innovative cut, the Lanfredi Signature, was designed to manage hair through three phases of hair generation; anagen or active growth, catagen or transitional, and telogen or resting. Removing all of the damaged split ends is key to his signature cut and he believes this is the only real way to achieve healthy hair.
Working from the head of hair, not the obvious exterior, Paulo wet-cuts the hair to length and begins his patented technique during the blowdry. As he identifies damaged hair underneath the outer healthy shafts, Paulo begins a second cut. Paulo's technique was designed to cut off damaged ends at each growth phase to ensure a strong foundation for hair growth. "There are many reasons we experience damaged hair," he explains. "Some of the reasons include self-induced habits like applying extreme heat, wearing hair tightly bound, or roughly brushing through the hair. Other reasons are due to poor nutrition, medications or genetic disorders."
Paulo says his unique approach is the only way to prevent future damage and truly achieve healthier hair. He believes that investing in expensive products or treatments before removing the dead ends is a waste of money. The key to repairing damaged hair is to first remove the damage using his technique and then maintain hair health using items like silk pillowcases, and quality products mixed with a healthy lifestyle. Managing emotional stress and diet will also improve the look and quality of our hair but without the signature cut fighting damage is an uphill battle. "My clients are seeing dramatic results and I am looking forward to helping other industry professionals use this valuable technique. I love seeing the results and helping my clients achieve healthy, beautiful hair."
In addition to haircuts, Paulo offers a luxurious experience at his "his & hers style" Greenwich Avenue-based salons. Full-service salon and spa services are customized for women upstairs and men downstairs. Along with haircuts, services include styling, color, massage, manicure, pedicure, facial treatments, and facial hair maintenance with custom shaves. CAVE, inspired by the idea of a mancave, is located below street level and offers a membership program that includes perks like whisky and scotch tasting's. Paulo is the only merchant in town that accepts crypto currency and top quality hair and skin care products are available for sale. Clients can also find a QR codes at each salon with special lunch or dinner menus created in partnership with Hinoki restaurant and bar up the street.
For expert spa treatments, Paulo partnered with Alvina Bertulis, a licensed skin care specialist with a decade of experience in her industry. Alvina creates individualized facials and skin care routines for each of her clients at Paulo Lanfredi Salon. She uses the newest technology to leave skin glowing, radiant, and healthy. Alvina works exclusively with Biologique Recherche and HydraFacial to achieve the best results and provide an exceptional experience, leaving her client's skin looking and feeling refreshed, clean, and rejuvenated. Biologique Recherche treatments are based on a personalized dermo-cosmetic diagnosis following analysis of your Skin Instant©, to ensure they match individual skin care needs. Paulo Lanfredi Salon is one of the few retailers in Connecticut and the only one in Greenwich exclusively carrying the product line.
Looking toward the future, Paulo plans on teaching the Lanfredi signature cut within his industry and launching an organic hair care product line for men and women. With almost two decades of experience working with top salons, the opening of his first business Paulo Lanfredi Salon in 2018 and his second business CAVE by Paulo Lanfredi in 2021, Paulo is also developing two new business ventures. A premium cachaça brand and apparel company both currently based in Sao Paulo. To learn more or to book an appointment visit Paulo Lanfredi Salon online (paulolanfredi.com) and follow along on social (@paulolanfredi). #LanfrediSignatureCut
Sarah Bamford is a Greenwich-based communications professional specializing in hyper-local public relations and social media marketing for luxury brands, restaurants, and non-profit organizations.