By Liz Leamy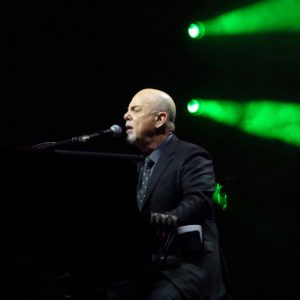 This year's Greenwich Town Party boasted its usual gold standard of stellar performers throughout the day and evening.
In addition to Billy Joel, other headliners included Old Crow Medicine Show, a Nashville-based Grammy-winning string band; the Preservation Hall Jazz Band, a jazz band based in New Orleans founded in the 1960s; the Robert Randolph Band, an American Gospel band lead by Robert Randolph, a pedal-steel guitarist who has been listed as one of Rolling Stone Magazine's 100 greatest guitar players of all time; and Mathes, Kimberlin & Friends, featuring the esteemed Old Greenwich-based Emmy winning producer, music arranger, composer, songwriter and performer, Rob Mathes.
Greenwich area-based artists featured at this event included Merlin, the acclaimed classic rock-inspired group; Cover Story, the esteemed band hailing from Westchester; and Winston Rider, an 18 year-old Brunswick School junior from Greenwich who was the opening act at the Z100 Jingle Ball all-access lounge at the Hammerstein Ballroom in New York City last December.
"It's been so much fun to play here today and it's really cool to be here with my friends and family. I never expected to be here singing," said Rider, who will be performing in Milwaukee, Wisconsin at Summerfest next month. "It's just very exciting and you can tell everyone here is having such a great time."
For spectators, the Greenwich Town Party was a first-rate experience.
"It's so great that even in rain or shine, the Greenwich Town Party can always put everything together in an amazing fashion," said Adriane Klein, a longtime Greenwich resident who is the ELL/Languages Coordinator for the Greenwich Public Schools. She was attending the event with her husband, Eric and 16 year-old daughter, Talia, a Greenwich High School junior. "It's wonderful to be here with everyone enjoying all of this incredible music."
Last Saturday thousands of people gathered at Roger Sherman Baldwin Park amidst lapses of rainy afternoon weather to partake in this year's annual Greenwich Town Party headlined by Billy Joel.
Dressed in a gray suit, white buttoned-down shirt and black tie, it was apparent, right from the moment Joel took center stage that he was firing on all cylinders.
Joel sat down at his piano and proceeded to play the music from with the beautiful hymn Joyful, Joyful, We Adore Thee written by Henry Van Dyke in 1907 (who composed it with the intention of setting it to the famous Ode to Joy melody from Beethoven's Symphony No. 9).
Ranked the third best-selling solo artist of all time, Joel sang with tremendous soul, command and confidence connecting with the crowd throughout his entire performance.
One of the many highlights of the night was when Joel sang Summer, Highland Falls as an ode to the community, explaining he was honoring everyone there due to the fact that Greenwich is a neighboring waterfront town he regularly visits with his home base being located in Long Island right across the Sound.
"For those of you who don't know, I'm from Long Island, you know, your barrier beach," he joked. "This is very cool, very cool," said Joel. "I dock right at the marina back here and I eat at the restaurant here."
For everyone there, including those helming the 2022 Greenwich Town Party, Joel's presence was truly a gift in every sense of the word.
"It is so amazing to think he is here," said Scot Weicker, the amiable Greenwich Town Party Event Manager and Organizer who is President of SBW Events Group, an event and planning company based in Old Greenwich. "Billy Joel plays at venues like Madison Square Garden and the fact that he is playing here at the Greenwich Town Party is incredible."
Ray Dalio, one of the founders of the Greenwich Town Party, echoed similar sentiments.
"Billy Joel is one of those few remaining iconic musicians who has thrilled music lovers for most of their lives," said Dalio. "His songs give us both great music and great stories that make us want to dance to our histories."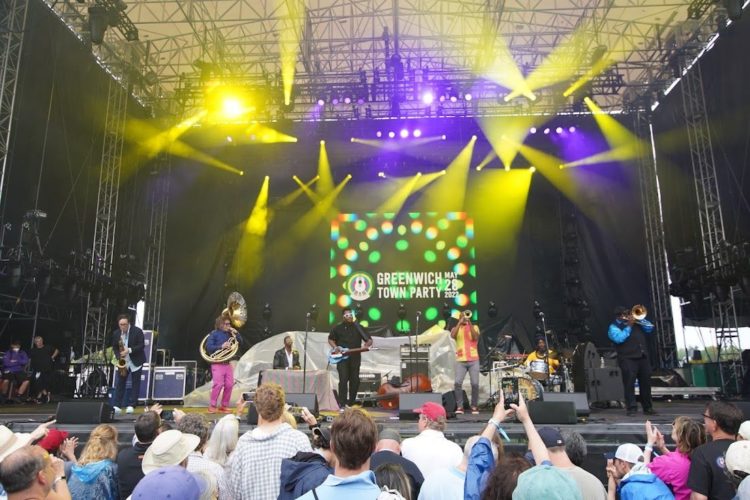 GTP gold standard the result of a Herculean team effort
The runaway success of this year's Greenwich Town Party is built on a foundation of tremendous teamwork, coordinated by Scot Weicker, a longtime Greenwich resident whose father, Lowell Weicker Jr., served as the 85th Governor of Connecticut and was also a U.S. Representative and U.S. Senator.
"I've known Scot [Weicker] for a long time and he is such a great guy," said Ralph Pietrafesa, President of Longford's, the renowned ice cream manufacturer and organization based out of Stamford; a popular food vendor at the Greenwich Town Party for nearly seven years. "Scot really puts his heart and soul into this event, which is so much of the reason why it has become the huge success it is."
Ever since the Greenwich Town Party first started back in 2013 as a forum to help bring the local community together, it has become known as a major annual musical event in and around the Fairfield and Westchester County areas and the U.S. due to its extraordinary roster of iconic musical artists over the years as well as for its great energy.
"It's all about community," said Dalio to the crowd as he introduced Billy Joel on the main stage Saturday night.
Since its inception, the Greenwich Town Party has featured the likes of such award-winning artists as Santana, Paul Simon, Eric Clapton, the Eagles, Earth, Wind and Fire, Buddy Guy, Hall and Oates and Lynyrd Skynyrd as well as other heavy-hitting acts over the years.
For those helming this event, its primary purpose is to help bring the local community together in a manner through music to help further build the spirit, strength and unity among everyone in the town and its surrounding areas.
"I look at all of the smiling faces of everyone here enjoying a community event and that really means everything," said Weicker. "This is such an exciting event and I feel it just gets better every year."
Others shared Weicker's same sentiments.
"It's so unique and special that Greenwich, as a community, can come together for an incredible experience such as this," said Bennett Hawley, a college senior from Greenwich who attended the College of William and Mary in Williamsburg, Virginia for his first two years and University of St. Andrews in Scotland for his latter two years who was attending his seventh Greenwich Town Party with his family. "It has been awesome to have been able to come to this event all of these years and see so many amazing artists and it's very exciting to be able to see Billy Joel this year, that's for sure."
A walkway of GTP stars
The Greenwich Town Party team is as impressive as it is varied and is comprised of many different factions of individuals, all of who have contributed a tremendous amount of their time and energy toward making this event the success that it is and most of whom were present last Saturday.
Upon entering Roger Sherman Baldwin Park, attendees were greeted and guided along by the focused G-Force Security members and GTP volunteers, all of who were very warm and welcoming to everyone there.
Next to the main entryway stood the Greenwich Town Party headquarters tent that was situated right across from the Greenwich Fire Department and Greenwich Emergency Medical Service tents, all of which were filled with workers and volunteers who were there to provide attendees and anyone else with information and assistance.
"The Greenwich Fire Department is just here to make sure everything goes without a hitch. It's a coordinated effort between everyone and we're all working together," said Charlie Lubowicki, Assistant Fire Chief/Administration of the Greenwich Fire Department. "This is my first time here and it is just been a fantastic event that seems to bring the whole community together."
Alongside the first responder area was the bustling row of food vendors, all of who represented eateries from the Greenwich, Stamford and Westchester areas.
Tomatillo Taco Joint, the Cos Cob-based Mexican hotspot run and owned by Alison Eng was a big stopping ground for many as her warm and welcoming crew, including Tracy Naughton, helped serve up tasty fare such as tacos, chips, salsa and guacamole to its long line of customers.
"This is a great event and you can tell everyone is really having a lot of fun," said Eng, proprietor of Tomatillo Taco Joint since its inception back in 2011 with this representing her second year as a food vendor at the Greenwich Town Party. "It's an awesome outdoor event that brings everyone together and it's super exciting to think Billy Joel will be performing here later."
Ralph Pietrafesa and his team from Longford's Ice Cream, another major hotspot, provided its delicious ice cream to a teeming stream of customers, offering further insight as to what the tremendous energy of this event was like.
"It's awesome here," said Pietrafesa, whose Longford's food truck is also regular presence at the Greenwich Polo Club matches during its summer season. "This is a great community event. It's also great to have this opportunity, being a local brand, in which we are able to interact and provide our ice cream to so many people, many of who are longtime customers. Good stuff happens when people come together and you really see that here today."
Just beyond the food vendors was the hugely popular Greenwich Town Party merchandise tent, where scores of spectators could be seen perusing and purchasing event memorabilia such as tee shirts, sweatshirts, baseball caps, water bottles, towels and magnets, all emblazoned with the iconic 2022 GTP logo.
"This is what we really look forward to every year. It's always so exciting and fun to see everyone come together here," said Frank D'Agostino, who, along with his wife, has helmed the Greenwich Town Party merchandise tent for more than 10 years. "Greenwich is an incredible place and this [event] has the same wonderful energy as the community of people here in town. We always see a lot of friends and people we know, which makes it all very special. It's also exciting to think we'll be seeing Billy Joel later."
In addition, the dozens of generous Greenwich Town Party sponsors also played a huge role in the success of this year's event.
Charlie Lubowicki, Assistant Fire Chief gave big props to Scot Weicker for the huge success of this event.
"I give so much credit to Scot Weicker," said Lubowicki. "He has done so much to make this event what it is. He's a fantastic person and an incredible promoter with such vision."
"I've seen Billy Joel six or seven times and this, by far, was the best show," said Kristie Lynch Capone, a former Long Island resident who is a Professor at Adelphi University and lives in Greenwich with her husband, Paul, a chef, and young son, P.J. "This is definitely an experience to remember."