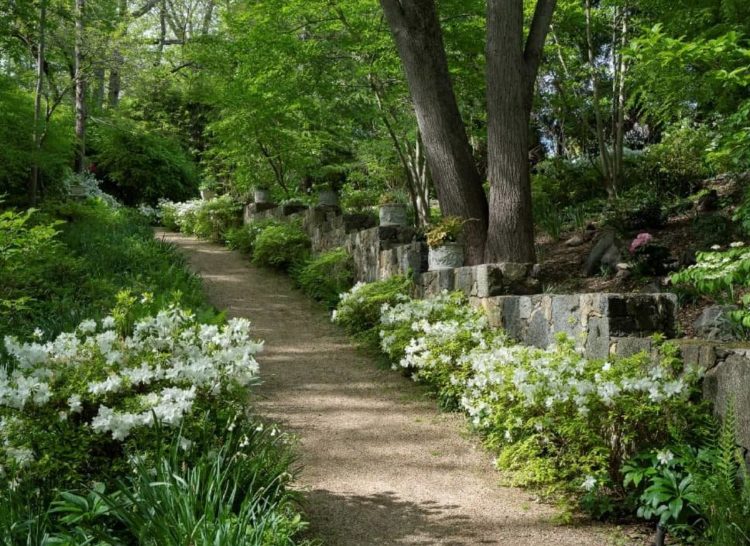 Sleepy Cat Farm private garden tour May 26
By Greenwich Green & Clean
A treasure in the center of Greenwich – Sleepy Cat Farm – is a private residence surrounded by 13 acres of gardens and landscapes. On Thursday, May 26th Greenwich Green & Clean is hosting a garden tour through this unique property rarely open to the public.
Tickets ($125) are required and can be purchased on Greenwich Green & Clean website www.GreenwichGreenandClean.org Please call us (203-531-0006) or email questions to info@greenwichgreenandclean.org.
The landscape unfolds in a series of garden rooms encompassing pavilions, pathways, and pools, statuary and staircases, trees, shrubs, and flowerbeds. Hillsides and vistas change daily, monthly, almost minute by minute, in this undulating landscape of surprises, intrigue, and unexpected beauty. www.sleepycatfarm.com
Details to make your day carefree and enjoyable.
• Park at Round Hill Community Church and a shuttle bus will drop off at the farm.
• Tours from 10am to 4pm. Arrive any time before 3pm. Allow an hour or two to thoroughly enjoy.
• Snacks and beverages will be provided throughout the day.
• Wear walking shoes. There are steps and stone walks to maneuver.
• Bathrooms and water stations available.
• Guides will be on the property to answer questions
• Cameras allowed
• Rain Date Friday, May 27th
Greenwich Green & Clean is a 501C3 and tickets are considered a donation for tax purposes. Our mission is to create beauty in Greenwich through gardens and flowers. Sharing the Sleep Cat Farm gardens with the public is a privilege for us. We hope you can participate and come away inspired.