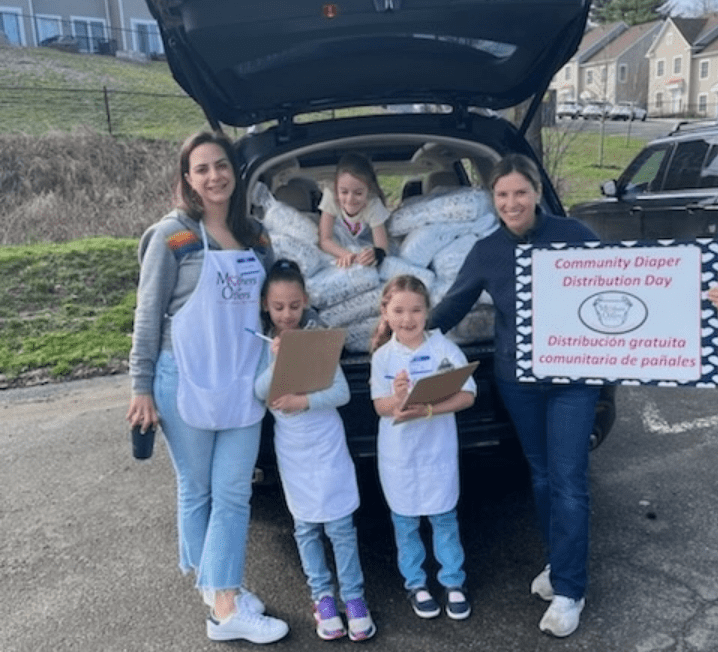 Mothers for Others (MFO), the largest independent diaper bank in lower Fairfield County, and the only dedicated diaper bank serving the town of Greenwich, held a Community Diaper Distribution Day on Saturday, April 9. MFO staff and volunteers distributed 5,120 free diapers to parents and caregivers in Greenwich. A team of volunteers, including 4 sets of mothers and their elementary-school age daughters, filled four cars with diapers and brought them to the family housing developments of Armstrong Court, Wilbur Peck Court, and Adams Garden. Anyone who needed diapers could come and receive a one-week supply of diapers for free. Attendees were also provided with information on how to receive free diapers for their children on an ongoing basis. The Distribution Day came at a time when MFO has been seeing a steady increase in demand for diapers, with an average of 1-2 new clients per week reaching out for assistance, compared to 1-2 a month in 2021.
The Community Diaper Distribution Day was inspired by a similar event MFO held in September 2021 after Tropical Storm Ida, at which the organization distributed diapers from its office at the Second Congregational Church. This time, however, MFO brought the diapers closer to people's homes, so they did not have to travel to get diapers. "The diaper giveaway following Tropical Storm Ida filled an acute need at that time," says Elizabeth Peyton, MFO's Executive Director. "But as successful as that day was, we recognized we could better serve our clients by bringing the diapers directly to them, rather than asking them to travel to us." MFO gave away more than double the amount of diapers at this event compared to the first one, and attributes much of the increase to the change in format.
"The day could not have come together without the partnership of so many people," says Cathy de Graaff, MFO Board member. "We had 8 volunteers, including 4 seven-year-old girls, who enthusiastically devoted their Saturday morning to this event. We also had tremendous support from Greenwich Communities, which manages the properties at which we handed out diapers."
MFO plans to hold more Community Diaper Distribution Days in the future. Community members looking to support future events can make a contribution to MFO's Diaper Fund, which enables MFO to purchase diapers at a deeply discounted price that are packaged in a way that makes storage and distribution more efficient. For more information about donating, visit www.mothersforothers.org.