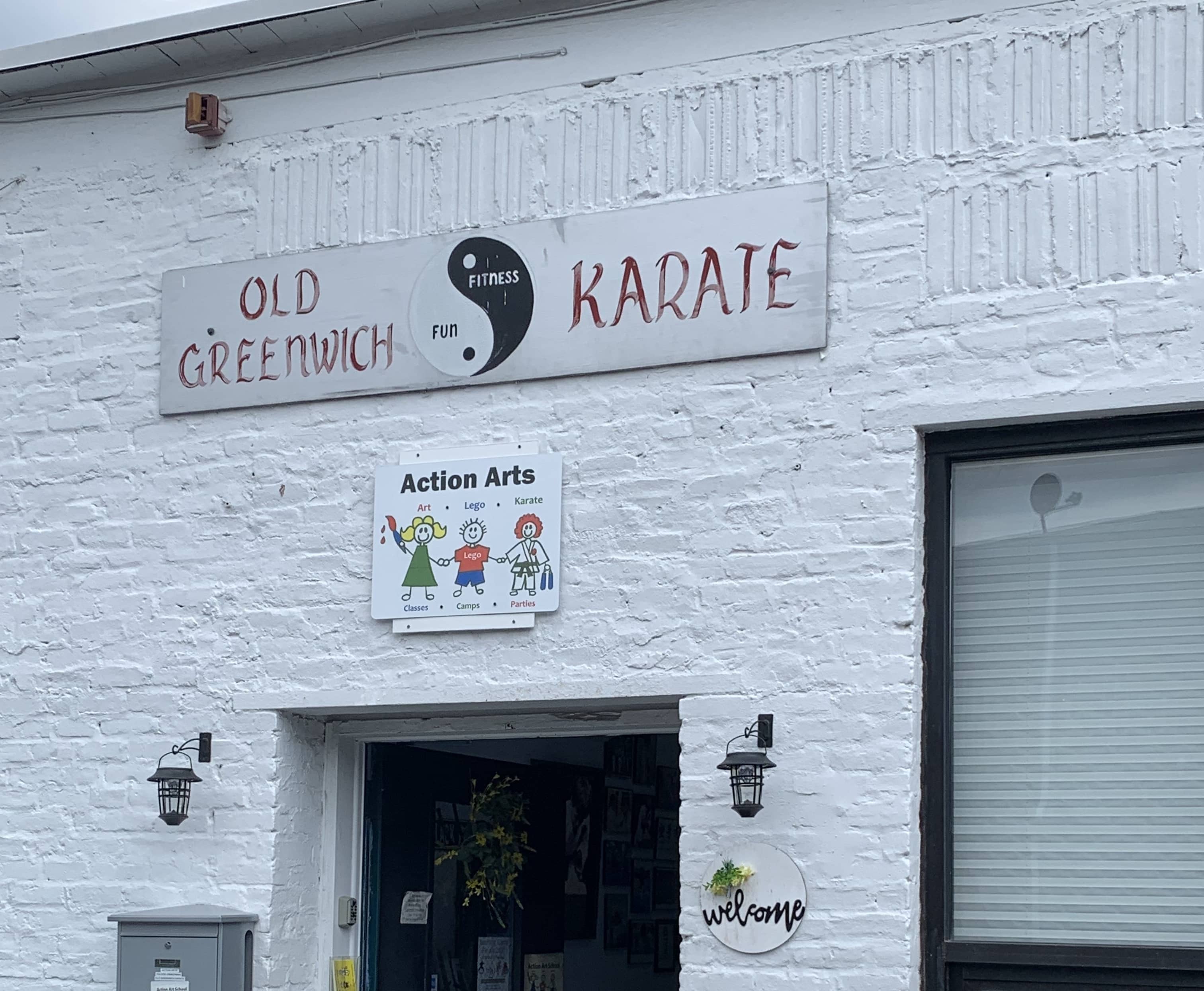 To Rick and Jacqui Zimmerman, the founders and owners of Action Arts Camp, art and karate are a lot more than paintbrushes and breaking boards — they are a way for people to relax, have fun, and express themselves. Throughout their many years of teaching, they have steadfastly applied this principle in teaching their students.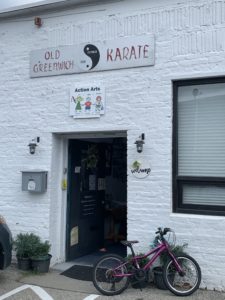 Back in 1972, the couple started a photography and developing studio in Old Greenwich, catering to weddings, birthdays, and other events. After about 20 years of operation, Rick, a trained and experienced black belt in karate, began receiving requests from friends and community members to host karate lessons in response to a rise in crime in the area. The existence of these lessons spread rapidly by word of mouth. "All of the sudden, there were so many people coming to sign up," said Jacqui. In response to the demand, they added a karate studio to the photography studio but kept the picture business up. In 1999, they completely phased out this aspect of their business. "I decided that photography is not as much fun as teaching karate." Rick joked.
Rick began studying karate in 1963, with Jay Gluck, the author of Zen Combat. "I initially started karate because I was getting into trouble. I lived in White Plains in the 60s, and the city was a little rough back then." Reflecting on how karate impacted his life, he said, "[Karate] taught me to focus my mind and my body. It taught me how to use my energy in a positive way." He went on to study Uechi-ryu Karate at the University of Rhode Island. In the 80s and early 90s, he earned numerous belts and certificates as he pursued his passion. "I fell in love with it," he said.
As Rick created the Karate studio, Jacqui opened an art gallery with the help of some local artists. This developed into an art school for both kids and adults, but to Jackie, "teaching kids was just more fun." So the classes soon became exclusive to kids. She opened up a summer camp in 2008. The camp included drawing, watercolor, oil pastels, and painting on a canvas, taught by experienced artists in the area.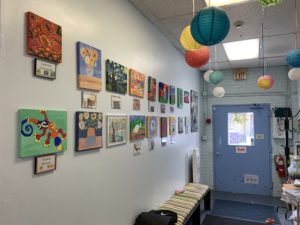 "Join now!" their website says. Action Arts Camp runs six days a week as an after school program mixing art and martial arts. The camp includes everything from legos, to instructional art, to playing games. Students are welcome to come to 3-5 sessions a week for as many weeks as they'd like. "One popular activity is using cut-up pool noodles to assemble monsters and aliens. The kids love it," said Jacqui. The kids also have the option to play with Legos or Magna-Tiles. Depending on the day, the artwork could be watercolor, collages, ceramics, or a multitude of other art styles. "Recently, we did something in the style of Annie Lane, who draws silly animals."
Rick teaches karate Wednesdays, Thursdays, and Saturdays. Art classes are held the rest of the days with two classes per day, the first from 4:00pm to 5:00pm and the second from 5:15pm to 6:15pm to accommodate the kid's school schedules. Already in their 70s, Rick and Jacqui continue to run their business and make an important contribution to the Old Greenwich community. Their business has a profound impact on the kids they teach. "What I see with art is that kids come in and the art calms them down when they're stressed. It brings down their level of anxiety," said Rick.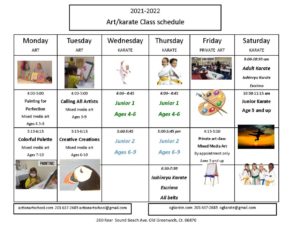 He shared similar sentiments with regard to karate: "I get students: sometimes they're too active, sometimes they're too shy. A few years back, I had a student who would rarely talk outside of her house. She came in to learn, and by the time she finished, she was a black belt." Rick, who attended graduate school in special ed, explained this saying, "When [students] successfully complete something, they get a new belt and they begin to build their confidence. This seems to snowball into other aspects of their life."
"I find that kids are much easier to teach when they're having fun. And they ultimately learn much better" said Rick. Because of this, the couple makes it their business's mission to make sure every student in their studio is laughing and having fun.
If you're interested in learning more about Action Arts or Old Greenwich Karate, please visit their websites https://actionartschool.com/ and https://ogkarate.com/ respectively.