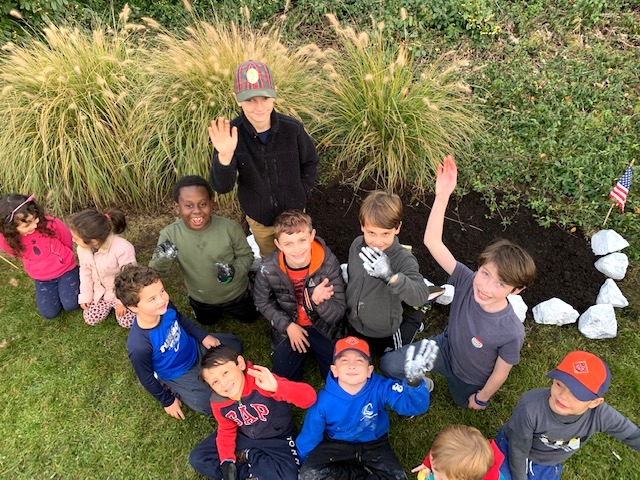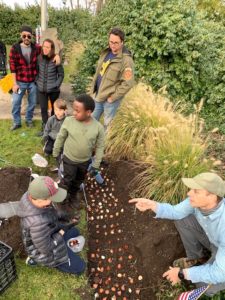 By Anne W. Semmes
A dozen Cos Cob Cub Scouts of Pack 20 have made history planting over 100 tulip bulbs in honor of the Veterans of Cos Cob in their Veterans of Foreign Wars Post 10112 Memorial Park on Strickland Road. Come spring there will be a celebratory burst of color, in red, pink, and purple blooms.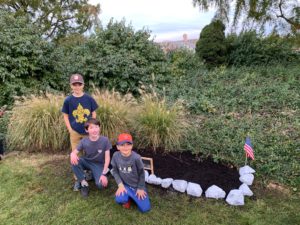 The tulip bed idea came to the Cub Scouts' leader, Canadian born Chris Asmis, who shared having grown up amongst "miles and miles of tulip gardens" planted in his hometown of Ottawa. "In World War II, Canada had a big role to play in liberating Holland," he says, "And so since World War II Holland sends Ottawa millions of tulips."
Asmis proposed the tulip garden to Bill Cameron, Post Adjutant of the Cos Cob VFW Post. "Bill loved it right away, and he cleared it with the Town," says Asmis, and last Sunday after the Saturday Veteran's Day ceremony, "we dug in the tulips, over a hundred of them." All 12 Cub Scouts had their hands in the planting in the two foot by 8-foot garden.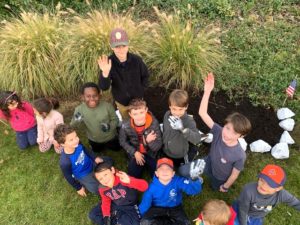 "Bill was there to meet the kids during the digging of the garden," shares Asmis. "We introduced Bill as having served in the Navy and our country many years ago. And he talked just a little bit."
Asmis' nine-year old son Ryder, a fourth grader also in the Cub Scout group, was chosen as flag bearer of the VFW flag in the Veteran's Day ceremony. "He was excited he got to carry the flag," says father Asmis. "He was very honored to be a part of the Color Guard as flag bearer. He knew it was a big job and he knew the VFW flag was heavy!" Ryder had responded to this reporter via his dad: "I had a lot of fun being out with my friends and meeting the veterans."
Jackson Toohey, another fourth grader, was "super excited to show the garden to his grandfather, who served in the Air Force, in the spring." And Isabella Cartolano, a kindergartener, liked "planting the tulips and covering it with the dirt!"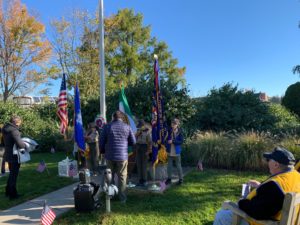 Father Asmis who in his youth had attained the level of Chief Scout which is the equivalent of Eagle Scout in this country, had surely found the way to engage his Cub Scouts in a hands on way with Veteran's Day. "A big core tenet of Scouting is to help your community, and then the extra bonus here is this [tulip bed] is a bit of a magnet to draw kids back to visit the Veterans Memorial that they're invested in."
Asmis has informed his Pack 20, "We'll come back in the spring when the tulips are in full bloom – we'll check on them." Perhaps they'll come on Memorial Day, if the tulips will keep their bloom, for, "there's a connection there for them to tie Veterans Day to Memorial Day. Then, when we're there in the spring, I'm sure we will tidy it up or weed it – or whatever it might need. The beauty about tulips is they'll come back every spring."