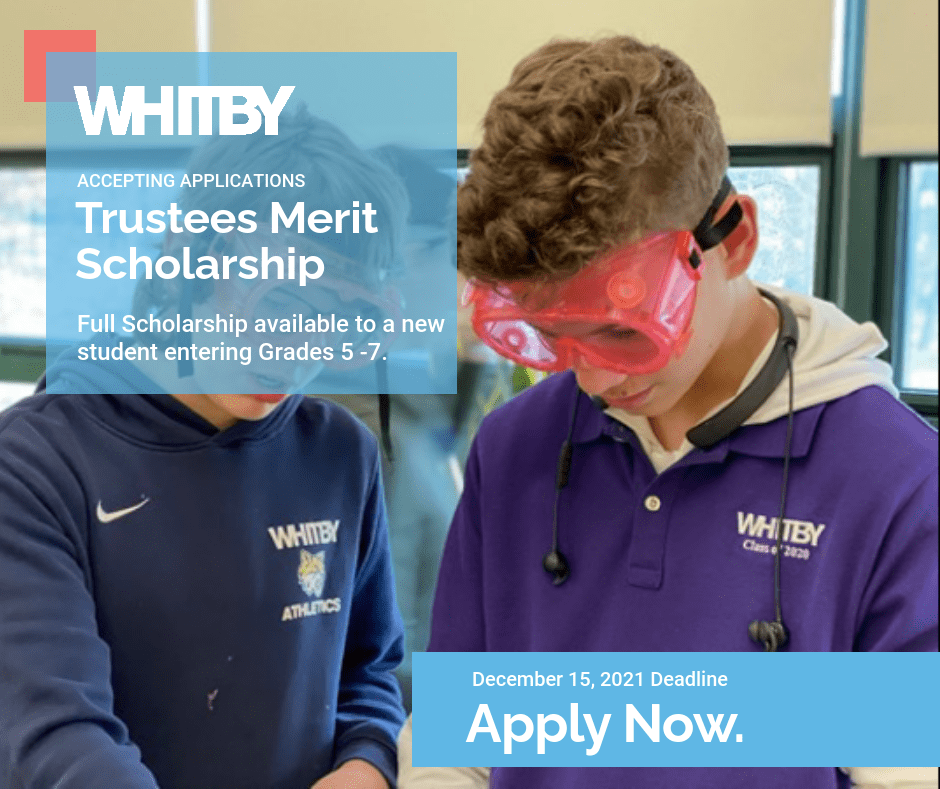 Whitby School today announced it is accepting applications for the Whitby Trustees Merit Scholarship, which provides a full-tuition scholarship to a distinguished and accomplished new student entering Grade 5, Grade 6, or Grade 7 for the 2022-2023 school year. Two additional scholarship candidates will receive awards as well.
"At Whitby, we align what we teach and how we teach with the developmental needs of middle school students," said Dr. Jack Creeden, Whitby Head of School. "We celebrate the unique intellectual, social, and personal growth opportunities in the middle school years and provide leadership opportunities that are often only available to high school students in larger K-12 schools."
Applicants for the scholarships must distinguish themselves as accomplished students, exceptional leaders, and possess a track record of involvement in extra-curricular activities. The competitive scholarship selection process includes an essay submission and interview with the Scholarship Selection Committee.
For more than 63 years, Whitby has endeavored to inspire young students with a passion for learning and empower each child to take responsibility as an open-minded, principled citizen in a global community. The Whitby Trustees Merit Scholarship furthers these aims. It amplifies the rewards of the school's educational continuum, using the world-renowned Montessori and International Baccalaureate models that prepare each child for success in their life-long learning journey.
Interested families can apply at whitbyschool.org/scholarship or contact the Admissions Office at 203-302-3900 for more information on the application process and requirements. The deadline for applications is December 15, 2021. Recipients of the Whitby Trustees Merit Scholarships will be notified by late February 2022.
About Whitby School Located in Greenwich, CT, Whitby is a co-educational independent school that provides educational continuity for children 18 months through Grade 8 in the Fairfield-Westchester area. Whitby offers a Montessori curriculum in the Children's House (18 months – Kindergarten) and the highly-recognized International Baccalaureate (IB) program in Grades 1-8. These two programs form the foundation for an educational experience where students thrive and learn to think creatively and critically, preparing them as life-long learners.
The Greenwich Sentinel received this as a press release. The Greenwich Sentinel news department was not involved in the creation of this content.