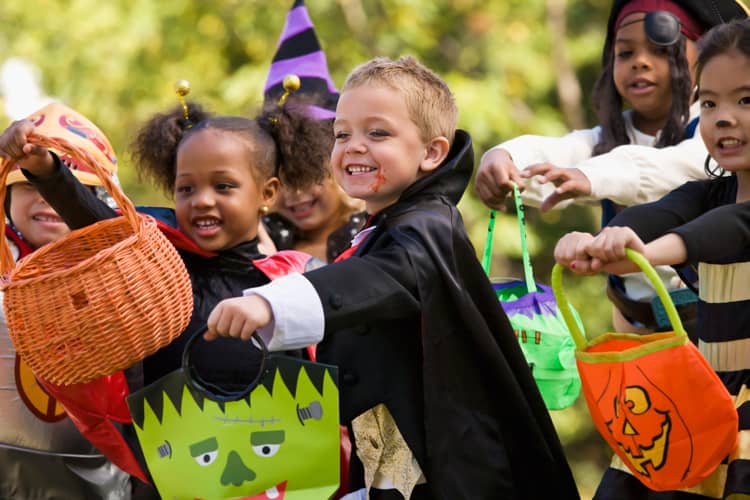 This community event will bring Greenwich Avenue to life in a new way to mark Halloween 2021, with Greenwich Hospital as the Presenting Sponsor
The Local Moms Network, the parent company of Greenwich Moms, is pleased to announce Greenwich Greet & Treat, a Halloween-centric community event taking place on Greenwich Avenue on Sunday, October 31 from 11am-3pm. Greenwich Moms has partnered with Greenwich Magazine to bring the Avenue to life in a different way this Halloween with a series of unique activations to complement the safe trick-or-treating opportunity the event provides. The day will bring families together for festive fun while fostering connection for the community.
Businesses along Greenwich Avenue will participate in Greenwich Greet & Treat with special in-store promotions and goodies for all. Guests will have the chance to meet with local business owners and learn more about what they do along their trick-or-treating experience. A number of food trucks will be on site, including Dough Girls, Neil's on Wheels and more.
Greenwich Greet & Treat Presenting Sponsor is Greenwich Hospital, who has been supporting children in our community since its inception. The hospital serves Fairfield County, Connecticut and Westchester County, New York, and specializes in a wide range of medical, surgical, diagnostic and wellness programs and operates a Pediatric Specialty Center.
Houlihan Lawrence is Trick or Treat Balloon & Bag Sponsor, serving as the event's exclusive real estate partner. Bright Horizons is also a Trick or Treat Balloon & Bag Sponsor.
The Local Moms Network CEO and Greenwich Moms founder Layla Lisiewski said, "We're excited to team up with Greenwich Magazine to bring everyone together for some safe Halloween fun in one of Greenwich's most iconic locations all while celebrating families and what makes our town special."
Greenwich Magazine Editor Cristin Marandino added, "We greatly admire the work that Layla and her team at Greenwich Moms have done over the years. And we're thrilled to partner with them on such a fantastic event that focuses on family, small businesses and community. The past year and a half has been a long road, so seeing the Avenue filled with little trick or treaters having fun will do us all good!"
"Greenwich Hospital is delighted to support Greenwich Moms as they celebrate children in a safe, fun way," said Diane Kelly, president Greenwich Hospital. "It has been very disappointing to all of us at Greenwich Hospital that we have had to cancel our time honored tradition of the Teddy Bear Clinic for the past two years because of COVID. It is important for us to be able to support efforts that bring our community together, especially with children at the heart of the event."
For more information on the event, please visit greenwichmoms.com.
About The Local Moms Network: Committed to Giving Moms the Gift of Time, The Local Moms Network (TLMN) delivers hyper-local resources and community connections to moms in suburbs across the country. The network exists to help moms navigate the many choices that come along with parenthood and is for moms, by moms. A local mom leads each individual platform which features digital content, comprehensive resources, social media engagement, community inclusive events, monthly newsletters and time-saving guides. TLMN's first location was launched in Greenwich, CT in 2016 and has now grown to encompass 115 platforms across 32 states with plans to be in all 50 states by the end of 2021. In addition to resources, the network provides women with entrepreneurial opportunities to launch their own business in their communities via their own local platform.
@thelocalmomsnetwork / @greenwich_moms
About Greenwich Magazine: Greenwich Magazine is an award-winning publication that has been serving residents of Greenwich for nearly seventy-five years. As the leader in the market focusing solely on Greenwich, it offers readers an in-depth exploration of all that Greenwich has to offer. Every issue includes fun and fashionable resources—social events, dining out, shopping—as well in-depth and thought-provoking stories on social issues and influential leaders in business, finance, sports and entertainment. Its goal: To help readers live life better here. The brand also connects readers through its strong digital presence online and on social media, as well as its popular signature events that celebrate community in a variety of fun and interactive ways.
About Greenwich Hospital: Greenwich Hospital is a member of Yale New Haven Health. Greenwich is a 206-bed regional medical center serving lower Fairfield County, Connecticut and Westchester County, New York. It is a major academic affiliate of Yale School of Medicine. Founded in 1903, Greenwich Hospital has evolved into a progressive medical center and teaching institution representing all medical specialties and offering a wide range of medical, surgical, diagnostic and wellness programs. Greenwich Hospital is recognized throughout the healthcare industry as a leader in service and patient satisfaction excellence. Greenwich Hospital has the prestigious Magnet designation from the American Nurses Credentialing Center, the nation's highest honor of nursing excellence.