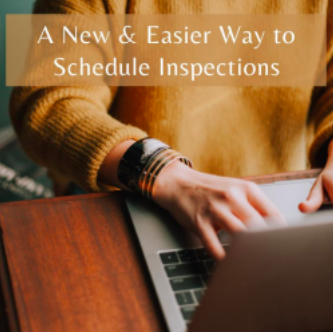 Town of Greenwich Department of Public Works, Building  Inspection Division, is now implementing a new and easier way for residents to schedule inspections through City Squared. This free and virtual 24-hour permitting system streamlines the inspection process by making it quicker and easier to schedule inspections, providing real-time access to permit and inspection information, and receiving feedback on inspection results – all from the convenience at home.  
Receiving approximately 2,500 building permits and 5,000 trading permits in a fiscal year – as well as making upwards to 100 inspections per day – Greenwich is one of the busiest towns in Fairfield  County to process permits and inspections. City Squared can help speed up the inspection scheduling process. As of October 18, 2021, all inspections must be scheduled through City Squared.  Anyone can use the City Squared portal, including homeowners who are undertaking projects themselves, commercial contractors, builders, and repair and renovation professionals. City  Squared can be accessed from the Building Inspection webpage on Town of Greenwich's website or by directly visiting www.citysquared.com. 
No matter the technical ability, everyone can easily learn how to use City Squared by using the comprehensive tutorials and video available on Building Inspection's webpage. 
The online tutorials and video teach new City Squared users how to: 
∙ Set up a City Squared account 
∙ Log into City Squared as a registered user 
∙ Create a Town of Greenwich contact on City Squared 
∙ Claim a building permit on City Squared 
∙ Schedule a building inspection on City Squared 
The Department of Public Works is committed to providing a variety of services that are of vital importance to the town and residents of Greenwich, CT. This includes but is not limited to highway/roadway maintenance, sewer management, stormwater management, waste disposal and recycling, building inspection, and the improvement of public infrastructure. 
Follow Greenwich Public Works on Facebook, Instagram and Twitter to receive important information, updates and the latest initiatives from the department.