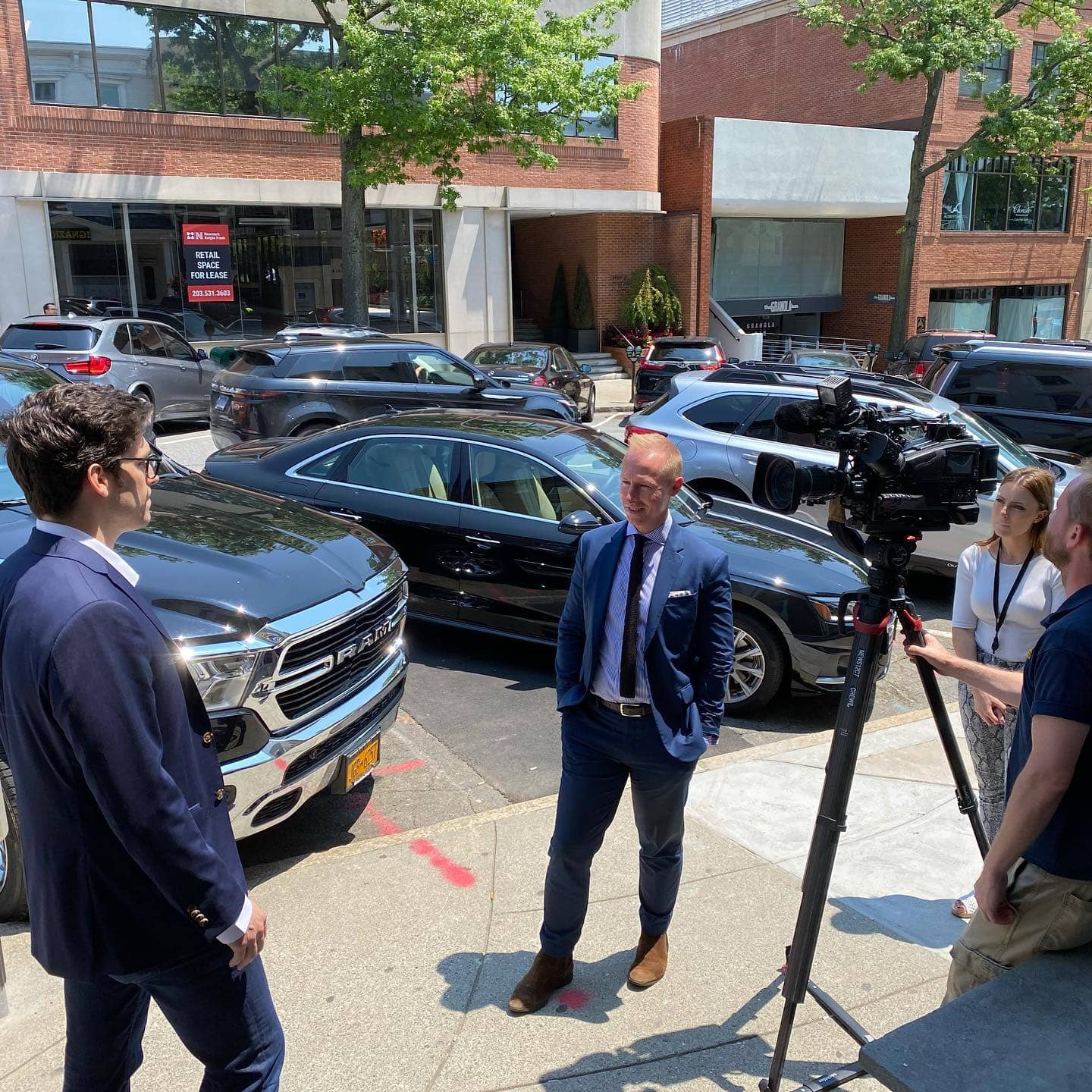 By Anjali Kishore
"I come here all the time, I love this place!" says Ryan Fazio, walking into CFCF Coffee on Greenwich Avenue. But today, he's not here for his daily dose of caffeine, or to meet with a friend.
Last month, Alex Kasser suddenly resigned from her seat in the 36th District of the Connecticut State Senate and Fazio, 31, is hoping to fill that vacancy. Fazio is running against Democrat Alexis Gevanter and successful petitioning candidate Democrat John Blankley, who recently broke off from the Democrats to petition for a spot in the election.
A Northwestern alum with a degree in economics and a veteran of the private sector, Fazio's focus is clear: a swift economic recovery from COVID and a brighter economic future for what the "bedrock of Greenwich and the entire 36th district;" small businesses and their employees.
So that is how, on a hot July afternoon, Fazio and his team ended up traversing the Avenue, seeking out shop owners to have a frank discussion about what they need to keep their businesses thriving.
The conversation ranged from baseball cards and family matters to parking frustration and infrastructural concerns, displaying the kind of connection that Fazio, as a representative in a relatively large district, needs to foster with business owners in order to "change Hartford, save Connecticut, and restore hope for the future of the state."
"Without [small businesses], Greenwich and the district wouldn't be such a great place to live," says Fazio, "We're doing what we can to support them, and the only way to know that is by talking and listening."
The entourage, including Fazio's executive team and First Selectman Fred Camillo, started at East Putnam Variety, a balloon and convenience store at the top of the Avenue. For them, quarantine had some unexpected perks: rather than having large events for occasions like graduation with many families involved, smaller gathering sizes resulted in more parties overall. For East Putnam Variety, more parties means more business, with balloon arches and arrangements flying off the shelf.
Still, maintaining a business on the busiest commercial street in Greenwich comes with its own unique set of challenges, which the shop owners were more than happy to discuss.
Camillo, who is listed as an honorary chairman of Fazio's executive team, and Fazio's agendas echo each other, fiscally cosnservative with an emphasis on the development of business. Even the trip down Greenwich Avenue is what Fazio calls "Fred's style of politics". The admiration is undoubtedly there. Camillo served for ten years in the Connecticut House of Representatives and as minority leader. Fazio's potential election in August might mean more than just another seat in state legislature, but rather a torch-passing to the future of the local Republican party.
But first, he has to win. While Fazio narrowly won the Greenwich and New Canaan areas of the 36th district, Kasser's final push came from absentee voting in Stamford. In 2021, however, the circumstances are different: in the last election, Fazio was running against an incumbent Alex Kasser and was relatively under the radar for most voters. However, thanks to the fervor that was built around the 2020 election cycle, Fazio is now the most recognizable name of the candidates running for special election.
Last November, "we had thousands of new Democratic voters move to town, and we still got 49% of the vote against a well-funded incumbent," according to Fazio. Alma Rutgers, a veteran of local government who served in Greenwich for over 30 years, called Kasser's resignation a "gift to Republicans" and she may be right.
Stopping into Greenwich Avenue institution Pasta Vera, a women-owned business that has been a fixture on the Ave for 35 years, Fazio discussed, among other things, cheesecake ("best in Connecticut, by far") and employment incentives.
"That's my top priority," he assured the owners when the conversation turned to economic patterns that have arisen over the past year, "Economic growth. Bringing jobs back, putting people in offices, that's my top priority".
The Avenue coming back to life is especially important for Pasta Vera, where many employees stop by for a bite during their lunch break. In order to maintain their long-standing success, it's critical that people begin coming back to in-person work.
On the biggest spending street in Greenwich, Pasta Vera has been thriving for over three decades. The secret to their longevity? They're "not set in stone: we work with everyone."
Fazio says he loves that attitude, and in order to have his voice heard in the majority-Democrat State Senate, it's one he'll have to employ often. But those are concerns for the future.
As of right now, Fazio can be seen around the community, knocking on doors and popping into town institutions to gather feedback on local leadership.
The community, he says, keeps him hopeful, a sentiment echoed in his nomination acceptance speech: "I remain an optimist. I know that our communities here in Greenwich, Stamford and New Canaan are the best there are around, with big hearts and people who look after one another. We simply need a change in leadership in Hartford to thrive like never before."