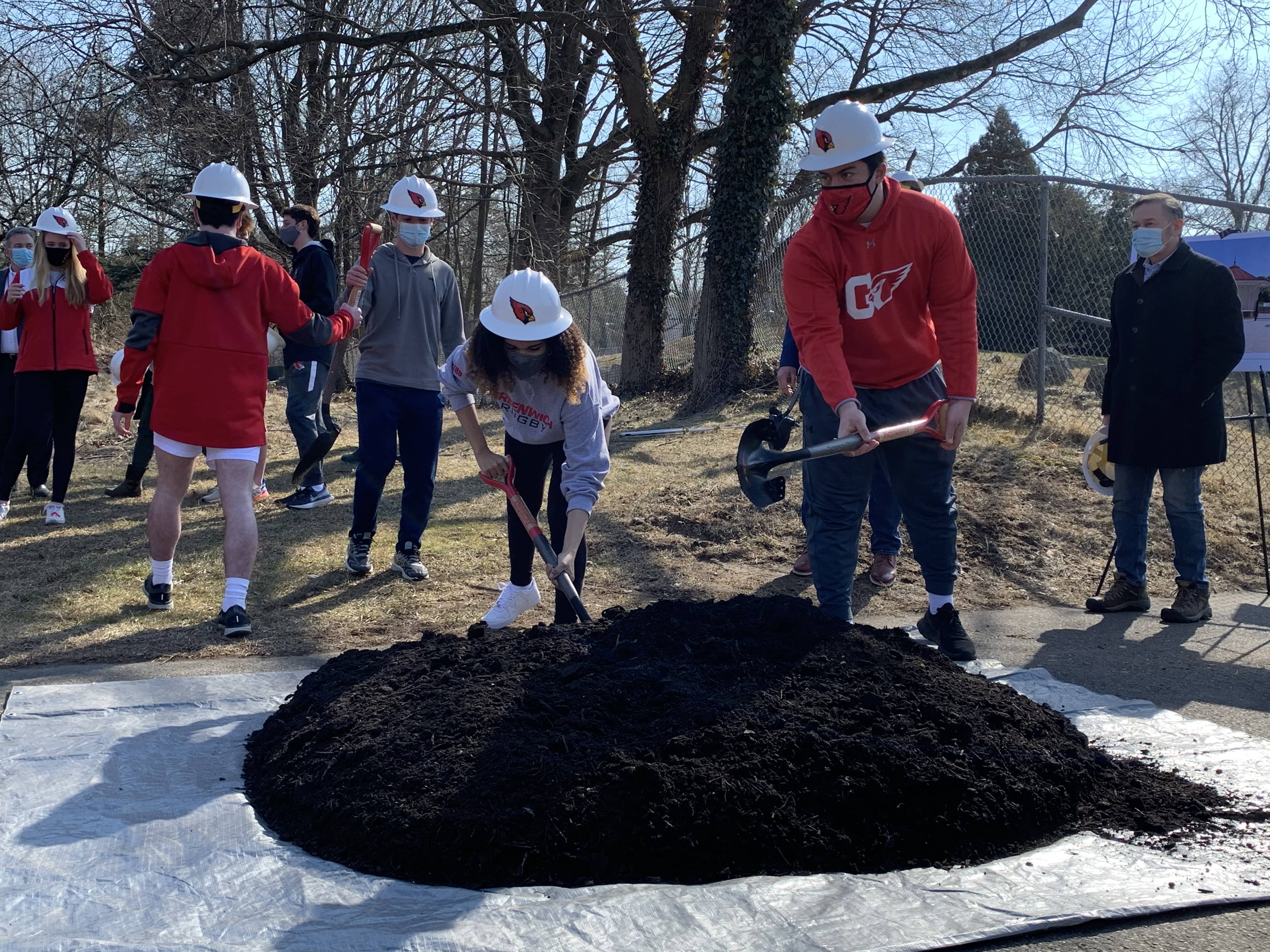 By Richard Kaufman
On Wednesday afternoon under bright blue skies, the Greenwich High School community said goodbye to an old friend, and symbolically kicked-off the process to usher in a new one with a groundbreaking ceremony. One by one, town and school officials, along with student athletes from GHS, plunged shovels into the ground to officially begin construction on the beginning phases of the Cardinal Stadium improvement project.
"This old friend was with us for over 50 years. This old friend served us very well. This old friend held us up when we needed to be held up. This old friend helps us cheer on teams; when we wanted to make noise, we banged on the bleachers," said Board of Education member, Cardinal Stadium Committee member, and former GHS rugby coach, Joe Kelly, on the bleachers at Wednesday's groundbreaking ceremony. "That old friend is gone. But that's ok, because we are getting ready today for our new friend."
Phase 1A of the project includes the construction of new home-side bleachers that are ADA accessible with a press box, elevator, new bathrooms and a team room that will go below the bleachers. Phase 1B includes the addition of new lights on existing poles, handicap parking, and an entry kiosk.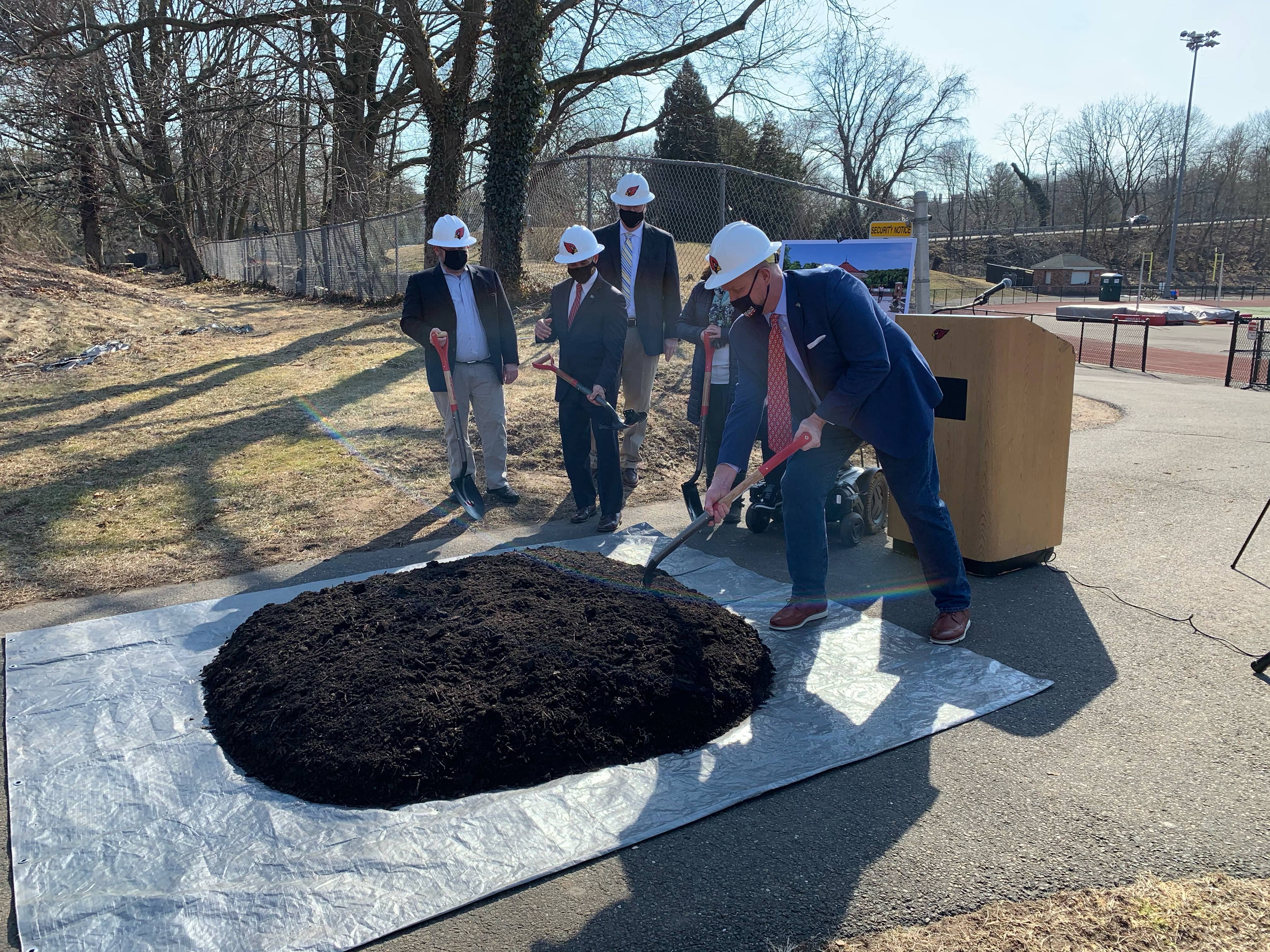 The Cardinal Stadium field is hallowed ground, added Kelly, who spent nine years as the Cardinals' rugby coach, having never lost a home game during league season. Kelly recalled the chills he would get when the crowd roared and made noise to cheer his team on during a rally, and he's looking forward to seeing the new and improved stadium back in action.
"The facilities are going to be great, we're going to fill those stands, and give our teams the justified power they deserve. I'm looking forward to these things being done in short order," he said.
First Selectman Fred Camillo reflected on the history of the bleachers, which he said, according to town legend, originally came from President Dwight D. Eisenhower's inauguration. He said that then U.S. Congressman Al Morano made a phone call to bring the stands to Greenwich.
"This field here has been home to championship teams. Now, we're going to get a championship stadium that's representative of the championship town that Greenwich, Conn. is," said Camillo, who thanked members of the Board of Education, Cardinal Stadium Committee, Board of Estimate and Taxation, and Representative Town Meeting for supporting the improvement project over the years.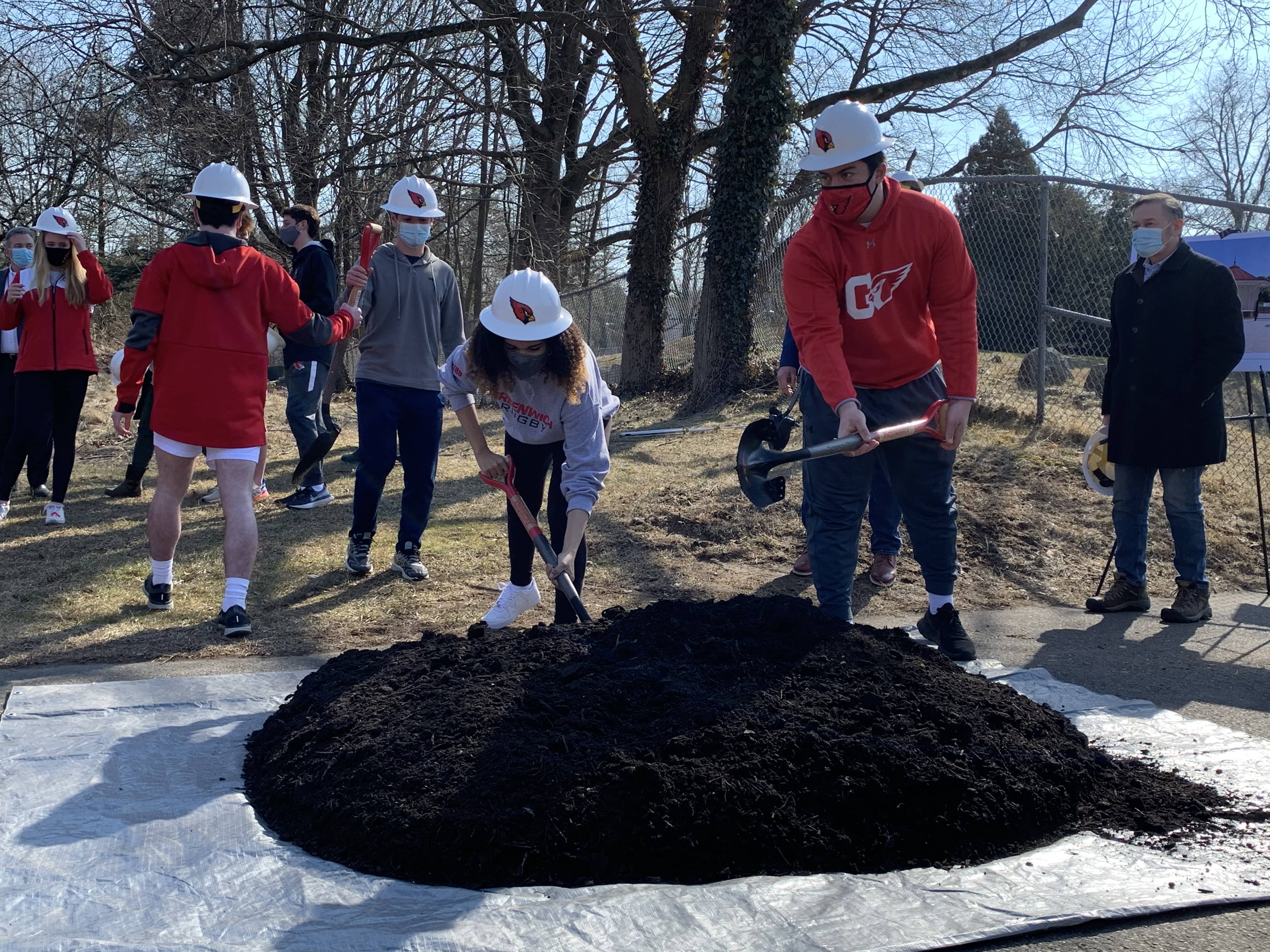 Kelly believes that the bleachers will not be ready for graduation in June. Funding for Phase 1B, which included work for the bleachers in Phase 1A, was delayed by the BET in January so the board could work through their process of discussing the matter at their meetings.
When the approval was delayed in January, Greenwich Public Schools Chief Operating Officer Sean O'Keefe said it would "seriously impact" the construction schedule. The funds were approved in February.
But Kelly said on Wednesday that the funding delay is not to blame for the changed timeline.
"We certainly hope [they'll be ready] and we're going to try because I never quit, but I'm being told by the experts that we're not going to be using them. They'll be there, they'll most likely be up and there will be a lot of advancement on the project. But I think due to ADA and the [construction of the] elevators, I don't think we'll be able to use them because they won't be complete and safe," Kelly said. "It's just the way it kind of fell together. Town projects take a lot of approvals, and a whole lot of involvement. There's no one to blame at all."
Kelly noted that he expects Phase 1A and 1B to be complete by football season in the fall.
Stephanie Cowie, co-President of the GHS PTA, thanked all those involved for their patience in working on the project.
"As we are all aware, any capital improvement requires patience and support of the community. While we've had some starts and stops, those leading this process have always believed in  the importance of providing a safe and accessible stadium for our student athletes," she said.
Cowie hopes that by June, Greenwich will be in a different place with regards to COVID-19, and graduating seniors will be able to experience a commencement ceremony on the field in accordance to state and local guidelines.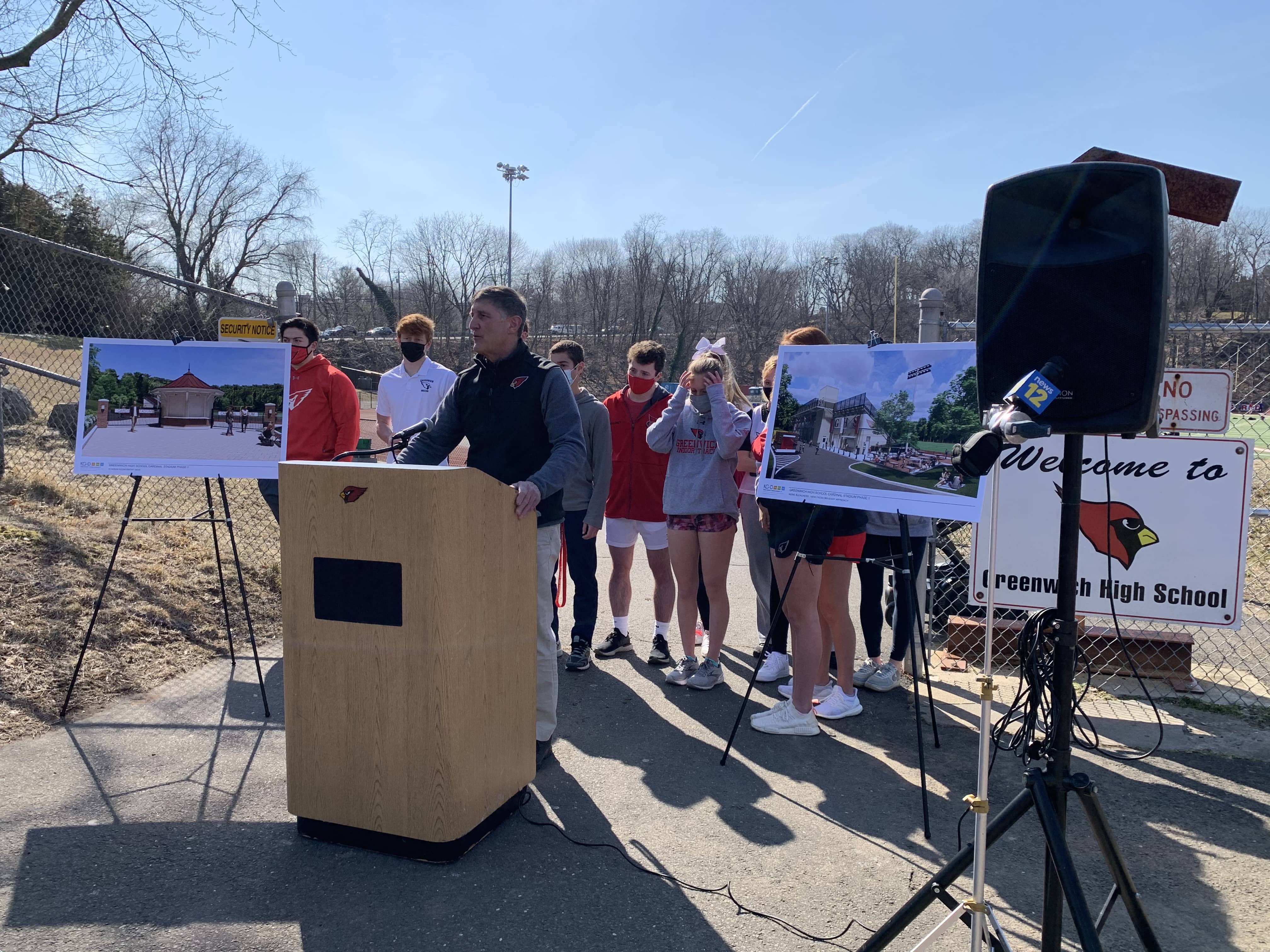 GHS Athletic Director Gus Lindine spoke briefly, and brought up several student athletes behind him at the podium.
"We are so excited for the opportunity to be able to have a place that is so much more welcoming and inviting to our guests," said Lindine. "It will be more accessible and more comfortable for our spectators, and more usable and productive for our student athletes."
Lindine said that he's looking forward to the day when Cardinal Stadium is packed once again.
"I can't wait until this fall to feel that energy. To look out there and see all the red and white on the brand new grandstands, and to hear the band playing 'Go Big Red!', and to hear the Cardinal Crazies going crazy for their friends and teammates, and to watch these kids out on the field… It's going to be a wonderful moment for all of us and one that I think we've all been waiting for."
According to Kelly, actual construction is expected to begin soon.