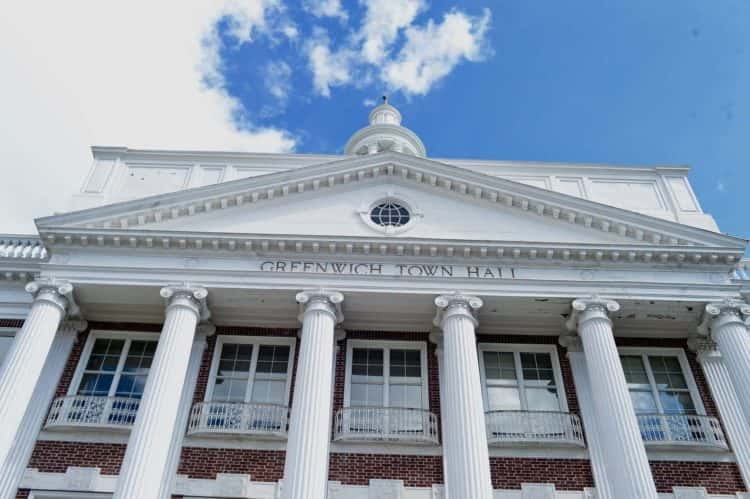 By Richard Kaufman
Earlier this week, Selectpersons Lauren Rabin and Jill Oberlander issued statements condemning the attack on the U.S. Capitol that occurred on Jan. 6. First Selectman Fred Camillo issued a statement last week, which you can find here.
Statement by Selectperson Lauren Rabin on U.S. Capitol Attack, issued Jan. 14
I've been criticized for not speaking out against [President] Trump and Trumpism, and I own that; it's something I need to personally deal with.
I was shocked, disgusted and ashamed as an American about the actions that took place at our nation's capital. I condemn those actions and anyone who encouraged or incited them. What is still bothering me is how we are continuing to have one-sided conversations, in what I consider a tit for tat in our local media. I choose, and I encourage others, to start a real time — mask-to-mask, face-to-face — constructive dialogue about rebuilding our democracy. Democracy is about solving problems, it's about compromise, neither of which can be accomplished without listening to one another, and seeking to understand versus being understood.
Everyone has faults, and what makes our town, and now more than ever our country, unique, is that we have great capacity to repair our faults. Let's start today.
Statement by Selectperson Jill Oberlander on Jan. 6 Attack on Democracy, issued Jan. 13, revised Jan. 14
For the past week I have tried to tamp down my outrage at the incitement and violence we all witnessed last Wednesday.  My hope, then and now, is that we will be able to put the partisan politics and vitriol behind us and begin to heal our divided nation and community.  However, recent statements and commentary in both our local and national papers, suggest that there is already a movement to sweep this treasonous affront to our democracy under the rug through the continued propagation of distorted facts and distraction.
It is my belief that each of us who has sworn an oath to protect the Constitution has a personal obligation to publicly repudiate and hold to account everyone who participated in the unlawful attacks both on our Capitol and on the public servants upon whom we rely to uphold our laws and protect our institutions.
I join the public condemnation of the incitement and violence that occurred and fully support the impeachment and removal of President Trump.  I also support an action preventing him from holding public office in the future.  I ask our dedicated Congressional representatives to move quickly and decisively to accomplish these goals.
Some individuals this past week have shamefully suggested that those speaking out against the violence against our nation and its incitement are "self-serving."  They are wrong; it is in the interest of our country, our democracy; our community and our own morals.  In the words of President Theodore Roosevelt, "Patriotism means to stand with the country. It does not mean to stand with the president."  I ask each of my fellow elected officials to similarly declare their opposition.  Not one of us can support a president who encourages violent objection to our nation's democratic principles, thereby threatening the foundation and future of our great country and democracy.