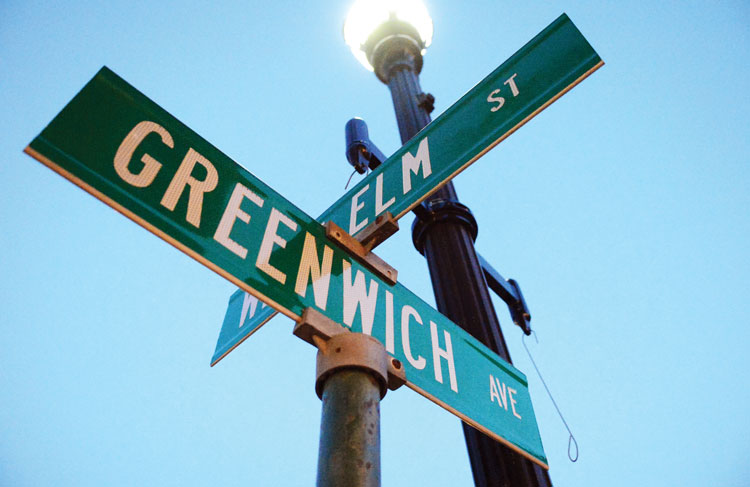 By Richard Kaufman
Sentinel Reporter
When the COVID-19 pandemic hit, the economic impact was felt far and wide for scores of small businesses around the country.
Many businesses have shuttered in Connecticut since March, and many more are barely holding on. With Black Friday and small Business Saturday fast approaching, Connecticut Lt. Gov. Susan Bysiewicz hosted a series of Zoom webinars on Tuesday with elected officials in Greenwich, Bristol and New Canaan to underscore the importance of shopping small and local this holiday season, and all year long.
On Greenwich's Zoom call with Bysiewicz was First Selectman Fred Camillo; State Reps. Livvy Floren (R-149), Kimberly Fiorello (State Rep-elect, R-149) Stephen Meskers (D-150), and Harry Arora (R-151), as well as Women's Business Development Council President and CEO, Fran Pastore, and Louise Joseph, a small business owner in Greenwich.
Bysiewicz highlighted just how important small businesses are to the United States and Connecticut. She noted that right now, half of Americans either own or work for a small business, and two-thirds of the new jobs created in the country are created by small businesses.
According to the American Express Shop Small Impact Study, 62 percent of U.S. small businesses reported that they need to see consumer spending return to pre-COVID levels by the end of 2020 in order to stay in business.
"That would be catastrophic for our downtowns and our beautiful cities and towns," Bysiewicz said. "We want to encourage Connecticut residents to shop small and shop local because our communities are in jeopardy. These businesses are the ones that support the local PTAs, the sports teams, our nonprofits. They're also people who are our kids' parents, they're our friends, they're our neighbors."
Bysiewicz also said that there are various health reasons to shop small, for example, a lot of businesses have been increasingly innovative in coming up with ways for consumers to stay safe, such as online ordering or contactless same-day delivery. Crowds are also smaller at mom and pop type businesses, and shopping local helps communities flourish.
"If you shop small, 67 cents of every dollar you spend stays right in the community. Even more so for women owned businesses," Bysiwicz said.
Fran Pastore, the CEO and President of the Women's Business Development Council (WBDC), which is based in Stamford, has been a fierce advocate for women owned businesses and small business in general. She said since stimulus funds from the federal government didn't reach the people who needed it the most  — such as women, black and hispanic owned businesses — the WBDC wanted to create a community for people to go to in order to find out where they can buy local in Connecticut, particularly from women-owned businesses.
Therefore, the WBDC launched a virtual marketplace, where consumers can look up small businesses in a directory and then purchase products and goods online. Businesses who are a part of the marketplace must have an online presence and must be able to commit to delivering orders.
"Practically speaking, small business owners employ not only the people who work in their small business, they hire painters, they buy furniture, they have to buy PPP. They care about shopping local," Pastore added.
Floren believes the virtual marketplace will be transformative.
"I think this virtual marketplace is one of the best initiatives that I've heard. What I believe it will do for our small businesses is it will take us from two modes: we've been in survive mode, and this will push us to thrive mode. It's going to move more people to our businesses, it's going to help publicity, which will build foot traffic and virtual traffic," she said.
Meskers agreed, saying that the marketplace can help circumvent services like Uber Eats and Grubhub, which impose taxes and fees that end up hurting small businesses.
"I think supporting these businesses are so important to all of us. It's the fabric of our life," he said.
One such business that will be a part of the virtual marketplace is Dough Girls, a wood-fired pizza truck based in Greenwich, owned by Louise Joseph.
Joseph said the beginning of the pandemic was scary, and she didn't operate her truck because people were staying home.
"I'd walk down Greenwich Avenue and it was like a ghost town, it was the saddest thing ever. For me, I was looking at the businesses, but also all these people without jobs now. I had to try and figure out something to do, to sustain myself, and to still promote my business and help other businesses, too," Joseph said.
She decided to offer online ordering, and started to sell pizza kits for families to make at home, complete with dough, sauce and either margherita, cheese, or pepperoni toppings.
Joseph has been stationed near the YMCA in Greenwich, and at the Old Greenwich Farmer's Market, utilizing online ordering and a minimal contact payment system. Pizza kits will be available on the WBDC virtual marketplace, and the food truck location schedule is available at doughgirlsonthego.com and on social media platforms.
Camillo said Greenwich is very diverse, with high end merchants and mom and pop businesses, like Joseph's.
"There's something about the hands-on experience with people and getting that extra touch, and knowing the people and the merchants. It's important to keep reminding people that without small businesses, we'd all be in a lot of trouble both at the local and state level," Camillo said.
Fiorello will take Floren's seat in the 149th District in January. She poke about her own mother, who owned a small coffee shop.
"That's how my parents kept a roof over my head, the clothes on our back. I really have a visceral understanding that all of our small business owners, this is how they make a living. They're also living the American Dream of being their own boss," Fiorello said. "That also comes with the incredible responsibility, 24 hours a day, seven days a week, for their employees, and for their customers. I have a very deep desire to help all of the businesses in Connecticut."
Arora said Department of Economic and Community Development  (DECD) grants for small businesses have been vital since the pandemic began. He also mentioned that since COVID-19 cases are increasing, people are reluctant to go out and shop. To that end, he said he hoped testing capacity and turnaround times could be increased to better control public health.
Bysiewicz said the state went from conducting 10,000 tests per week in the spring, to more than 200,000 tests per week now.
For more information on the WBDC and the virtual marketplace, click here.