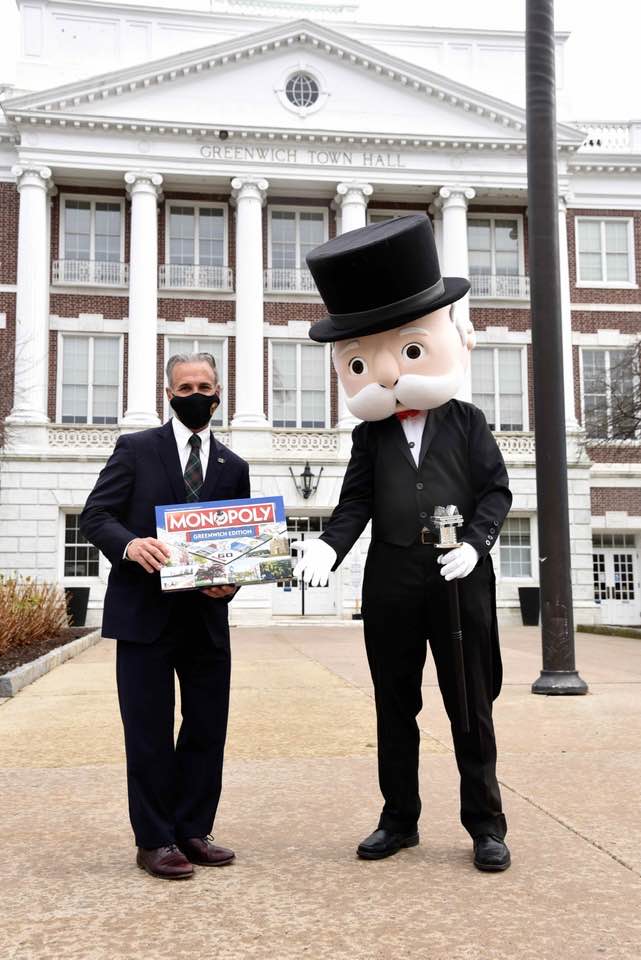 By: Richard Kaufman 
Have you ever wanted to own Greenwich Avenue, Island Beach, or perhaps the Bruce Museum? Now you can, with the all new Monopoly board game featuring the Town of Greenwich.
On Tuesday, Monopoly, the world's most iconic board game which is available in 114 countries and over 47 languages, released its first customized, geographic game for the North American market.
The new board game line was created and manufactured by Top Trumps USA, Inc. under the license from Hasbro, the official owner of the Monopoly game and brand. The company asked for feedback from the community in recent months on what to include on the board.
"After months in the making, our entire team is so excited to finally share what we've been working so hard to capture over the past few months – how tight-knit, beautiful, friendly and energetic Greenwich truly is," said Afolabi Omotola, partnerships manager, Top Trumps USA, Inc., in a statement on Tuesday. "Just in time for the holiday season, we worked hard to incorporate all of the important feedback we received from locals to truly make this a fun game for the community."
All squares on the board are completely personalized for the Greenwich community. Iconic locations and businesses, such as the Metro North train stations, Miller Motorcars, Greenwich Library, Greenwich Town Party, Greenwich Hospital and Greenwich Point, and many more, are featured.
On Tuesday, to promote the release of the game, Mr. Monopoly, the iconic board game mascot, visited Greenwich and First Selectman, Fred Camillo. He also stopped by Greenwich Hospital.
"There aren't many towns in the world that can say they have a Monopoly game, so it's another distinctive aspect for Greenwich that we can all be proud of," Camillo said. "It's a cool thing. It's another reminder that Greenwich truly is such a destination for so many people, and has been for well over a century. You know you're doing something right all these years when you get your own Monopoly game."
Greenwich Monopoly is available at local and online retailers, and at toptrumps.us, for $39.95. It is also available at the Greenwich Hospital gift shop. To place an order and to schedule curbside pickup from the gift shop, call 203-863-3371.