November 19, 2020
Thanksgiving Libations…Something for Everyone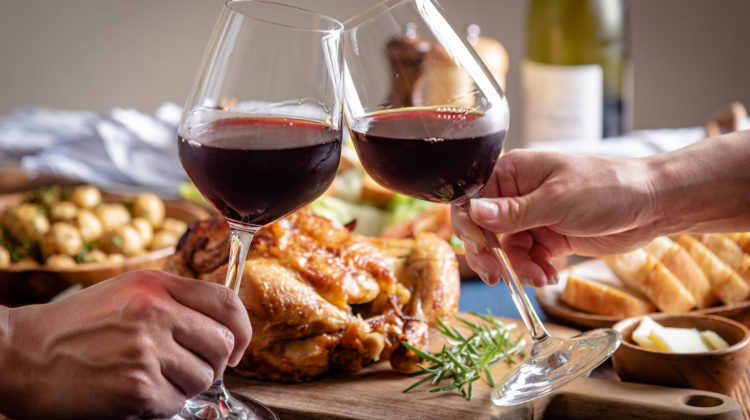 Thanksgiving 2020 will definitely have a different look and feel for many of us. Some (like both our families) would usually get together with multiple generations of family including grandparents, in-laws, aunts and uncles, brothers and sisters. Cousins would be playing football in the backyard while grown-ups are watching football and enjoying my (Peter's) favorite holiday cocktail…the Frosty Dawn. This drink was featured in last year's Thanksgiving article. But just in case you missed that one we will include it here.
This is a time that we can still and should be thankful for what we all have. While the table may be a bit smaller due to COVID, the aroma coming from the kitchen still reminds us of the holiday season. Friends and family are only a Zoom or FaceTime call away. Have a virtual toast with them, raising a glass to a safe and more prosperous 2021. Here are a few recommendations from your friends at Val's. We hope you enjoy some of these.
Our Thanksgiving always starts with a cocktail. The Frosty Dawn was introduced to me (Peter) by my father-in- law. He is a master of mixology who creates fun and interesting drinks that keep people talking.
The Frosty Dawn
2 oz. – Bacardi White Rum
1 oz. – Luxardo Cherry Liquer
1 oz. – John D. Taylor Velvet Falernum
6 oz. – Fresh squeezed tangerine juice or orange juice (no pulp)
Shake and strain over rocks. The key to this drink is the fresh squeezed juice. The freshness of the juice makes the taste more palatable and elevates the quality of the drink.
Another tradition is Champagne. The Veuve Clicquot Brut Rose is always a holiday favorite. This Champagne shows a great balance, not too dry. There are hints of ripe strawberry, ground ginger and white peach flavors. It has a crisp refreshing taste that sets the tone for the day. While Veuve is always a great choice, there are other selections such as Millenio Prosecco and Millenio Sparkling Rose. These are great tasting sparkling wines at a very affordable price point. I recently featured the rose at a Stamford Chamber of Commerce event in October and everyone loved it. Lamarca is another popular Prosecco with a vibrant bouquet of Granny Smith apple, white peach and honeysuckle….crisp and refreshing, it's a great way to kick off the evening.
Now, when it comes to wines being paired with your Thanksgiving meal, there are no rules except one: and that is drink what you enjoy! If you like a robust hardy red, open it up. If a light white is more to your liking (as it is with me), then go with it. Chardonnay is a favorite of many people and would be perfect if only white meat turkey were being served. However, with the stuffing, sweet potatoes, vegetable casseroles and other sides, light to medium bodied reds offer a broader selection of successful pairings.
Duboeuf Beaujolais Nouveau is a great choice. By French wine law, it is to be released the third Thursday of November, making it timely for your Thanksgiving table. This may be served with a slight chill, as it is free-run wine without aging, meant to be served young and fresh. Ripe berry tones with a hint of grapiness make this a winner. Another option for a red includes the Cote de Reign Sancerre from the Loire Valley in France. This has a fresh aroma of red fruits, cherries, raspberries, black currents with a hint of spice. A red Cotes du Rhone, usually a blend of grenache, cinsault and mourvedre, can also work well. Hints of dark cherry, spice and earthiness are often present in these wines. Want to try something from Spain? A garnacha uses the same grape, grenache, used in the Rhone. With a hint of vanilla from the oak, aromas of leather and spice, this is always an affordable option.
Since Thanksgiving is a very American holiday, why not an American wine? Have you tried an Oregon Pinot Noir? They are typically a bit less fruity than their California counterparts, but with a rich dark cherry and cranberry tone, and hints of baking spice and dried herbs. A very food friendly wine! Another popular option is the uniquely American red Zinfandel. Although this grape varietal originated in Croatia, it has been the backbone of California reds and red blends for decades. It's a perfect partner for the rich flavors and sauces of Thanksgiving. Spicy, rich and mouth filling on the palate, it pairs well with a broad range of flavors.
As stated earlier, many people enjoy white wines, usually Chardonnay. However, there are many other great white options. Riesling is a floral, aromatic wine that works extremely well with the roasted turkey. Clean Slate, a popular brand originating in the Mosel Valley region of Germany, is a slightly off-dry wine with a taste of apples, peaches and a hint of citrus. Pinot Grigio is a wonderful light and refreshing wine tasting of golden apples and citrus. One of our favorites has been Livio Felluga from Friuli in Italy. It shows hints of honeydew and pear on the nose, with a crisp finish on the palate. If you are interested in an oaky Chardonnay, Decoy by Duckhorn is a great choice. This wine offers multiple flavors of apricot, citrus and melon How about an unoaked Chardonnay? Lighter and crisper, often with citrus tones, A to Z from Oregon is a good example of this style. A white Cotes du Rhone is also affordable and complex. Unoaked, it is typically a blend of Roussane and Marsanne grape varietals. It has a slightly unctuous palate with hints of stone fruits and honeysuckle on the nose.
These are just a few of our suggestions. As always, please feel free to stop by and browse. If you would prefer to order by phone we still offer curb side pick up and free local delivery.
From the family and staff at Val's, we wish everyone a joyful, safe and healthy Thanksgiving.
Peter Olson is the General Manager of Val's new Stamford store, located at 66 Summer St.
Bruce Baker is our Wine & Beverage Consultant in Stamford.