November 20, 2020
What is it about Old Greenwich?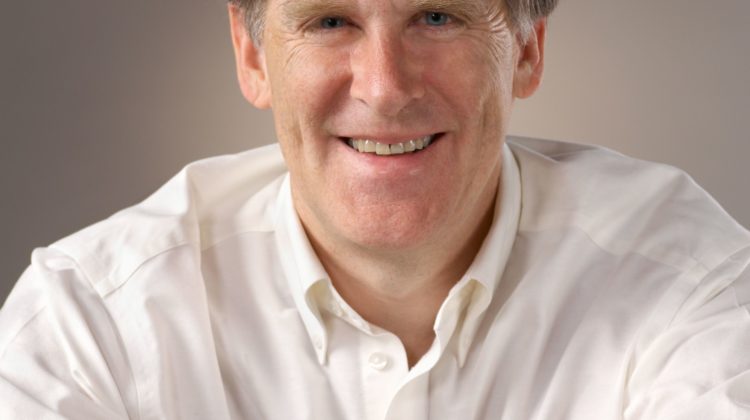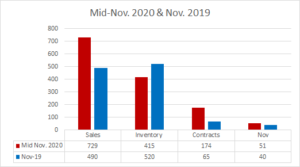 By: Mark Pruner
November Market Continues to Be Busy
Our market continues to be hot. As of the middle of November we have 729 sales compared to 490 sales at the end of November last year. Our market should continue strong through the end of the year with 174 contracts waiting to close compared to only 65 last year. So far in the first half of November we've had 51 sales compared to 40 sales for the entire month of November 2019. Our inventory is also down with only 415 listings compared to 520 listings at the end of November last year.
When you look at our weekly transaction index we were up nicely the last two weeks. Two factors seem to be influencing this increase; one is the election is over and that uncertainty has been removed and two is unfortunately we are seeing a revival in Covid cases. The result is people are more comfortable buying with less political uncertainty, sending the stock market up, and the impetus to look for literally greener pastures is actually getting stronger.
Why do people always want to live in Old Greenwich
As usual, Old Greenwich is a neighborhood that has done well this year, just as it did last year; a year when Riverside and Cos did not do well. What is it about Old Greenwich that people find so attractive over the decades. I grew up in Old Greenwich at the corner of Lockwood and Tomac and it has always been a little bit Norman Rockwell, a little international and usually just fun.
Every August, I would take over an Old Greenwich paper route from one of the hardworking Haggerty boys and get to see lots of interesting parts of OG. (The Haggerties were smart. They went to camp while I rode my bike in 90 degree heat hoping that I'd find Good Humor truck still parked on Shore Road.) From the grandmother who always had cookies for me on Friday, collection day, to the house with the empty liquor bottles in foyer where a well know rock band was spending to the summer, it was, and still is a great place to grow up.
Where and What is Old Greenwich?
At the south end of Old Greenwich, you have Greenwich's premier park, Greenwich Point. In the middle you have a village that Planning and Zoning and many town planners everywhere would like to emulate. Next you have, Binney Park, a generous gift to the town and then the Post Road, I-95 and Metro-North to get you a lot of places quickly. Next you have Havemeyer Park (aka Have-a-baby Park still living up to it's name and lastly Hillcrest
Park where my debutante ball date lived, before she started going out with Michael Bloomberg.
Old Greenwich has 4 different zones going from the R-7 zone of 7,500 s.f. lot up to an RA-1 zone of 1 acre or 43,560. In the main though Old Greenwich is composed of an R-12 zone south of the Metro-North railroad tracks and an R-7 zone from there up to Palmer Hill. These two zones comprise 91% of the sales in Old Greenwich.
At the south end of Old Greenwich, where Lucas Point is there is a small R-20 zone that represents 4.5% of the sales in Old Greenwich. At the north end of Old Greenwich is Hillcrest Park where there is the RA-1 zone which is 4.1% of sales. Interestingly, the average sales price of the half-acre, R-20, lot is about 50% higher than average price for the one-acre, RA-1 lot. This is because most of the R-20 sales in Lucas Point are direct waterfront properties on Long Island Sound and get a premium.
Inventory
For all the attention that Old Greenwich gets it does not have a lot of listings. It is even worse in 2020, we are down this year in inventory with only 36 listings in Old Greenwich. Given its desirability the lowest priced listing at present is $749,9000, though we did have one sale at $608,000. Also, because Old Greenwich doesn't' have a large zone on the water, the highest priced sale so far this year is $6,195,000. Still the difference between the lowest house sale and the highest sales price is a factor of 10, so in some ways Old Greenwich is a microcosm of Greenwich itself.
Sales
In 2020, we have had 104 sales through the end of October and have another 27 contracts. The market continues hot with 13 sales in October, at a time where we'd normally be looking at only a handful of sales. Where you really see how hot this market is when you look at the months of supply. Most people consider less than 6 months of supply to be a seller's market. How about 0.9 months of supply, that's what we have from $1.0 – 1.5 million with only 2 listings and 23 sales and 8 contracts.
At the high end from $5 – 6.5 million we have 3 listings, no sales and 1 contract so months with contracts is almost 3 years of supply, but one more sale makes a big difference in this thin a market. For the market as a whole, we have 3.5 months of supply and this is what we mostly have from $1.5 million up to $4 million.
Marketing
I have a listing at 343 Sound Beach Ave, an extensively renovated classic shore colonial, where we just lowered the price by $100,000 to $2,095,000 and we are getting regular showings. Of course, being vacant and ready for immediate occupancy helps as many of the buyers in the market are highly motivated.
This does illustrate another issue. You would think that in this market that listings would be flying off the shelf, and for many properties that is true. Of our 104 sales, 26 went to a non-contingent contract in less than a month and 35 sold for full list price or over list.
At the same time in one of the hottest markets and hottest neighborhoods, we had 22 listings expire unsold. And, it's not just at the high-end. Half of the listings that expired were under $2.3 million, one even at $615,000. We still have value buyers, as we have had all post-recession. People don't want to be seen as over-paying. In addition, now we have Covid buyers that just want out of the high-density. NYC and they are not wed to any one town.
The Future
So what to do in Old Greenwich in the Covid era? For most Realtors the answer is to list your house now. Then again, there are a lot of Realtors who say that anytime, but this time we really mean it. The weekly index of transactions is high, inventory is low particularly in Old Greenwich inventory. If the vaccines roll out faster, our multi-trillion dollar deficits squeeze out private borrowers and drive interest rate higher, then the market could cool quickly, better to take advantage of a hot reality, when facing the reality of cool future.
Having been a lawyer for 19 years, I'll also argue the other side. The coronavirus has caused a paradigm shift and the glow is off the Park Avenue and Brooklyn roses. For at least the next couple of years, people's psyche are going to drive them to buy more land. With 8.3 million people and only 62,000 in Greenwich we can expect to see demand stay high till 2023 and beyond. In addition, we have to run out of people that have been waiting for years to move. Once these mainly downsizers move, inventory will stay low and demand high and we will start seeing some real price increases. So some are waiting for the price increases to come.
Which is it? Probably a little of both, so stay tuned …