November 12, 2020
Greenwich Historical Society's Antiquarius Goes Virtual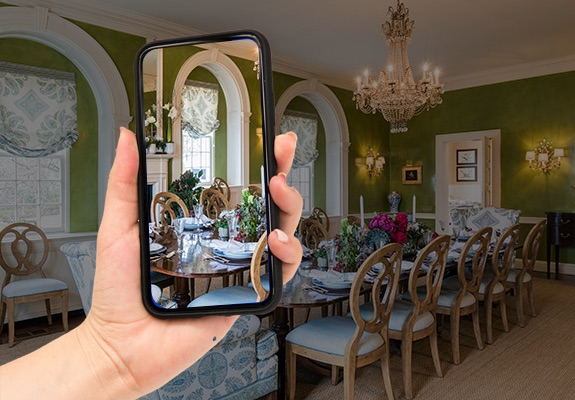 By: Richard Kaufman
With the holidays fast approaching, it's once again time for the Greenwich Historical Society's Antiquarius event.
Since the COVID-19 pandemic has changed the look of Antiquarius this year and in-person gatherings aren't possible, the theme for 2020 is "Together at Home."
The mostly virtual annual holiday extravaganza will take place from Nov. 19 through Dec. 6, and will celebrate decorative arts, antiques, architecture, and design, and feature treasured Antiquarius classics, including the Holiday House Tour, Holiday Boutique, Greenwich Winter Antiques & Design Show, Festival of Trees and Candlelit Evening Tours of Bush-Holley House.
A design workshop, presented by the area's most talented pros on creating unforgettable interiors and warm, inviting home gatherings, is a new addition this year.
"Antiquarius has always been a celebration of the holidays and design, and we're trying to do our best to capture that in the most responsible way we can, while also honoring all of the things that make Greenwich special during the holidays," said Cai Pandolfino, Director of Communications, Strategy and Business Development at the Historical Society. "We're also featuring so many of our local partners who we have the privilege of working with year round."
Beginning on Nov. 19, the second annual Festival of Tabletop Trees will adorn the airy Greenwich Historical Society lobby. They will celebrate the talents of local retailers, designers and organizations who help make Greenwich homes festive sanctuaries during the holidays. People can purchase or bid on a selection of 25 decorated trees via an online auction. Guests at the Historical Society will be able to view the trees safely throughout the day.
"Our challenge this year was to make something feel like there's an element of people coming together to celebrate, and that there will be parts of this where you can enjoy beauty right in front of you," Pandolfino said, also noting that gingerbread house kits from Black Forest Bakery will be given to Antiquarius patrons to put together at home. The Historical Society is also working with Greenwich Orchids and McArdle's to deliver flower arrangements to patrons' homes.
The Holiday Boutique will take place virtually from Nov. 27 through Dec. 6. Guests can choose from a collection of things — like children's wear, chic accessories, jewelry and specialty foods — all curated from a group of local retailers and designers. A portion of the proceeds will benefit the Historical Society arts and education programs.
Eddie Ross and Susan Scully, who both have years of experience in decorating and entertaining in Greenwich, will bestow their knowledge on guests during a virtual holiday entertaining workshop on Dec. 2 at 6:30 p.m.
"Eddie and Susan decided to team up to do our entertaining workshop this year, which I think will be a really fun, upbeat and exciting virtual format," Pandolfino said. "They'll be sharing all of their tips and insights and experiences of actually entertaining in Greenwich, but they'll also be doing a lot of hands-on flower decorating and cocktail making and a lot of different activities during the course of their workshop."
The Greenwich Winter Antiques & Design Show will take place virtually from Dec. 2-6. InCollect, a partner of the Historical Society, will present over 40 world-class dealers with a collection of antiques, modern furniture, fine art and jewelry. Patrons can get early access on Dec. 1.
The much anticipated holiday house tours, presented by lifestyle blog Quintessence, will take place virtually this year as well.
Greenwich-based interior designers Charlotte Barnes, Heather Georges and Patrick Mele will provide exclusive tours of decorated homes. The tours will allow guests to see a designer's thought process about what their inspirations were.
Pandolfino believes the tours will be more impactful than in years past.
"We think it's going to be a much richer experience in that you actually get to talk with a designer, and you'll hear the conversation with the designer instead of just touring a home," she said. "I think it's going to end up being a different experience, but a more dynamic experience."
Candlelit evening tours of the Bush Holley House will be available for up to four people per tour, from Dec. 2-4, 4 p.m. to 7 p.m. Space is limited and advance reservations are required.
New this year is the Antiquarius Designer Panel on Dec. 4 at 11 a.m. on Zoom. DJ Carey of Connecticut Cottages & Gardens magazine will moderate a discussion with arhitect Doug VanderHorn, landscape designer James Doyle, and interior designer Amy Aidinis Hirsch.
Additionally, there are three Honorary Design Chairs: Charlotte Barnes, Heather Georges, and Patrick Mele.
"Oftentimes we have honored a designer from outside the Greenwich area. This year, it seemed to make a lot of sense to honor designers who are working and living in our town," Pandolfino said.
Antiquarius serves as the primary fundraiser for the Greenwich Historical Society and its programs, since the GHS gets zero funding from the town.
With the COVID-19 pandemic impacting businesses and organizations like the GHS, Antiquarius has even more importance this year.
"I'm sure, like a lot of other nonprofit organizations, we saw our revenues come to a standstill when the pandemic hit us in March. We've had to postpone other fundraising events that we were planning on holding in the spring. So as we move into December with our primary fundraiser, we're obviously hopeful that people will support the GHS, which does such wonderful work in our town with history and education programs, and preservation initiatives," said GHS Executive Director, Debra Mecky. "There's so many things here that are about our community. Antiquarius is focused on our community, businesses, and designers. We also hope people will see this as an opportunity to support GHS."
Virtual passport tickets are $250 for all events. Patron tickets with exclusive benefits are also available at a range of prices. For information and to purchase tickets, go to greenwichhistory.org/antiquarius/