November 9, 2020
A church opens its outdoors to a nursery school in a pandemic and the children thrive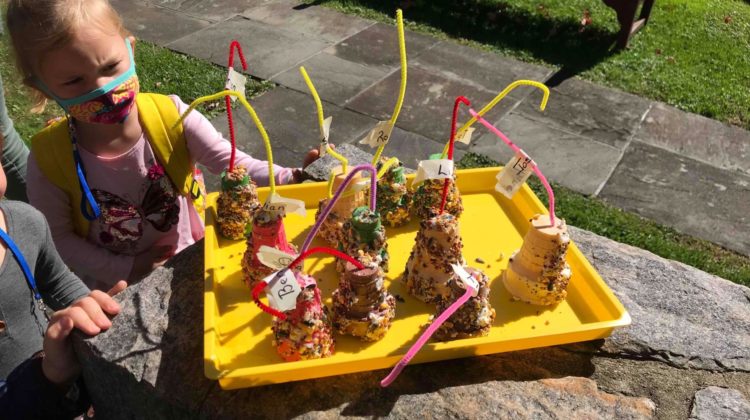 By Anne W. Semmes
There are definite signs of the beneficial effects of a pandemic, as discovered in the now 60-year-old Christ Church Nursery School (CCNS). "We have always wanted to extend our learning outside," says CCNS Executive Director Jennifer Purdy, "But the pandemic has created this imperative to change. We knew that if we were outside that's when we're keeping the children and teachers safest." So, what if she could extend that experience beyond their playground? "We got permission to pretty much use the entire Christ Church campus," says Purdy. "We created these outdoor classrooms that the children are using in all different ways."
A parking lot serves as a mud kitchen with pots and pans. Nearby is an area dubbed Honeycomb Hideaway. A passageway between church buildings is now the "Enchanted Castle," a church garden is the Hummingbird Hallow. "Just to see the children walk around the campus is stunning," says Purdy.
But it's the curiosity aroused by the outdoors that is the energizer. When a group gathered for a snack by their teacher in the Church's outdoor cafe area, its bird bath and visiting birds became a magnet. "That led into their creating food for the birds," says Purdy. "So, instead of a bird feeder, they created these hanging bird feeders where they rolled seeds onto a toilet paper roll, and they hung them in the trees with pipe cleaners, and watched to see if the birds were interested."
To their delight, the bird feeder crafters saw the next day, "The birds had literally taken everything and just left behind the pipe cleaners. And so, the children actually took the pipe cleaners and put them on their backpacks like a badge of honor!"
That bird feeding project displays an educational philosophy of Emilio Reggio that Purdy brought with her when she arrived at CCNS six years ago. "The children are exploring and playing and something usually bubbles up, and the teachers kind of grab on to that and help deepen the learning in lots of different ways. But a big part of that philosophy is that the environment plays an important role as a teacher. Children are learning through the environment that they're in."
Since September Alysse Scott has seen her five-fear-old daughter Myla's play shift at home. "My flower bed has turned into a kitchen for mud cupcakes with flower petal sprinkles," she reports, and Myla was soon working to recreate an outdoor road and bridge for her toy cars made in her CCNS outdoor classroom, from "random objects" found in her garage.
Mother Megan Morrell reports her three-year old daughter Caroline's "imagination and excitement for the outdoors has hit an all-time high thanks to the incredible outdoor learning space and wonderful teachers at Christ Church."
So, what happens when the cold comes, and the snow, and the rain? "In the very beginning of the school year we told parents that there's no such thing as bad weather, just bad clothing," Purdy is quoting here a line with Scandinavian origins she says, as "some of those children don't even have an indoor classroom. They're just outdoors all day. So, in the beginning of the school year, we told parents that the children are going to need rain suits, snow suits, boots, mittens, hats, because we're going outside."
With some 85-plus children, aged 2 to 5 (young fives are in their Connecticut Program), that's a lot of clothes to put on (and off) in wintertime, and those 16 teachers needed to be won over. So, during a staff meeting, Purdy challenged them with, "So, what learning goals are being met in that time where the children are putting everything on?" The teachers replied, "motor planning…sequencing and helping one another." Thus, said Purdy, "Getting dressed is the curriculum."
And how are those children coping with wearing masks? "The teachers are masked outdoors," says Purdy, but "Children do not need to wear masks outdoors – sometimes they just like it and keep it on. It's like, this is what we're doing this year. The greatest measure we can take to keep our community safe is to be outside.
"The outdoors gives the children the opportunity to move when they need to move more and get that sensory input." At a recent staff meeting she received proof positive. The teachers reported the children as "naturally regulating themselves…They're much more attentive. They are more tuned in with nature. We can put out shells, we can put out pinecones, and that has a value indoors but being outdoors is really what's helped the children to be invested in nature."
"This year the children are spending most of the day outdoors, and I don't see any reason why we can't do this in a normal year," says Purdy, noting that normal nursery day has a half hour visit to a playground. "This doesn't allow for the kind of sensory input that we got as children. We were outside all the time. We were climbing trees; we were rolling down hills.
"We saw this as an opportunity and this has become such a silver lining for us."