October 23, 2020
Halloween is Not Cancelled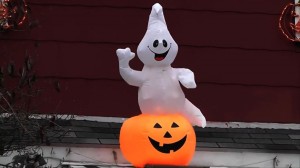 By: Emma Barhydt
Be sure to re-up your candy stock and get ready to see all different kinds of little monsters on your doorstep this October 31st because, Halloween is not cancelled! But it will look a little different this year, so in order to keep everyone safe, here are the CDC and Connecticut recommended guidelines for Halloween.
For Trick or Treaters:
1. Wear a mask! This one has become second nature for most people at this point. Please wear a mask while in crowded areas or while getting candy from houses. Make your mask a part of your costume by choosing a costume where a mask is required (ninja, doctor, nurse, cowboy), substituting makeup (such as a cat nose and whiskers) for a mask, or get masks with fun and festive halloween patterns! Please keep in mind that costume masks are not substitutes for medical or cloth masks.
2. Keep a six foot distance from other people who don't live with you. The streets can get pretty crowded while out trick-or-treating, so please be sure to maintain a 6 foot distance while on the street and while getting candy.
3. Wash your hands. Bring a bottle of hand sanitizer with you and make sure to sanitize after getting or giving candy. When you get home or when you're done giving out candy, be sure to wash your hands thoroughly with soap and water for at least 20 seconds.
For Candy Givers:
1. Make sure to wash your hands before handling the candy!
2. Consider setting up a station with individually bagged treats instead of handing out candy individually or setting out a bowl. This way not only do you know kids will be following the "take one" sign that always gets ignored, it also makes it so kids don't touch every piece of candy in the bowl.
3. Give out candy outdoors. Instead of standing in your doorway, give out candy on your doorstep, walkway, or yard. The more open the space is, the better.
4. Wear a mask! This is important for people who wish to give out candy as well. Please keep in mind that costume masks are not substitutes for medical or cloth masks.
If your don't feel comfortable trick-or-treating this year but still want to get into the holiday spirit, here are a couple different activities to try:
1. Carving or decorating pumpkins with members of your household and displaying them or, at a safe distance, with neighbors or friends
2. Doing a Halloween scavenger hunt where children are given lists of Halloween-themed things to look for while they walk outdoors from house to house admiring Halloween decorations at a distance
3. Having a virtual Halloween costume contest
4. Having a Halloween movie night with people you live with
5. Having a scavenger hunt-style trick-or-treat search with your household members in or around your home rather than going house to house
Please keep in mind:
Hosting an indoor party that exceeds 25 people indoors or 150 people outdoors can result in a fine of $500 and attending a party that exceed attendance rules can result in a fine of $250.
Enjoy all the fun and spooky festivities that Halloween has to offer, but remember to be smart and safe! See the Greenwich Sentinel's main section for more Halloween inspiration!