October 9, 2020
State Senate Candidates Kasser, Fazio Debate at Greenwich Town Hall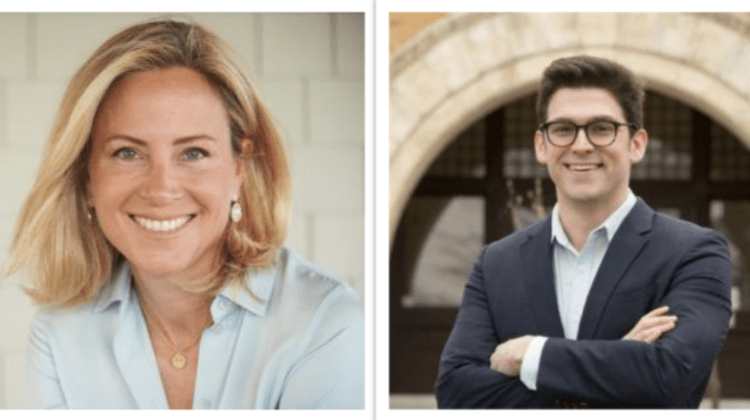 By Richard Kaufman
Candidates for the 36th Senate District squared-off in a debate Thursday night from Greenwich Town Hall, and presented differing views on the state of Connecticut now and for the future.
The League of Women Voters of Greenwich hosted the debate, which featured Democratic incumbent, Alex Kasser, against Republican challenger, Ryan Fazio. The event was moderated by Kay Maxwell.
Although Town Hall is currently closed to the public, the candidates were able to meet — and maintain social distancing — thanks to a special arrangement made by First Selectman Fred Camillo. The debate was broadcast virtually via Zoom and other platforms.
The candidates touched on issues from tolling and policing, to the state's pension debt crisis and absentee voting.
Kasser is running for her second term in office. She became the first democrat in 90 years to capture the 36th District in 2018, when she defeated Scott Frantz. Kasser said holding the position has been "a tremendous honor", and that she has tried to work across the aisle while holding both parties accountable to bring solutions to the table.
"The fact is, that right now Connecticut is on a good path and if we stay safe and focused, we'll emerge from this pandemic better than before, but we can't let disinformation distract us," she said. "The idea that Democrats destroyed the state is a myth. The idea that Republicans can save us is also a myth, because political parties don't save us, only our principles do. Even though Connecticut is on a good path, all the progress we've made is at risk."
Fazio, a newcomer to politics, is in his first, two-year term on the Greenwich Representative Town Meeting. He said Kasser won in 2018 by making big promises to voters, but she has failed to deliver.
"Now clearly, it's time for a change. As your state senator, I'll advance a new vision to unite Democrats and Republicans, and people in between, to put our state on the right path back to prosperity. We need to reduce taxes on all families, and create jobs in this state," Fazio said. "We need to keep schools open safely, and reduce state influence over local school districts, and protect the public health and safety with good, moderate policing and public health policies that limit the spread of disease, reduce crime, while protecting peopls rights fairly."
Tolling in Connecticut
The Special Transportation Fund, which is primarily used to support the financing for state highway and public transportation projects, the Department of Transportation (DOT) and Department of Motor Vehicles, is going bankrupt faster than previously expected — by mid 2022.
The candidates were asked how they'd "fix the red ink."
In 2018, Kasser ran on the idea of instituting tolling in Connecticut. While she brought the idea of tolling to Hartford, her bill ultimately failed. But Kasser is still a proponent of the idea.
"The choice we have is not whether to pay for infrastructure or not — we cannot let it crumble because it's the foundation of our economy and the reason why businesses will or will not move to Connecticut," she said. "Really, the choice is, do we pay for infrastructure 100% with taxes, which is the system we have now, or do we pay half price by allowing out of state drivers who use our roads to pay half the bill?"
Kasser added that she's also in favor of an infrastructure bank, which she called a "proven solution" to bring in billions of dollars in private funding, while leveraging public funding, in order to fix failing bridges, expedite train travel, and modernize infrastructure.
Fazio said that adding taxes and fees, like tolls, to families who are already hurting "is just not the right thing to do." He believes that Connecticut has a spending problem, not a revenue problem.
Fazio said the state needs to spend the money that's already designated to the Special Transportation Fund, rather than diverting it elsewhere to other parts of the government's budget. Project labor rules should change, he said, since they add to the cost of building, and an entire audit of the DOT is needed as well. Fazio also argued that the state needs to prioritize its most highly valued investments, such as I-95, Metro North, and the Merritt Parkway.
"That means no more upstate boondoggles like the New Britain busway and the Hartford train line so Springfield, Mass., which is a waste to taxpayer money," he said. "We can do this without new taxes or fees."
Gun Violence and Policing in Connecticut
Two-thirds of Connecticut's gun homicides occur in Connecticut's three largest cities, and disproportionately affect people of color, said moderator Kay Maxwell. The candidates were asked what measures they'd push for to reduce community gun violence, and if they're in favor of increased funding for community-based gun violence prevention programs.
Fazio said that public safety and protecting the most vulnerable populations is "a fundamental responsibility of our government." He criticized the state's new police accountability bill, which mandates that all officers must wear body cameras and have dashboard cameras, bans chokeholds in most cases, and creates a new independent inspector general to investigate deadly use of force by police.
The most controversial item of the 71-page bill involves changes to qualified immunity, which now makes it easier for those who believe they were wronged by officers to file lawsuits against officers, departments and towns.
Fazio, who has been endorsed by the police groups in Stamford and Greenwich, said that since the bill was passed over the summer, there has been an increase in gun violence in cities around the state. He added that he's "rigorously in favor" of supporting the gun laws in place, but proactive policing is necessary.
"We have pretty strict laws in this state about guns, but now due to this bill and due to backlash against proactive policing, we won't be able to enforce those rules in order to keep guns out of the hands of criminals, repeat offenders, people who are a danger to themselves and others," he said. "We need good, proactive policing policing in order to keep our most vulnerable populations safe."
Kasser has been endorsed by both the CT Against Gun Violence (CAGV) and CT Moms Demand Action for Gun Sense groups.
"Those are the foremost groups in our state that have been battling gun violence for decades. Together with them, we passed important gun safety legislation this past year. I'm committed to advancing gun safety and upholding our current laws," Kasser said. "We actually don't know where my opponent stands because he's never answered these questions from CAGV and Moms Demand, which require a commitment to upholding our gun safety laws, and also a commitment to investing in community programs which have proven to be very successful in reducing gun violence."
Pension Debt Crisis
The state's unfunded pension liability has been a hot button issue. Fazio said Connecticut doesn't just need a financial solution, but a legal solution.
"Forty states in the past 10 years have reformed their existing pension programs in order to make it solvent or affordable. Connecticut was not among them," he said. "We must reduce overtime spiking, we must reduce cost of living adjustments, we must increase employee contributions to their pensions and healthcare, to levels that are still below private sector levels, but are more fair and commensurate with a fair level of pay. This can be done, but it can only be done by people who are running for office that are making this a cause of their campaign."
Kasser said she brought a solution to the state legislature after she was elected in 2018, which she said creates a system in which both the employer and employee share the risk of market volatility.
"I also introduced an amendment to the state constitution that would require the full funding of pensions going forward, so that this crisis that we have could not be repeated," Kasser added. "It only came about because of 40 years of kicking the can down the road by Republicans, Democrats, by everybody. We can't let that happen again. We need to reform the system and make sure the problem doesn't repeat."
Voting in Connecticut
Connecticut has allowed absentee ballots for all voters this year in light of the pandemic. The two candidates debated briefly about voting, and what the future of voting could look like.
"Voting should always be easy and secure. I'm actually in favor of expanding absentee voting, both especially for this pandemic where we should have no excuse absentee voting, but also in the long term where we should have more excuses," Fazio said. "But election day is still a sacred thing in this democracy, and having as many people vote safely on election day is a positive if they can make it to the ballot box."
Fazio went on to say that early voting does not alter turnout, and that there needs to be moderate, not extreme, solutions for voters.
"I think expanded absentee voting is the answer, but early voting and universal vote by mail is too extreme and reduces the security of the ballot box," he said.
Kasser said that she has fought to expand voting rights, and she'll continue to do so if elected. She noted legislation that she introduced to allow early voting and no fault absentee voting. She pushed back against Fazio's claim that early voting and vote by mail would reduce the security of the ballot box.
"Forty two states have early voting. Connecticut is an outlier," she said. "It's beyond time for us to modernize and to allow everybody to vote in a safe, accessible and convenient way."
For more information on the candidates and to watch the full debate, go to lwvgreenwich.org.
Tags:
2020 Election
,
Connecticut State Legislature
,
greenwich
,
Greenwich Town Hall
,
Town of Greenwich