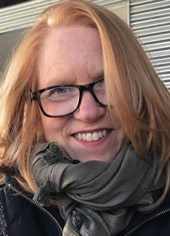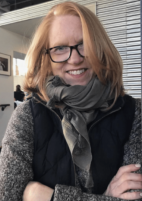 By: Bobbi Eggers
Ruth Wilson is a sharp, vivacious 102 years old. When I called her last week, she was just finishing up with an outdoor pedicure in her backyard. She is bright and alert and sharp as a tack, but still a bit wobbly, she says. Ruth has just recovered from 3 months of suffering through COVID-19 and is still having to learn to walk again. "It is the disease from hell."
A Cos Cob native, Ruth has been living in her home for 95 years. Some readers may remember Mrs. Wilson as their kindergarten or first grade teacher at Cos Cob School. 200 people attended Ruth's 100th birthday party at the Cos Cob Firehouse. More than 75 of the guests were previous students. Born in 1918, she grew up near Rinaldi's Deli, which was Bennett's Grocery Store back then. As a child, she remembers women selling door to door, walking through the neighborhood with large baskets full of fresh vegetables on their head. The Ice Man would come to make deliveries and she and her friends would chase the truck down the street to get chips of ice. As a young woman, Ruth married her husband, Edward, at Christ Church Greenwich, and has two children, Janet and Bob.
For those of you who love to hear memories of Greenwich, Ruth used to take her children to watch the trucks and paving as I-95 was being built. Back in the day, local construction was often a source of small adventures with children. They watched the Maher House being moved from Putnam Hill by rolling it on railroad ties along Route 1, to the location where it stands today, as Kids in Crisis, One Salem Street.
Ruth contracted COVID-19 from a caregiver that regularly comes to her home to help out. The caregiver had a second job in an assisted living facility and, unfortunately, brought the illness to Ruth. She became violently ill on her daughter's birthday when she was visiting from Chicago with her daughter, one of Ruth's granddaughters. Three generations of Wilsons caught COVID-19 that day, which varies greatly case by case. I recently spoke with a man in his fifties whose entire family caught it. His 98 year old mother tested positive in her nursing home, but was totally asymptomatic while her son was horribly ill for over a month in April, and still has no smell and cannot taste anything.
Ruth spent the worst of her illness in Greenwich Hospital for two weeks. "Thank God for the nurses at Greenwich Hospital who took care of me or I never would have gotten better. It was because of them. They pulled me through it." After two weeks, she was transferred to physical therapy for ten weeks because the illness had severely impacted her legs, making them swollen and unable to move. Thankfully, she is regaining her strength.
Dr. Allison Ostroff is the Director of the Stamford Health Geriatric Assessment Center located in Greenwich. "Several older adults, even centenarians, have been lucky enough to survive a COVID-19 infection. This is likely multifactorial, perhaps fewer underlying conditions, perhaps a genetic factor that also contributing to such longevity, perhaps underlying physical fitness and nutrition. Either way these people, including Ruth Wilson, are remarkably lucky and we all must remain vigilant in our fight against this virus."
While we struggle through this pandemic, I asked Ruth if she has any message she would to convey to others. She immediately said, "Be careful. I would feel so badly if anyone I know would get it. It is simply awful."