September 11, 2020
Never Forget: Greenwich Remembers 9/11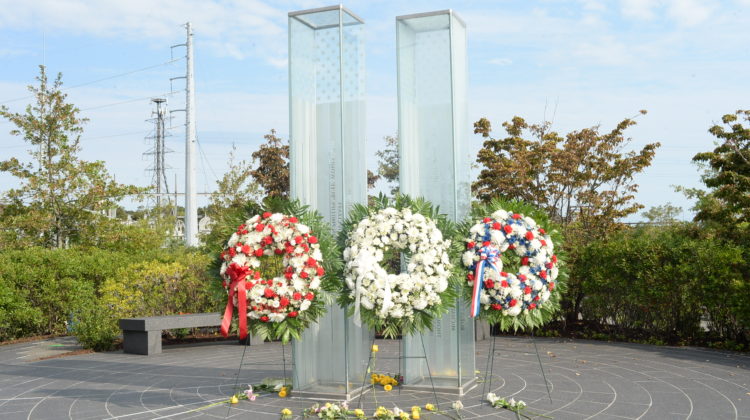 By Richard Kaufman
Sentinel Reporter
Even though this year's ceremony had a different look to it due to COVID-19, there was the same outpouring of love as the Greenwich community gathered at Cos Cob Park to observe the 19th anniversary of the Sept. 11 terrorist attacks.
A socially distanced crowd of a little less than 100 people stood in the parking lot of the park near the 9/11 memorial, which sits on a bluff and displays 33 names of Greenwich residents who perished in the attacks.
A bell was rung and a cannon was fired to observe the time when each plane struck the Twin Towers, when the Pentagon was hit, when the towers fell, and when Flight 93 went down in Shanksville, Pa. 
Rev. Thomas Nins of First Baptist Church and the Greenwich Police Department, gave a brief blessing and spoke about how in the days after 9/11, the country came together as one, and that "out of tragedy came triumph." Nins noted that race and economic class didn't divide people back then, and he contrasted that with today's current climate and the events over the past few months.
Several local elected officials were in attendance. Joe Kelly, current Board of Education member and candidate for State Representative, said after the ceremony that 9/11 changed his life. 
On that day, Kelly was working in lower Manhattan several blocks away from the World Trade Center when he witnessed the planes crashing into the North and South towers. Up until the spring of 2001, Kelly had worked for Cantor Fitzgerald on the 105th floor of the North tower.
After coming home to Greenwich, Kelly went back the next day and helped sift through the rubble.
"[Before 9/11] I was more concerned with my career and success, and focused on myself instead of others. After returning and joining in the search and rescue for three days, it changed me. Watching everyone work together, watching people accept everyone for who they were… Your hands would be blistered, your back would be hurting, but no one wanted to take a break," Kelly said. "Everybody just wanted to work together as one."
Kelly said he eventually joined the Amogerone Fire Company, began to volunteer in town more often, and spent more time with his family. 
Although COVID-19 still poses a threat, First Selectman Fred Camillo said it's still important to remember all those who were lost.
"It's crucial that we come out no matter what's going on, to never forget. We're able to do these events as long people follow the protocols. This was a beautiful ceremony," he said. 
Camillo hopes the lessons from 9/11 can still be revisited.
"Days after attacks everyone was together. We should all try to remind ourselves each day just for a few moments that at the end of the day, we're all one. Class, race, religion doesn't separate us," he said.
Greenwich resident, Susan Wohflorth, lost her husband Martin "Buff" Wohlforth on 9/11.
Even though this year's ceremony was different — there was no keynote speaker and people had to wear masks and maintain socially distancing —  it was still powerful. Susan said she was particularly moved by Rev. Nins' words.
"He was extraordinary, and I'm very appreciative," she said. "It means the world to me and my daughter Chloe to see so many people here, and to see the town, no matter what the situation is in the world and our community, that they still figure out how to make it a beautiful, meaningful, and heartfelt ceremony. In a lot of ways it was even more special."
Another 9/11 ceremony is scheduled for 6:30 p.m. tonight at the Glenville Fire Company.
More photos from Friday's ceremony in Cos Cob below:
Tags:
9/11 Cos Cob Memorial
,
Cos Cob Park
,
greenwich
,
Town of Greenwich