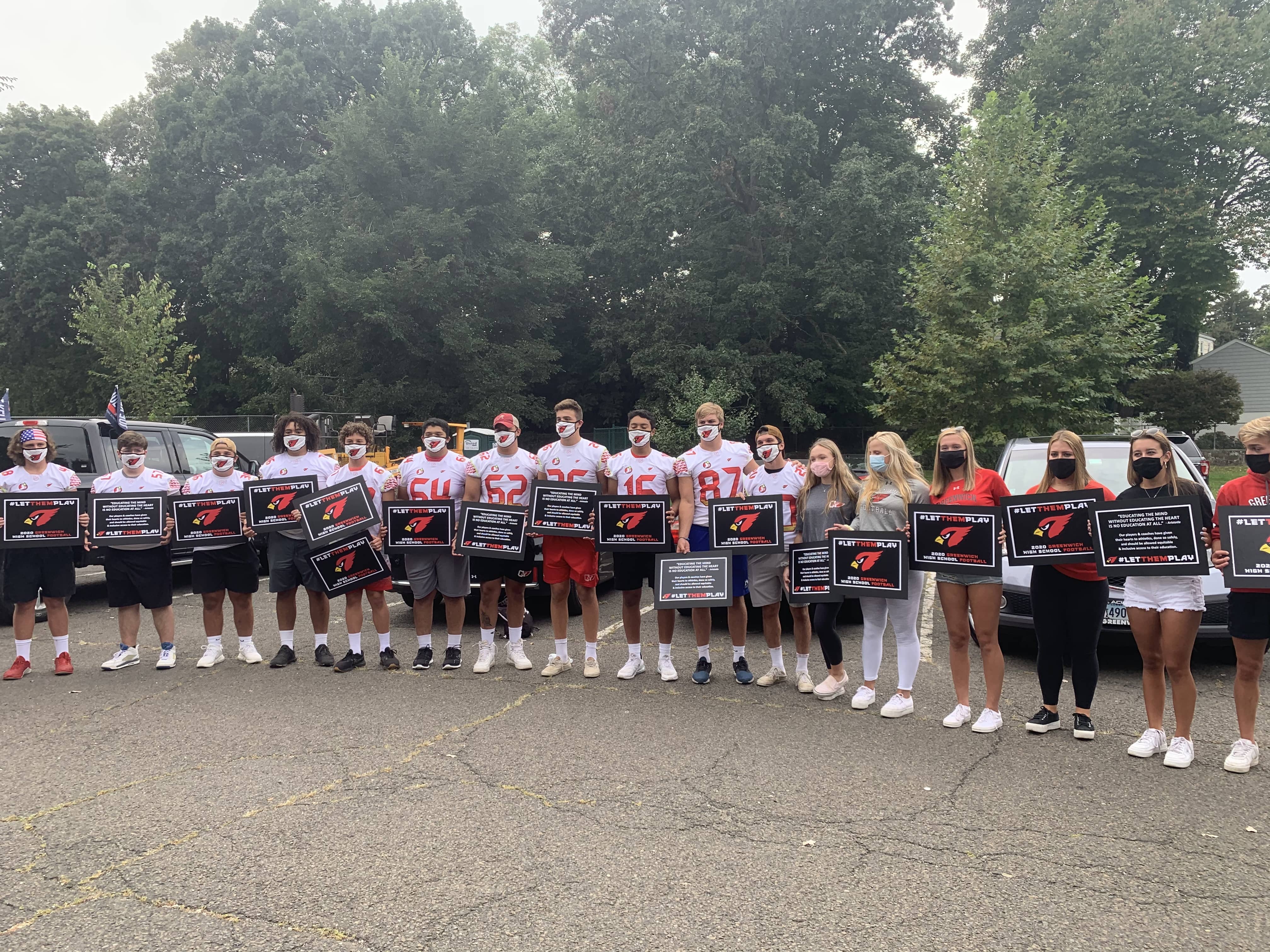 By Richard Kaufman
Sentinel Reporter
"Let us play!"
That was the message from the Greenwich High School football community on Wednesday, as elected officials, student athletes, and parents met at Bible Street Park in Cos Cob before heading up to Hartford for a rally against the cancellation of full-contact football this fall.
The decision to cancel full-contact football came last Friday from the Connecticut Interscholastic Athletic Conference (CIAC). The CIAC said it made its decision after receiving a letter from the Connecticut Department of Public Health (DPH) that recommended the cancelation of the "high-risk" close contact sport. Last month, the CIAC said they would go forward with football.
"Without DPH support, the CIAC cannot move forward with a full contact season as it would place superintendents and boards of education in the impossible position of acting against the recommendation of a state agency. As such, the CIAC Board of Control, in alignment with DPH recommendations, has determined that high risk full contact football is no longer a viable option," the CIAC said in their announcement last week. 
After the CIAC announcement, an online petition for Connecticut high school football players was started. It has garnered almost 40,000 signatures in less than a week.
"This is pathetic of the DPH to decide that it is unsafe to play even though the positive test rate of covid in Connecticut has been lingering under 1% for the past several months," the petition description reads. "Furthermore, shame on the CIAC for not acting as they should and giving us athletes assurance. Instead, we have found ourselves sitting silent in the midst of both indecisive and inconsistent announcements from the CIAC. This has been, for lack of a better word, a living hell for us student athletes."
On Wednesday at Bible Street Park, GHS football players expressed their disappointment, especially since other sports such as volleyball are going forward as planned for the fall.
"We're here to express our frustrations with the governor and the people who aren't letting us live out what we've earned," said William Montesi, a senior captain for the Cardinals. "It's a huge frustration for all of the seniors because a lot of the kids want to play at the next level [after high school]. For some kids, it's their opportunity to get a college education. The last three years we've been waiting for this moment, and it's kind of getting cut short. It's really unfair."
Joe Kelly, a former Rugby coach at GHS, and current Board of Education member, and Republican candidate for State Rep. in the 150th District, said he wants to keep the option open for football in the fall if all goes well with the reopening of school.
Kelly added that possibly moving the football season to the spring would be a mistake.
"Let the kid who plays baseball and football, play his baseball season that he lost last spring. Let the kid who plays football and lacrosse play the lacrosse season he missed last spring," Kelly said. "We've got to get our kids playing. We didn't have a spring season. We can't do the same thing in the fall."
First Selectman Fred Camillo was in attendance at Bible Street Park to see the student athletes and parents off to Hartford. Camillo, a longtime advocate for youth sports, would like to see a football season happen if a safe plan is in place. Camillo said other states with much higher transmission rates are playing high school football and there have been no issues.
"The Governor and I have traded phone calls. He's a very fair man. I know the DPH is telling him it's too risky, but I think with a plan in place and with the evidence already of this being done in other places, I think it's worth the chance to start the season," Camillo said.
There has been some discussion about playing 7 vs. 7, rather than the traditional 11 vs. 11 full contact football. The CIAC said last week they'd work with athletic directors, coaches and medical experts "to provide football players with meaningful low to moderate risk fall activities."
Melissa Abbazia, mother of T.J. Abbazia, a senior football captain, helped create signs for the Hartford rally, and said she hoped to get about 50 people from Greenwich at the Hartford rally. She said that football and sports in general are vital to young people's mental health, and that everyone wants to play 11 vs. 11 full-contact.
"If the boys are going to play, we don't want 7 on 7. We want 11 on 11 contact. That's real football," she said. "We don't want to play in the spring, because that's just kicking the can down the road."
Abbazia noted that GHS Football head coach, Anthony Morello, has encouraged his players to speak out and stand up for what they believe in.
Members from the GHS cheerleading team showed up to Bible Street Park on Wednesday, and went up to Hartford in support of the football team.
"We think that since other sports are allowed to continue, football should continue. We have to support them because it affects our season as well," said senior Alex Kral, captain of the cheerleading team.
"Football season is one of the highlights for us. Everyone loves cheering at the games, and our fall season depends on football happening," added Lindsay Sylvester, a junior cheerleader.
Ryan Fazio, Republican candidate for the State Senate, showed support to the student athletes on Wednesday in Cos Cob. Fazio, a graduate of GHS, said he understands how important youth sports are.
"I grew up in town, I went to GHS, I played varsity sports, so I know how important this is to the development of young adults. I also know how much our community went through over the last few months in order to limit the spread of the disease to very low levels. Now that we're at such low levels of transmission, it's wise to move back towards more normal aspects of daily life," Fazio said. "We should carefully approach the issue in a balanced and evidenced based way, because it's important to have youth sports for kids. These kids have worked really hard in order to play football and we should have their back."
State Rep. Harry Arora (R-151), was also in attendance to show support to the student athletes.
Photos from the Hartford rally below:
The birds have landed at the Capital. What a great turnout from the state of CT! So many players from so many teams. Brotherhood at its finest. #cardinalpride #cthsfb #letthemplay pic.twitter.com/Lg3SPOXQ9g

— Greenwich Football (@GreenwichFB) September 9, 2020
#cthsfb #letthemplay #letusplay pic.twitter.com/ZAYl2L6nmT

— Greenwich Football (@GreenwichFB) September 9, 2020
More Than Just A Game!! LET US PLAY!!! ⁦@GovNedLamont⁩ ⁦@ciacsports⁩ ⁦@GreenwichFB⁩ pic.twitter.com/EDXOVG7Iqr

— Frankie Wells (@wellfit20) September 9, 2020