September 4, 2020
Tom Seaver, Legendary Mets Pitcher, Remembered in Greenwich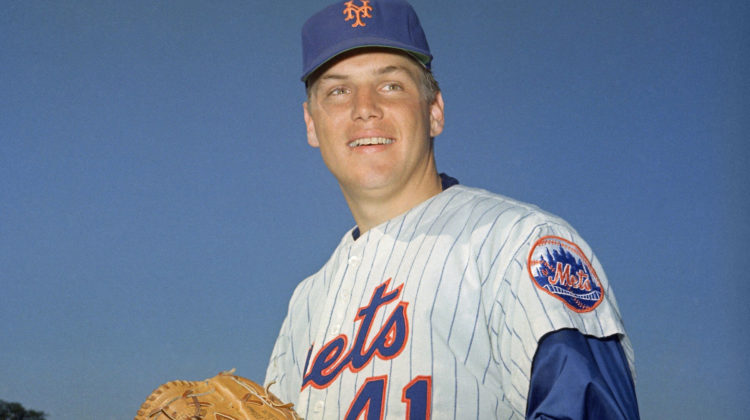 By Richard Kaufman
Sentinel Reporter
Tom Seaver, one of the greatest pitchers of all-time, passed away at his home in California on Aug. 31 due to complications from Lewy Body dementia and COVID-19. Seaver was diagnosed with dementia in 2019, and retired from public life. He was 75 years old.
Nicknamed "Tom Terrific" and "The Franchise", Seaver played 20 seasons for the New York Mets, Cincinnati Reds, Chicago White Sox and Boston Red Sox from 1967 to 1986.
Seaver is considered to be the greatest Met of all-time. He put the franchise on the map when he lead the Mets to their first World Series championship in 1969. That year, he went 25-7 with a 2.21 ERA, and won the National League Cy Young Award. He finished second in the MVP voting.
For his career, Seaver went 311-205 with a 2.86 ERA, made 12 all-star teams, and won three Cy Young Awards. Seaver was inducted into the National Baseball Hall of Fame in 1992 with 98.8 % of the vote.
In 1970, Seaver moved to Greenwich, where he lived with his wife Nancy for 25 years. The two lived on Round Hill Road for a while, and did a lot of charity work in town. Seaver also belonged to Greenwich Country Club. Eventually, Seaver moved to California where he started his own wine business.
First Selectman, Fred Camillo, a diehard Yankees fan, met Seaver years ago as a child.
"The greatest right-handed pitcher I ever saw pitch was a familiar face here in Greenwich for decades. I knew him as a young kid and the awe I had in his presence quickly disappeared as the young hurler went out of his way to be just another resident. Over the years, as he grew older, he seemed to like the normalcy that retirement afforded him. While he moved out of town several years ago to follow another passion of his, running a vineyard, he will always be special to Greenwich." – First Selectman Fred Camillo said on Friday.
Fred and Jeff Willpon, owners of the Mets, issued a joint statement earlier this week. Jeff is a resident of Greenwich.
"We are devastated to learn of the passing of Mets legend and baseball Hall of Famer Tom Seaver. Tom was nicknamed 'Tom Terrific' because of how valuable he was to our organization and our loyal fans, as his number 41 was the first player number retired by the organization in 1988. He was simply the greatest Mets player of all-time, and among the best to ever play the game which culminated with his near unanimous induction into the National Baseball Hall of Fame. Beyond the multitude of awards, records, accolades, World Series Championship, all-star appearances, and just overall brilliance, we will always remember Tom for his passion and devotion to his family, the game of baseball, and his vineyard. Our thoughts and prayers go out to his wife, Nancy, daughters Sarah and Anne and four grandsons Thomas, William, Henry and Tobin."
On Thursday, during the Mets' first game after the news of Seaver's passing, every Met smudged dirt on their right knee in honor of Seaver. Known for his drop-and-drive delivery to home plate, Seaver regularly had dirt on his right pant leg at the knee. The Mets will wear commemorative patches for the rest of this season.
Last year, the Mets changed the address of Citi Field to 41 Seaver Way. They also announced that they commissioned a statue of Seaver to be erected outside of the stadium. It will likely be put up in 2021.
Tags:
greenwich
,
Tom Seaver
,
Town of Greenwich