August 31, 2020
Joseph McHugh Sworn-In as Greenwich Fire Chief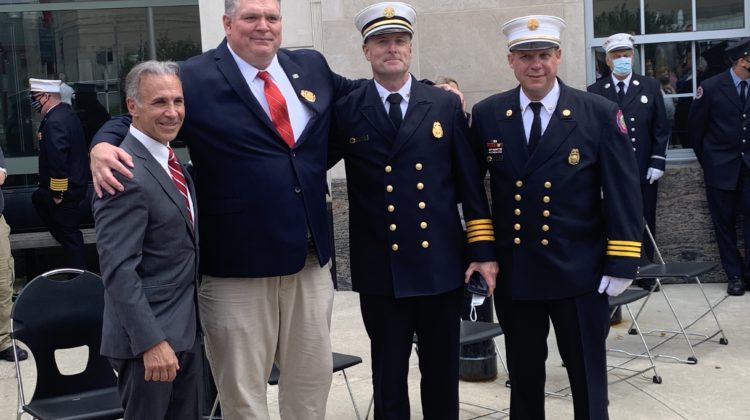 By Richard Kaufman
Sentinel Reporter
One of Greenwich's own returned home on Monday, as Joseph O. McHugh was sworn-in as the new chief of the Greenwich Fire Department. 
A socially-distant crowd of over 100 people gathered for the swearing-in ceremony in front of the Public Safety Complex downtown. First Selectman and Fire Commissioner, Fred Camillo, administered the oath, and McHugh's wife, Pam, pinned the badge to make it official.
McHugh steps into the department following the retirement of Chief Peter Siecienski earlier this year. 
McHugh was selected from a pool of 40 applicants who responded to a national search. A series of interviews was conducted with eight finalists by a committee, featuring Camillo, Town Administrator Ben Branyan, Human Resources Director Mary Pepe, Interi-Chief Robert Kick, Greenwich Firefighters Local 1042 President Matt Brooks, and Byram Volunteer Fire department Chief, David Walko.
McHugh has ties to Greenwich, as he began his career in fire services with the Sound Beach Volunteer Fire Department in Old Greenwich, serving as a firefighter and then as a lieutenant. 
His mother, Marjorie McHugh and mother and father-in-law, Martha and John Awdziewicz, are Greenwich residents. His late father, Edward, spent 20 years with the Greenwich Fire Department and retired as a Fire Inspector in 1985.
McHugh joined the ranks of the FDNY in 1991 as a firefighter in Manhattan. Over his career, he served as a lieutenant in the Bronx, a captain in Manhattan, and a Battalion Chief in Division 7 in the Bronx. McHugh recently served as the Battalion Chief in Safety Command and is the Executive Officer of the FDNY Safety Command operations. He was responsible for the safety of FDNY members at all major fires, emergencies and catastrophic events.
Deputy Chief, Keith Millette of the GFD, introduced McHugh, a longtime friend. The two grew up together and worked at Sound Beach years ago. They're now reunited.
"There's a longstanding thing in the fire service: are you a firefighter, or do you work for the fire department? Are you a fan of firefighting, or do you actually do it?" Millette said. "Joe is not a guy who just shows up. He's been into it since day one."
Millette highlighted McHugh's humility and integrity as traits that will help the department. He also credited McHugh's father as being instrumental in both their firefighting careers.
Camillo welcomed McHugh back to Greenwich before administering the oath.
"This, today, is a story about a local boy done good. Joe McHugh grew up in town, he started at Sound Beach. Then he went south for 29 years to New York City. While we're all really proud of his career, we all know that his best days lie ahead as he comes home to his family and serves as chief in his hometown," Camillo said.
McHugh said he was excited to begin the final chapter of his nearly 40 year firefighting career  at home where it all began. But he called the day bittersweet as he reflected on his years in New York City.
"I've had the honor to work at one of the greatest fire department's in the world for 29 years. I've had the privilege to work with some of the greatest human beings on the planet," said McHugh, fighting back tears. "It made me a better firefighter, officer, chief and person."
McHugh said that ever since he was a little boy when he'd visit his father at the firehouse, he knew he wanted to be a firefighter. 
"Every time I went to the firehouse, it was like Christmas morning. I'd be so excited and thrilled," he said.
McHugh thanked his family and friends for their constant support, and he thanked former chief Peter Siecienski and interim chief, Robert Kick, for giving him the opportunity.
"I can't thank you enough for leaving me such big shoes to fill. You've both made the GFD such a great department, and any new chief should be so lucky. I will strive to continue to make this deparment even better, passing all that I've learned over the years to the members of this department," McHugh said. 
"To the men and women of the GFD, I'm so excited to lead each and every one of you. I look forward to getting to know each and every one of you and working with you all. To the people in the Town of Greenwich: as your fire chief, I promise you I will give you 120 percent to assure the GFD provides the best service and protects your family and property."
Interim Chief Robert Kick served as the emcee for the ceremony, and said Monday was "a great day for the Greenwich Fire Department."
Kick recalled a time a year or two ago when he had lunch with McHugh, whom he has known for years. Kick encouraged McHugh to apply for the chief's job in Greenwich if it ever opened up.
"I said, 'Joe, if they do decide to go outside of the department for the next chief, I'd like you to be the next chief of the department. So get your resume ready.' I'm glad it worked out this way," Kick added.
Kick, who will retire from the Department in the fall after 27 years on the job, was recognized on Monday.
"[Bob] has always tried to help move our department forward no matter what. He always cared about the department, he never gave up whenever the chips were down. He always kept moving forward no matter what anybody did and brought us forward," Millette said. "He never hesitated to do things for us in the department, career or volunteer. It's been a pleasure working with you."
Camillo, who along with the Board of Selectmen will find the replacement for Kick in the coming weeks, offered his well-wishes to the veteran firefighter.
"In our short time working together, you've been an absolute pleasure. It's been an honor for me. You've always been there and you've kept me updated on everything," Camillo said.
Kick will continue to lead the department until McHugh begins his role on Sept. 14.
Tags:
GFD
,
greenwich
,
greenwich fire department
,
Town of Greenwich
,
Town of Greenwich Greenwich