August 25, 2020
Camp Simmons Staff Member Honored for Years of Service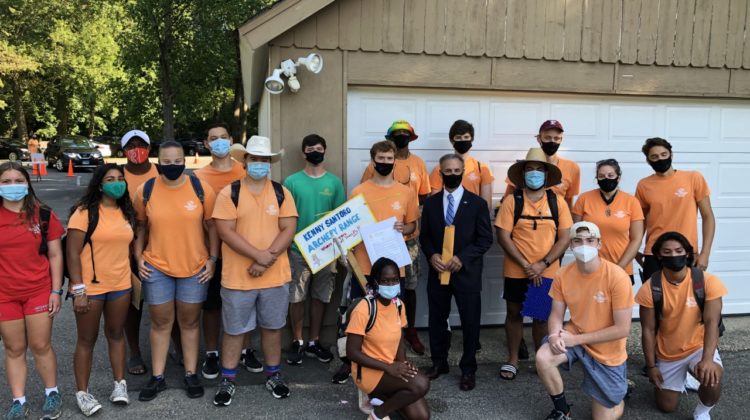 By Richard Kaufman
Sentine Reporter
From now on, those who participate in archery at Camp Simmons will shoot in the Kenny Santoro Archery Range.
On Monday, First Selectman Fred Camillo declared Aug. 24 as Kenny Santoro Day in the Town of Greenwich, to honor Santoro's years of service as a staff member at Camp Simmons. The archery range was also dedicated in his name.
Santoro attended the camp, which is run by the Boys & Girls Club of Greenwich, from age 6-12. He has worked there for 10 years now, first as a lifeguard at the pool where he taught swim lessons, and then as the archery director for eight years.
Camillo presented Santoro with a proclamation on Monday.
"Kenny is very safety conscious and great with all of the different age campers. He enjoys seeing campers smile when they hit the bullseye on the target and when they learn the proper stance. Kenny enjoys watching campers grow up to become staff member like he did," the proclamation read in part. "Don Palmer, Vice President of Programs and Youth Development, shared that Kenny is a great staff member because he is dependable, enjoys what he does because Camp Simmons is a special place to him. He knows the campers are in good hands when he sees Kenny walk into camp each day."
Santoro, a graduate of Greenwich High School, was completely surprised.
"I'm honored," he said. "It really means a lot that I'm able to give back to a place that's given me so much joy as a child."
Camillo praised Santoro's dedication to the community.
"The example of Kenny Santoro is the story of volunteerism in the town, and the story of the Boys & Girls Club. It is about those who dedicate themselves to an institution at a young age for many years, and leave both an impact and a legacy on and to all those who were beneficiaries of their kindness and civic-mindedness," Camillo said.
Campers participate in archery 4-5 times a week. On Mondays and Tuesdays, they learn basic skills. Wednesday features friendly shooting competitions, and on Thursdays, campers take aim at fun targets like foam Tyrannosaurus Rexes, or foam zombies. 
Santoro said he enjoys challenging the kids in archery.
"I'm happy that I'm able to give back to the community and teach kids a new skill that they don't get to do every day," he said. "I like when they realize they can do it and get better at it the more they practice."
Although this summer has certainly been different because of COVID-19, Santoro said the entire camp has been able to overcome the challenges. Camp officially ends for the summer next week.
"The kids and the staff really rose to the occasion. We've followed all the guidelines. It's a little different, but they're still having fun, and they're able to do all the activities that they love doing," Santoro added.
When asked what it's like to have the archery range named after him, Santoro called it "shocking."
"I'm glad that they feel I've done a good enough job to receive that honor," he said.
Camp Simmons is a special place for Santoro.
"Camp Simmons has always meant a lot to me. It's a place where you can meet new people you wouldn't be able to meet at school because they come from all over the place. You get to try different activities such as archery, canoeing and swimming," Santoro said. "It's just a fun place to be, and I'm glad I spent my summers here."
Tags:
BGCG
,
Boys and Girls Club of Greenwich
,
Camp Simmons
,
greenwich
,
Town of Greenwich