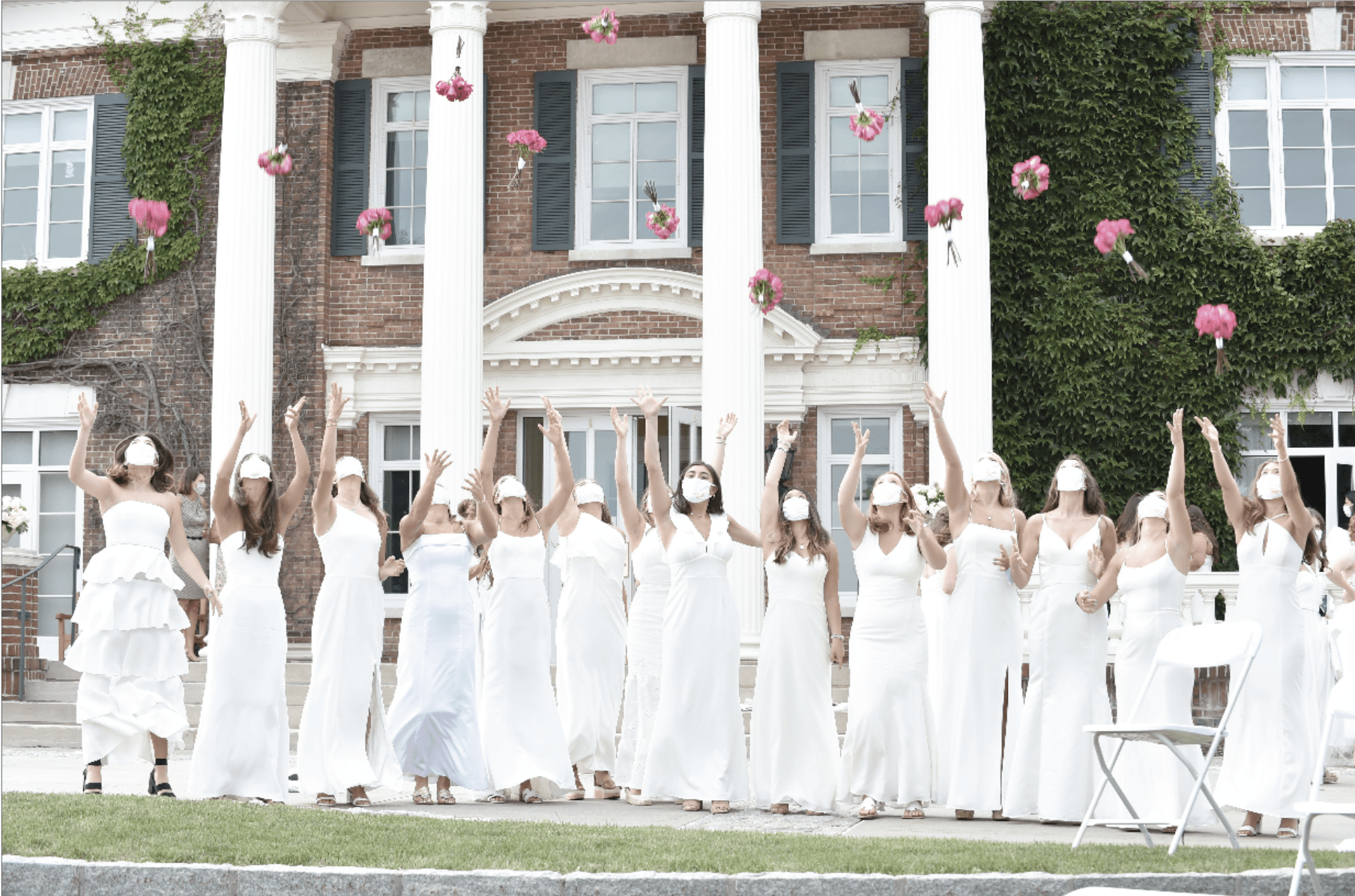 By Anne White
Although it was a physically distant outdoor graduation with just the 82 Class of 2020 graduates and some of their teachers, it was still an opportunity for some normalcy and a chance to celebrate their achievements together. 
The event, which was held on Friday, July 24th was live-streamed for families. The ceremony was held outside under a tent and seniors were on a stage three times the size of the usual stage in order to keep them physically distant. 
Graduation speakers faced toward the girls as opposed to toward the audience because their was no audience. 
Because the girls received their diplomas during Sacred Heart's car parade in June, they just had their names read and did not physically receive anything at the ceremony on Friday. 
Overall it was a safe, simple, and beautiful graduation ceremony.
Congratulations to the 82 graduates from Sacred Heart Greenwich!
Here are some highlights from their year and their ceremony:
2020 Highlights:
10,000 hours of community service were completed by Upper School students this year 
24 seniors served as Eucharistic Ministers
Distributed $8,200 in grants to educational agencies across the world through the student-run Barat Foundation
1 NEPSAC Class A champion team (field hockey) and 2 Fairchester Athletic Association regular season championship teams (varsity field hockey and soccer); Squash team placed 1st in the country at the Interscholastic National Championships 
10 seniors continuing on and committed to play sports at the collegiate level
A note from Pamela Juan Hayes '64: Whether in the classroom, on the turf, in the chapel, at the anchor desk, in the lab or behind the podium, the graduating Class of 2020 accomplished so much at Sacred Heart Greenwich. We're especially proud to see these talented students matriculate to strong colleges and universities that reflect their individual academic interests and passions so closely. We look forward to seeing how far their academics, faith and commitment to others takes them in the future.
Valedictorian: Valentina Grether
Hometown: Riverside, CT
Number of years at Sacred Heart: 8
Activities highlights (sports, volunteering, arts, etc): I play Tennis and Squash at Sacred Heart, I am a Freshman Peer Leader, and a Eucharistic Minister.
Why Brown University: I chose Brown firstly because of the Open Curriculum. Since I plan on majoring in engineering, which has stricter requirements than other majors, it was really important to me that I still had as much flexibility as possible to pursue courses in all my other interests. Ultimately, Brown's Open Curriculum seemed ideal to extend my college experience to encompass not only my intellectual development, but also my growth as an individual. Another important factor was the collaborative culture at Brown, and the amazing opportunities that the university offers. Many of the current students I talked with highlighted the Brown UTRAs, which are undergraduate teaching and research awards for Brown students. Brown fascinated me because the students and faculty are always challenging each other to grow together in learning. Last but certainly not least, Providence is a great town for college students. Students always praise the art exhibits and other events available outside of Brown, not to mention a seemingly endless list of amazing Providence restaurants.
Co-Salutatorian: Caroline Badagliacca
Hometown: North Salem, NY
Number of years at Sacred Heart: 10
Activities highlights (sports, volunteering, arts, etc):  co-editor of Voices publication, music therapy volunteer with Alzheimer's patients, participant in Sacred Heat's science research program, Regeneron Scholar for studying music and cognition, Girl Scout Gold Award recipient
Why Vanderbilt: Upon first visiting Vanderbilt's campus, what stood out to me the most is the incredible balance the school possesses.  I knew when looking for a school I wanted a place that was academically rigorous, but still left room for other enrichment and Vanderbilt's programs, research possibilities, SEC sports, and boundless opportunities to be involved on campus were perfect for me.  Additionally, one of my main focuses during my time at Sacred Heart has been working with those suffering from dementia and trying to use music to improve their quality of life.  Not only does Vanderbilt have a music cognition laboratory, but the interdisciplinary nature of their academic programs, as well as my acceptance into the Curb Scholars Program, provided me with a unique chance to combine my interests in music, cognition, and business both in and out of the classroom.
Co-Salutatorian: Elisa Howard
Hometown: Norwalk, CT
Number of years at Sacred Heart: 2
Activities highlights (sports, volunteering, arts, etc): co-captain of Sacred Heart Robotics, Perspectives Art Editor, NY Medical College Summer Prostate Cancer Research Assistant, saxophonist in Sacred Heart Jazz Band, varsity track and field, varsity cross country, varsity fencing, Kairos Retreat Leader, Kumon Math and Reading Instructor, George Washington Carver Community Center volunteer, White Plains Hospital step-down unit volunteer, CT Special Olympics volunteer, altar server and Eucharist Minister.
Why Yale University: I have always been fascinated by the innate intricacies of the human brain and nervous system, and Yale University's renowned research opportunities, including the First-Year Summer Research Fellowship, will enable me to explore unanswered questions of neuroscience. When applying to Yale, I was particularly inspired by the research of Professor Nenad Sestan, who revived cellular functionality in a pig brain four hours after its death. Through research in one of Yale's over 1,200 laboratories, I can investigate my own rather unconventional questions of the brain. At the same time, I am an aspiring neurosurgeon, and, through Yale's affiliations with the medical school and hospital, I may explore my surgical interests as an undergraduate student.
The Sacred Heart Greenwich Class of 2020: Alice Adams, Salome Alfaro, Rachel Ali, Malika Amoruso, Olivia Andrews, Leah Atkins, Caroline Badagliacca, Caroline Baranello, Konstantina Barker, Grayson Bennett, Zada Brown, Edilia Bueno, Cameron Calcano, Sarah Carter, Emma Caruso, Claire Chmiel, Alexa Choy, Bridget Cobb, Elizabeth Colligan, Sophia Curto, Celia Daigle, Elle de Alessandri, Lillian DeConcini, Gabrielle DiBiase, Julie Drago, Megan Farrell, Georgia Ferguson, Sydney Gallop, Olivia Gasvoda, Sophia Georgas, Ashley Giannetti, Valentina Grether, Giselle Gray, Christine Guido, Isabella Gunningham, Stephanie Guza, Carly Haines, Bridget Hamlet, Victoria Hannett, Katherine Harkins, Aubrey Hash, Linley Himes, Elizabeth Hisler, Kara Hodge, Elisa Howard, Zoe Kassapidis, Kathryn Keller, Sydney Kim, Peyton Lauricella, Mary Marcogliese, Julia Matthiesen, Avery McCloskey, Grace McDevitt, Nicole Mellert, Caitlyn Mitchell, Kathleen Murray, Grace Nemec, Erin O'Connor, Taylor O'Meara, Gabriella Petrizzo, Christine Plaster, Michaela Pond, Jacqueline Prata, Paige Pucel, Isabella Quinson, Isabella Rogers, Pamela Rosenburgh, Amelia Sheehan, Morgan Smith, Mariana Soto, Eliza Stanley, Nicole Tapia, Daniella Tocco, Renata Trevino, Elizabeth Trimble, Kellie Ulmer, Arielle Uygur, Piper Van Wagenen, Jennafer Washington, Julia Welsh, Cassidy Willie-Lawes and Elexa Wilson.