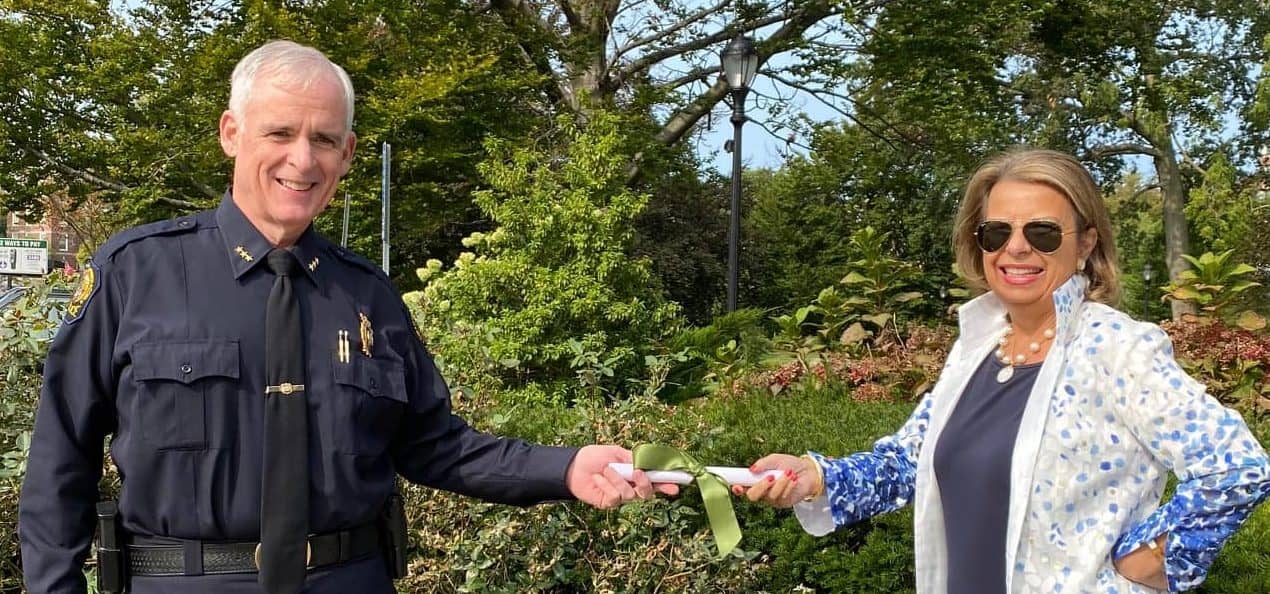 By Anne W. Semmes
Each year since 2016, the Greenwich Sentinel Foundation has honored a Greenwich individual who most exhibits that spirit of community building with The Greenwich Sentinel Award. This year, the honor goes to Pam Pagnani, as previously announced. With this issue The Greenwich Sentinel celebrates Pam Pagnani and her 2020 Award as it is unable to host a festive award night event due to the pandemic.
"Traditionally, Police Chief Jim Heavey presents the Award," shares Sentinel Publisher, Beth Barhydt. "Chief Heavey was our first Award recipient so he has been wonderful about continuing to present the Award every year. We also typically like to have people from the Award recipient's life, perhaps asking a daughter or son to speak, or maybe some other person who knows her well."
"Pam Pagnani embodies what we believe Greenwich is all about," says Barhydt. "She celebrates other people's victories with as much enthusiasm as her own. She almost never says no when someone asks her for help. She rarely complains, and most importantly, she loves Greenwich.
"Pam is very hands-on, whether it's her work with Greenwich Academy, or her work with the Greenwich Riding and Trails Association or her work with her church, or Neighbor to Neighbor. It's a lifelong pursuit for her. This is something she has been doing since she was a teenager. Pam also does something else. She's a person who shows up with the casserole when there's a death in the family. It isn't just the work that she does for charities and non-profits, she carries forward the idea that we take care of our neighbors, that we care for each other in ways that are very personal. That we support people when they're down."
The inspiration for the Sentinel Award says Barhydt came from its first recipient, Police Chief Jim Heavey. "Jim Heavey was our very first subscriber. When we started the paper and called to ask for his opinion and advice, he was very willing to talk with us and tell us what he thought. We knew we wanted to do some kind of a recognition award event with The Sentinel Foundation. We wanted a community event that celebrated Greenwich.
"We specifically wanted to celebrate an individual with the following criteria: it had to be somebody who had not previously been celebrated or previously received a big award of any kind. We wanted it to be someone who does not necessarily serve as the president of boards or commissions. It needed to be somebody who volunteers and in a working capacity – someone who has hands-on work that they do on a regular basis.
"Chief Heavey finds the time. He had a Boy Scout Troop he took on a trip to Arizona. He's done overnight camping trips with the kids. He wanted us to know about particular events that were going on with the Boy Scouts. He asked us to cover the Glenville Fire Department's getting a new fire truck because he was intimately involved in raising the money for it. He was very proactive with the paper in all of those ways. He met all the criteria. He was the example that we wanted to put forward of a Sentinel awardee, someone who watches over Greenwich, somebody who is involved in the community, someone that we can celebrate."
But this year the Sentinel added a second 2020 Sentinel Award for another age group entirely, for teen recipients, two Greenwich High School seniors, Caitlyn Hone and Nicole (Nikki) Walko. "We announced their Award in our special Graduation Issue sponsored by the Greenwich Athletic Foundation that was delivered town wide," says Barhydt. The two high school friends had worked for two years to bring their girls' rugby team to prominence and succeeded in transitioning the team from a school club to a varsity sport, with the team placing fourth in the state playoffs in its inaugural season.
"We had not planned to have a high school award," says Barhydt, "but my editorial team was inspired to create one." Hone and Walko were commended for their "leadership, work ethic, community service, and their absolute commitment to their peers."
The Sentinel Award for High School students comes with an engraved gift, and a scholarship of $1000 for the recipients to put toward college expenses. This fall Hone will attend St. Lawrence University and Walko will attend Trinity University.
"Caitlyn and Nikki have demonstrated all of those qualities we look for in our adult recipients," Barhydt told. "They are fierce in their support of others, ready to step in and help without thought of rewards or tiles. They are as excited for the success of others as they are for themselves."