July 24, 2020
'Nothing but the best:' Dow Cleaning Services founder strives to treat customers like family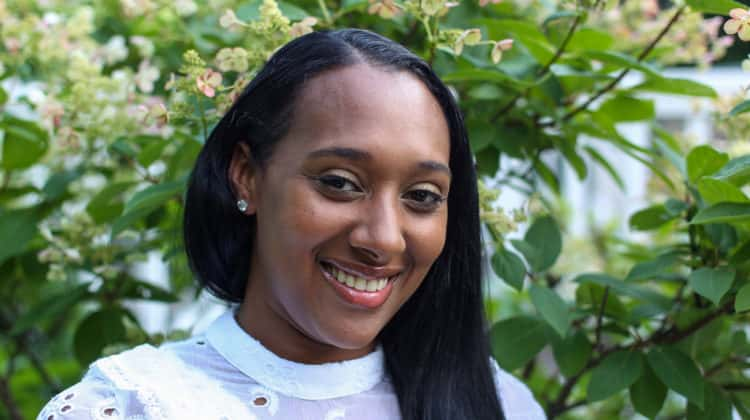 By Foster Steinbeck
It was in the extremely early morning of March 28, 2002, that Teangela Dow realized how important family was to her. At the time, she was overwhelmed.
She was trying to console her newborn daughter, Jinya (pronounced jin-nyah), and was recovering from a stroke — due to the physical strain of the day before, giving birth at 16-years-old. She couldn't breastfeed as it put too much stress on her body and the right side of her face was still droopy from the stroke.
In response to the loud cries, Dow's grandmother and father woke up and started helping her take care of Jinya, telling Dow to get some rest and relax. Although anxious about her health, Dow said her family's support was reassuring and made her believe in herself.
"I felt scared because I'm in this spot of having this baby now, my face is sagging, it's four in the morning and I'm exhausted. Then my [family] walks in the room," Dow said. "I felt so safe. I didn't even have to ask them.
"As time went on, they just always supported me and told me 'we're here for you.' … I felt like I [couldn't] really get this from just anybody."
Wanting to make something for herself and her daughter, Dow later founded a cleaning company — Dow Cleaning Services — in 2013 after working as a hotel maid and security for an insurance company out of high school.
Now, Dow said she has fallen in love with cleaning. Moreover, she said she loves getting to know her customers personally and treating them like family while going the extra mile to ensure their houses are spotless.
"When I go into a client's house, we just start talking automatically about life. Of course, we discuss business: what the prices are, what the hours are going to be and how many times to come out. But while we are in their homes, we end up meeting your kids, your grandkids, your dog," Dow said. "Once we do that, we end up having conversations and, the next [thing] you know, everyone is just like one big happy family."
Family Ties
Dow said it's her instinct to draw close to people and treat them like family, due to her reliance on her family in the past. To that end, Dow said she aims to build trust with her clients through her thorough cleaning.
"I know how people are very busy. They're very stressed out. People go through things in life, people pass away, and it's hard for them to just maintain the little things in their house," she said. "By me just coming in and making it so clean and smell so good, [it makes them] just so happy."
Serving Connecticut, Westchester County and New York City, Dow Cleaning Services specializes in cleaning residential properties, business spaces and construction sites. Before the pandemic, Dow said the company had an average of 30 to 40 clients, mostly residential. Dow said most of her business comes from cleaning residential properties.
The company offers different levels of cleaning – light, regular and deep – for residential cleaning. When she's not cleaning alone, Dow said she subcontracts freelance workers or brings some of her part-time employees to help clean houses.
Through local business networking services, the company also outsources other businesses for handyman or demolition services. It first started subcontracting demolition companies in 2015 and handyman services earlier this year, both prompted by hearing and seeing customers' unmet needs. Dow said she oversees all subcontracted services and work.
When cleaning, Dow said she re-clean a window or table if she or any of her employees accidentally leaves a smudge, believing it's her responsibility to make the customer happy. Dow also said she tends to clean beyond what's covered in the bill.
"I always like to be extra than be less … I love to have that impression on people," Dow said. "It's a statement. I care about my business and this is what I'm representing. I want to brand myself as nothing but the best."
Long-time customer Katherine Ferranti-Cholich said she appreciates how Dow personally cleans her house the way she wants it, and how Dow checks up with her to make sure the house was cleaned thoroughly enough. Dow Cleaning Services has cleaned her house every two weeks since 2016.
A small business owner herself, Ferranti-Cholich said she respects the hard work and "scrappiness" Dow put into building her business.
"I feel good about supporting another small business. [She's] just a person who is trying to support her family, and pay her taxes, and do a good job, and build a life. It makes me happy to do that for her," Ferranti-Cholich said. "She's earned us keeping her for the last four years."
Dow said her father — with his successful window cleaning business in the '70s — inspired her to venture into the cleaning industry. Dow said her grandmother — who raised her until she graduated high school — also inspired her to work hard and believe in herself.
Now, Dow employs her father full-time and her two brothers part-time. Dow said she employs her family members so they can collectively grow the business and show her children success is possible, despite none of the four going to college.
"I don't want them thinking, 'Oh, mom just works at Stop and Shop,' or 'mom works at Dunkin Donuts,'" Dow said. "There's nothing wrong with those jobs somebody has to do them. But I just want more for my kids. I don't want to repeat the history I've been living in for so long."
As a small, minority-owned business, Dow said she has never had a negative experience with a customer. However, she said she sometimes feels dwarfed by larger cleaning companies in the area —such as the franchise company, Molly Maid  — that have more clients and can afford more advertising.
In response, Dow said she tries to forge strong bonds with her clients, alert people of the company's services and grow her customer base.
However, the COVID-19 pandemic has hurt Dow Cleaning Service's growth efforts. Dow said the company now has approximately 10 regular clients and is operating with 65% less income, as clients as they have stopped utilizing its services. In response, the company sends out phone and email reminders to clients, advertising their cleaning assistance and its other services like grocery pickup.
"We just try to keep our presence there," Dow said. "We don't plan on going out of business, even though we're all suffering."
Gaining confidence
Dow's father, Joseph Dow, has worked at his daughter's business since it opened. Using his business knowledge, Joseph Dow said he guided Dow on filling out the necessary prerequisites and paperwork needed to run a small business, such as completing the Occupational Safety and Health Administration's training courses to clean construction sites.
Joseph Dow said he's tremendously proud of what his daughter has accomplished.
"It's not just to make money for herself, but she's trying to create a legacy," Joseph Dow said. "A legacy that she can teach her daughters to understand the importance [of] how to make your money work for you, instead of always having to have someone else tell you how to work for money."
In previous years, Dow said she was insecure about herself, due to having a baby at a young age and struggling with reading comprehension. Dow has dyslexia and didn't start learning to read until she was in the 5th grade, saying she didn't receive the proper attention to help her reading skills until then.
While working security and taking tests, Dow said she relied on instructors and co-workers to help her fill out records and read test questions. Dow has enrolled in adult reading classes for over a decade while balancing her business and raising her family to make up for lost time.
Despite her struggles with reading, Dow said, with the support of her family, she feels confident in her ability to be successful with her business and in her life.
Dow moved to Greenwich in 2015 to expand her business and grow closer with the town's community. In the future, Dow said she's looking to expand more into the commercial cleaning market, due to its profitability.
"I don't want to be looked at as a charity case," Dow said. "I want people to take me as a serious business because I work hard for everything I do."
"I feel like I've been very successful. I feel like I've made it actually. In some peoples' eyes, I'm a very small company," she said. "But where I came from, not having anything and living in my grandmother's attic for my childhood years, [to] where I am now, living in Greenwich in a beautiful neighborhood and having clients, is the best thing in the world for me."