July 24, 2020
In the Spotlight: A Conversation with Dan FitzPatrick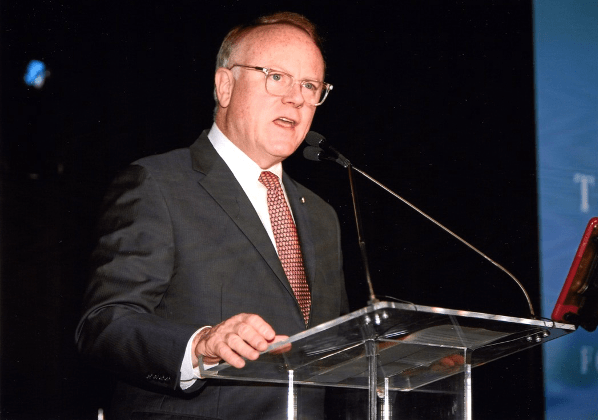 By Anne White
The Greenwich Sentinel is fortunate to have a number of local residents generously contribute their time and talent in support of our weekly newspaper.  The Sentinel sat down recently with Dan FitzPatrick, a regular columnist and member of our editorial board.
Sentinel:  Dan, how long have you lived in Greenwich?
FitzPatrick:  My wife Helen and I moved our family here from Darien in 1996, but Helen grew up in Greenwich from the age of three.  We actually live just a few houses down from her childhood home, where her mother still lives today.  That was a major factor in our decision to relocate.
Sentinel:  What got you into writing?
FitzPatrick:  Writing has long been part of what I do.  In law school I was editor-in-chief of The Vanderbilt Journal of Transnational Law, an international law review publication that has now become one of the world's most prominent and widely cited legal journals devoted to issues of comparative and international law.  I also wrote a lot as a lawyer.  But it was actually the Sentinel that sparked my interest in writing for a general audience.  In the fall of 2016, Beth Barhydt asked a number of friends to contribute short articles on the theme of gratitude for that year's Thanksgiving issue.  I wrote a 276-word piece entitled "Of Fallen Leaves & Memories" and it was published!  The rest, as they say, is history.
Sentinel:  Is there a general theme to your writings?
FitzPatrick:  Not in terms of subject matter, but maybe in terms of treatment.  If I had to come up with a description, it would probably be "common-sense cultural commentary."  I write about topics that interest me.  Sometimes I write columns about politics and the breakdown of civility, which usually show up in the op-ed section of the paper.  Sometimes the topics relate to philosophy or faith, which usually run in the religion section.  Editorials tend to be very Greenwich-specific.  
At all times I try to be thoughtful and though-provoking without being mean, rude, partisan or offensive.  It is very challenging these days to make a substantive point, to take a stand, to have something worthwhile to say, without running the risk of offending someone.  It's an art, and I keep trying to get better at it.  One thing about writing for a newspaper: you're sure to get feedback!
Sentinel:  Can you give us a sense of your early life and career?
FitzPatrick:  I grew up in Plattsburgh, New York, a small upstate town close to the Canadian border on Lake Champlain.  I attended local schools and Dartmouth College before obtaining a law degree from the Vanderbilt University School of Law in Nashville, which is also where I met Helen.  I like to tell people that I had to go to Nashville to meet a girl from Greenwich!
I practiced corporate law for a number of years with Davis Polk & Wardwell, a wonderful firm with a well-deserved reputation in international finance.  I sort of fell into the private client business when I was asked to work on an unusual lending transaction for a very wealthy client of the JP Morgan Private Bank.  I found that whole world fascinating, and when the opportunity arose to join Morgan, I jumped at it.
The private client business is very different than the corporate world.  I used to tell my investment banking and corporate finance friends that it is much more challenging; they would scoff at that (remember this was the 1980s and they were "masters of the universe").  I would respond that it was so if for no reason other than that corporations tend to act rationally and in their own best interest, and people don't necessarily do either.
At Morgan, I ran the US Generational Planning unit providing trust and estate planning advice to the Private Bank's wealthy clientele, and then moved up to run the Fiduciary Management group, overseeing Morgan's trust and estate administration business globally.  In 2000, Goldman Sachs hired me to build a trust business for them from scratch, and in 2001 we opened The Goldman Sachs Trust Company, N.A., a limited purpose trust bank which is going strong today.  I then ran CitiTrust, Citigroup's global personal trust and administration business serving clients of both Citi Private Bank and Smith Barney.  
I've also been a partner in a start-up private wealth management firm, led the personal trust and investment business in Fairfield and Westchester counties for BNY Mellon, served on the management committee and led the private banking division of Webster Bank, and served as vice chairman of a privately-held UK-based fiduciary services firm.  You could say my career is a bit like a smorgasbord, but it has provided me with wonderful insights that I draw on every day in my current business.
Sentinel:  What is your current business?
FitzPatrick:  I now own my own business, Northway Wealth Advisors, advising and assisting individuals who are acting as trustee of trusts or executors of estates in fulfilling their fiduciary responsibilities.  I do not practice law, but rather leverage my experience running the business of fiduciary administration and managing the risks inherent in being a trustee or executor.  I also advise law and investment firms that either engage in those activities or wish to start doing so.  In addition, I've served on a number of occasions as an expert witness on fiduciary matters in federal and state court litigation, and as a mediator helping to resolve differences between trustees and trust beneficiaries.
Sentinel:  Any local boards?
FitzPatrick:  I've served since 2004 on the board of Greenwich Emergency Medical Services, Inc., a wonderful organization now celebrating its 34th anniversary serving our town's emergency medical transport needs.  I also serve as chair of the St. Roch Parish finance advisory committee.
Sentinel:  Who has had the most influence on the development of your writing style?
FitzPatrick:  Peggy Noonan and C.S. Lewis.  They have different styles and focus on very different topics, but they both have tremendous insights and the ability to engage their audience and communicate their interesting points of view in a very accessible way.  I probably channel Noonan when writing about politics and Lewis when dealing with philosophy and faith.  Of the two, I most admire Lewis because of the depth of his insights into human nature and the divine.
Sentinel:  Would you ever write a book?
FitzPatrick:  Perhaps.  Every person of Irish descent believes that they have the "gift of gab" and a solemn duty to share that gift with the world, whether the world wants it or not.  Luckily, I have a very big family, so if I do write a book, I'll be guaranteed at least a few sales!