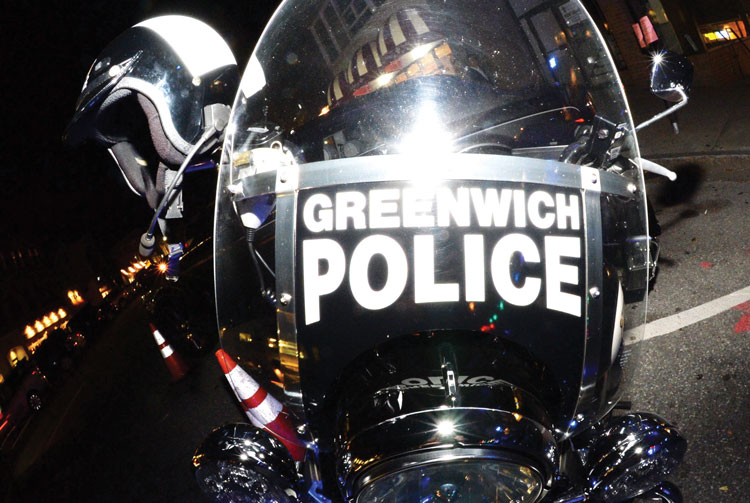 By Richard Kaufman
While there seems to be complete support across the 12-member Board of Estimate and Taxation, a vote on an appropriation of $310,002 to purchase body cameras for the Greenwich Police Department was delayed on Monday, as the board looks to gather more information and answer outstanding questions.
The BET plans on going forward with a vote on Sept. 21 just before the Representative Town Meeting is set to reconvene that night and perhaps consider the item. A special BET meeting in August is also possible, said BET Chair, Michael Mason.
 "We intend to get this done in September and give it to the RTM. If you need some more time, that's fine," First Selectman Fred Camillo told the BET, before ultimately withdrawing the item. "I'd rather you have the answers and be secure with your vote than go into it half-hearted."
BET members had questions about the multiyear contract needed for the body cameras, data storage and cybersecurity, risk management, Freedom of Information requests, as well as privacy concerns for domestic violence victims, and juveniles, notably at Greenwich High School where there are School Resource Officers.
"The questions are legitimate and valid. We will work with you offline to get you all of those answers and all your concerns addressed," Camillo added.
BET Vice Chair, Karen Fassuliotis, and BET Budget Committee member, Leslie Moriarty, will be tasked with working with Camillo and GPD Chief, James Heavey, to come up with answers for the Board.
Both Camillo and Heavey said they believe body cameras would be mandated statewide at some point in the future.
"For over five years, I've pursued getting body cameras," Heavey said. "I always say there are two types of police agencies in the state of Connecticut: those with body cameras, and those who will have them… I think the body cameras would go a long way on transparency and accountability. I think it would reduce liability."
Camillo agreed, saying the town was trying to be proactive ahead of any state legislation. 
"We think ultimately it will clear up a lot of doubts and help the men and women in blue as much as the citizens as far as protection goes. Money-wise, it could probably save us a lot of money down the line when it comes to litigation that probably was not valid," Camillo said.
A few BET members advocated for a vote on Monday rather than a delay.
"I think the optics are poor for us to postpone this item. I think we should show our support for it by approving this item and we can answer the questions and take care of the fine details over the months that follow," said Jeff Ramer.
Moriarty argued that a Sept. 21 vote, on the same day as the RTM meeting, would put RTM committees at a disadvantage because they wouldn't get all the information they need in advance. 
"I get that we don't have all the information we'd like to know about this project at this point, but I do agree with Jeff [Ramer] that this is an important initiative," Moriarty said. "I know it's been on the backburner for many years and hasn't been put forward, and I appreciate the fact that it's being pushed forward now. I don't want to see that slowed down or disadvantaged in any way because of the timing of our meetings."
BET Clerk, William Drake, called the body camera initiative "forward thinking." He said the matter could wait so the board can get a full understanding.
"We have an excellent police force here. We do not have problems like the Minneapolis police force," he said. "We want to be on the leading edge of technology and governance. This thing just calls out for a very thorough and deliberate look like we give everything we touch here on the BET."
Camillo reiterated that a delay in a BET vote doesn't affect the timeline in getting body cameras for the department.
"You'd rather have all your T's crossed and I's dotted before going forward. I think we all know we're going to do this," he said.
The BET is set to meet again via Zoom on Thursday with Heavey and a representative from Axon, a body camera company, to learn more about the technology and how it's used.