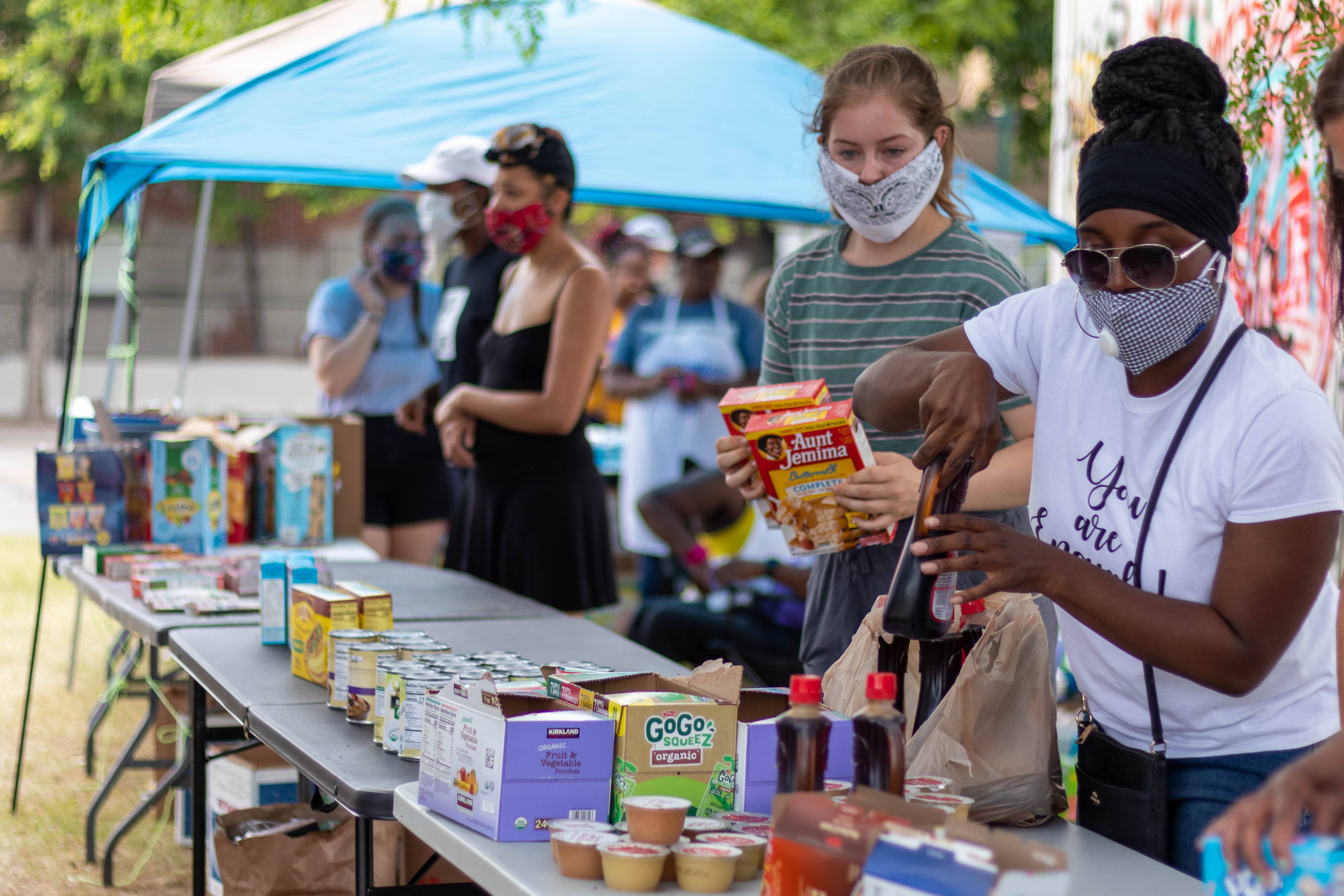 By Marek Zabriskie
A generalization can be made that liberal mainline churches have focused on social justice and outreach while evangelical churches have focused on personal salvation. That trend can be seen in churches across the United States.
As a lifelong Episcopalian, my experience is that Episcopal churches are outstanding at outreach. We excel at helping those in need and addressing poverty. We carry out this area of ministry better than we do when it comes to teaching the Bible and evangelizing. It is embodied in the very words of our Baptismal Covenant, where we are asked, 
Will you seek and serve Christ in all persons, loving your neighbor as yourself?
Will you strive for justice and peace among all people, and respect the dignity of every human being? (Book of Common Prayer, p. 305)
To each question, we respond, "We will with God's help." While we also commit to "proclaim by word and example the Good News of God in Christ," most Episcopalians prefer to preach our sermons through our actions rather than our words.  
As a result, many of our members are passionate about outreach, service, mission trips, helping those in need, addressing social injustice and reducing poverty, yet we struggle to know where in the Bible we are urged by God to carry out this work. The good news is that we serve.
The late Verna Dozier, a wonderful teacher of the Bible, spoke for many mainline Christians when she wrote in her book, "The Dream of God," "I believe the Christian church has distorted the call, narrowed it from a call to transform the world to a call to save the souls of individuals who hear and heed a specific message, narrowed it from a present possibility to a future fulfillment."
The Bible speaks emphatically about social justice and our need to work together to reduce and eliminate poverty. The Good Book calls all believers to fight against injustices, exercise compassion, treat everyone with equality, care for widows, orphans, strangers and the poor.
From the beginning to the end, the Bible urges us to care for the naked, the homeless, the immigrant, the refugee, the marginalized, the weak and the defenseless. The Bible speaks more about issues of wealth and poverty than about any other ethical issue – by far.   
On the other hand, mainline churches have many members whose religion revolves around attending church, serving in a ministry that supports beautiful worship or gracious hospitality, both of which are often centered on our own membership. 
"Why do we need to focus so much on the poor?" some lament. "Shouldn't everyone work hard in order to get ahead? I have no guilt about what I have. Let others work hard and make a living for themselves," they say, as if poverty were a convenient choice.
Such a viewpoint can hardly be called Christian – as if Jesus spent most of his time organizing worship services and receptions that followed them. Worship is at the heart of our faith and everything moves out from there in service to others in the name of a loving, forgiving and compassionate God. The overall mandate of the Bible is to serve others in need.  
The Rev. Dr. Katherine Grieb, professor of New Testament at the Virginia Theological Seminary notes, "…every part of the Bible is concerned with care for the poor and warnings to those who have economic privilege to use their wealth wisely and for the common good, not just for themselves." 
Hence, the Bible has inspired Christians to found hospices, which became the forerunners of today's hospitals, and to create schools to educate church leaders. These schools evolved into the great universities of Oxford, Cambridge, Paris, Bologna and Salamanca, which gave birth to culture and the pursuit of knowledge on all sorts of subjects. 
It was monks working tirelessly in scriptoriums who kept knowledge and learning alive in the Dark Ages. Monasteries served as learning centers, homeless shelters, food distribution centers and hospitals for the community.
St. Benedict of Norcia created what he called "a simple rule for beginners" in Italy around 500 A.D., which was the basis for monastic communities, founded on a principle of equality – an idea that was virtually unknown in the Western world.
Every monk or nun, whether he or she was born a noble or a peasant, was to be treated equally. Each monk had a vote in the weekly chapter meetings that governed the monastery, whether he had been a member of the monastery for decades or had just joined.
The English Houses of Parliament first met in the Chapter Room of Westminster Abbey, a nearby Benedictine abbey. The parliamentarians employed some of Benedict's principles to govern their actions.  
This included that each representative was entitled to one vote. The Rule of St. Benedict therefore helped give birth to our modern concept of democracy, which has done wonders for addressing social justice and combatting poverty.
The Rev. Marek P. Zabriskie, is Rector of Christ Church Greenwich