June 19, 2020
Greenwich High School Sailing Team Recounts Season on the Virtual Seas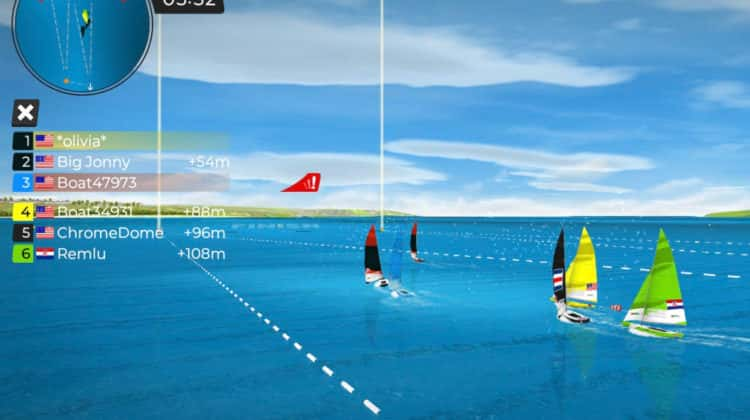 Team recounts season on the virtual sea
By Foster Steinbeck
In the wake of the COVID-19 pandemic, the Greenwich High School sailing team's season was canceled, with no competitions or practices. In response, the team shifted its practice from the water to their phones and computer screens by using Virtual Regatta Inshore, a sailing video game, and Zoom calls.
"I'm actually very impressed by the team, their participation and their optimism throughout this whole thing," GHS Senior and Sailing Co-Captain Demarest Janis said. "People [were] trying to make the best of it and they still love the sport. They want[ed] to keep up with it and get better and improve throughout the season."
After the Interscholastic Sailing Association curtailed, then canceled the 2020 spring season on April 2, GHS Sailing Coach Henry Millette remained hopeful the team would at least get some practice time on the water. Days before the team's season kickoff event, Gov. Ned Lamont ordered all Connecticut schools to be closed. The seniors didn't get to compete in their final season in high school.
In light of the circumstances and Greenwich High School's directive, the team rallied together, using VR Inshore to keep their sailing skills fresh, while Millette scheduled various activities throughout the week, like guest lectures and race competitions with other schools.
"It was definitely a good way to keep me stimulated," said GHS Senior and Sailing Co-captain Max Anke, "so that I'm not just sitting there forgetting some things. It was a good way to stay engaged."
Learning from video games
The practice time on VR Inshore was far from busywork, reported the co-captains and coach.
Millette said the hours spent on the app allowed the team to focus on race strategies and tactics, rather than the physical act of sailing. Millette praised the team's quick adjustment to the virtual season.
"We're going to go into next season having a much greater gap of understanding of strategies and tactics that enable us to focus a little more on maneuvers," Millette said.
VR Inshore pits players against one another, with each controlling one boat in a sailing race where they try to move through a pre-determined course in the fastest time. The app also supports team racing, where players race in groups, typically three people, to have the best race placement collectively against other teams. The app only allows for players to sail in racing events.
In real-world sailing races, the trick is balancing two intertwined challenges. Sailors, two per boat, must utilize the wind, terrain and other external factors to best maneuver their boats while simultaneously focusing on tactics and strategies, such as what to do when another boat blocks your wind – winning race placements for team racing and right-of-way rules – to get the best finish.
"Sailing is like a game of chess because you really think two steps ahead and anticipate everyone's next move," Anker said. "Like anything, if you don't use it, you lose it."
In-game, the students could focus more on race strategies and tactics as they only had to factor in the wind to best steer their boats. Thanks to VR Inshore's design, several external factors, and sailing techniques, like trimming the sail and potential buildings on a nearby shore, were not factors players needed to take into account.
Millette frequently arranged intra-team races and competitions to keep the students' minds engaged, with the team and Millette using Zoom calls to communicate with each other.
As a result of the reduced variables and increased focus on racing's macro-decisions, students were able to experiment with new strategies and ideas with zero consequences. Both co-captains praised the game's ability to help develop students' skills.
"If you mess up, you mess up," Janis said. "It's not like you're racing [in real life], you don't have to worry about crashing your boat into another boat,"
Lemons to Lemonade
In addition to advising students in VR Inshore, Millette set up jeopardy competitions about sailing-related topics, arranged guest speakers – such as St. Marys College of Maryland's renowned Sailing Coach Adam Werblow — to talk to the students and gave whiteboard lectures on sailing theory and strategies all over Zoom calls.
Millette also organized non-official tournaments with individual sailors and teams from other schools. Millette reported approximately 200 individual students, including the roughly 30 GHS students, participated in competitions. In one instance, Greenwich High competed internationally against Albert Park College, an Australian High School.
The majority of students used their phones to sail and their computers to participate in zoom calls. When in practicing and competing VR Inshore, the students' biggest concern was disconnecting from the race, as a result of patchy internet connection or accidentally hitting their phones' power button (a sad fate which has befallen too many young sailors).
"Considering what we were up against, the season was probably a 9/10," Millette said. "We did a really good job making lemonade out of lemons."
Millette, who has been coaching sailing for 10 years, said the GHS sailing team students stand out as a very calm, collected, and laidback group of sailors. Even when they express audible frustration, Millette said the kids catch themselves and let it go quickly.
"It's really, really easy to lose a temper or panic or have a gut reaction because things in sailing happen so quickly and because you can have things out of your control happen, like a bad wind shift for you," Millette said. "Sailing's a sport where you have to let go of frustration very quickly in order to progress, and these kids are very good at it."
The GHS's sailing season wrapped up at the end of last week with a final tournament and speeches from Janis and Anker. Last year, Millette set-up a JV sailing team to help bring on and teach new students sailing and is looking to recruit more sailors for the next season.
If things return to normal in the fall, Millette said the team has the potential to make it to the New England Schools Sailing Association's racing championships and ISSA's national invitational tournament.
Both co-captains said they appreciated Millette's efforts to keep the team engaged by setting up a schedule and unofficial competitions.
"I feel like during this quarantine a lot of people have been really bored and not very busy, but he [Millette] made it really fun for everyone," Janis said.