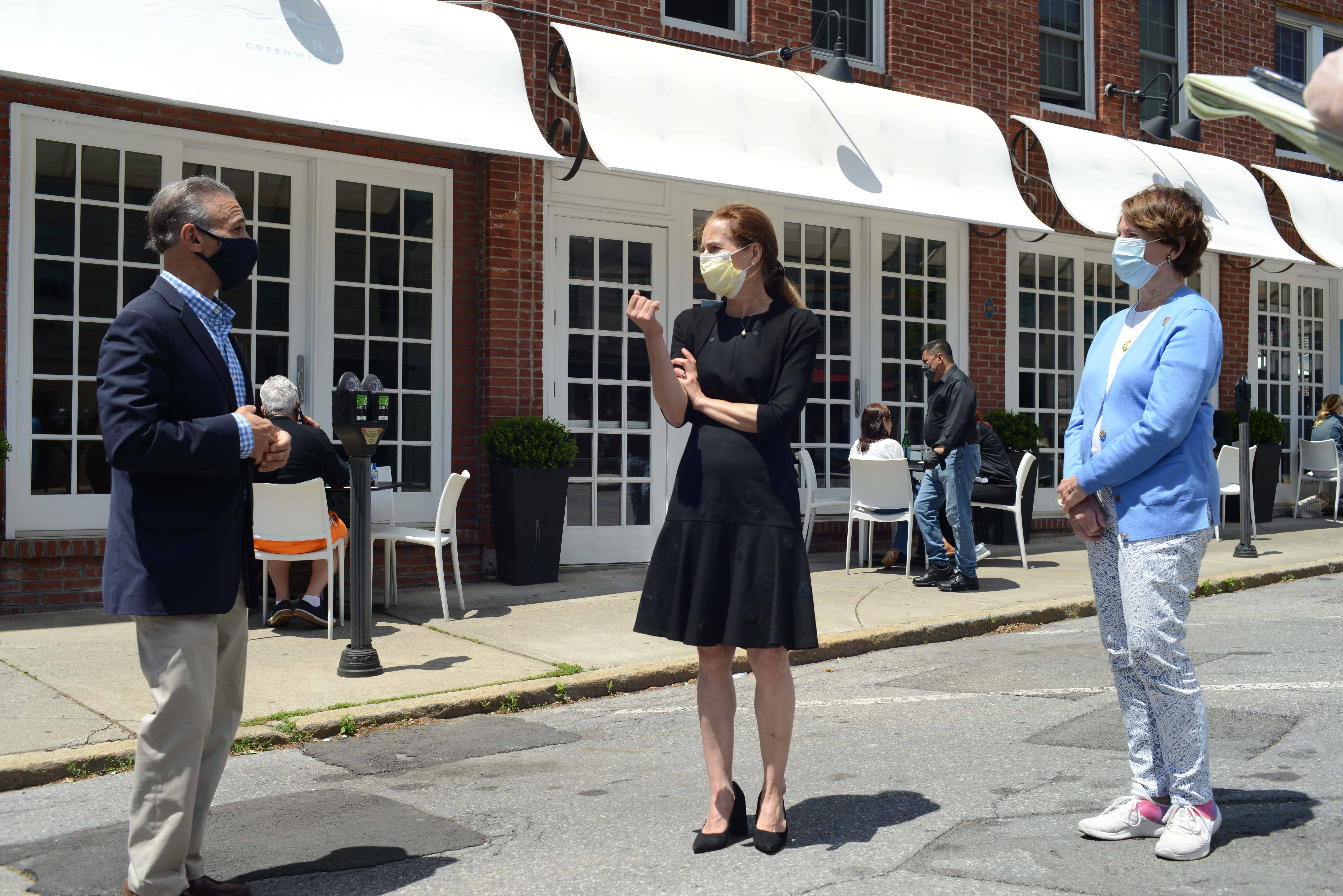 By Richard Kaufman
Sentinel Reporter
First Selectman Fred Camillo and State Rep. Livvy Floren (R-149) welcomed Connecticut Lt. Gov. Susan Bysiewicz to town on Monday afternoon to tour Greenwich Avenue, which was preparing to partially close as part of a plan to turn the entire .65 mile stretch into a pedestrian mall.
Last week, the Greenwich Board of Selectmen unanimously approved plans to close down the Avenue from Havemeyer Place to Railroad Avenue as part of Phase 1, from June 2 through September 2.
On Monday morning, physical barriers were placed at intersections on Greenwich Avenue to stop traffic from entering between Havemeyer Place and Railroad Avenue. An emergency lane for fire, police and EMS was constructed with controlled access by authorities at Havemeyer Place.
By the afternoon, residents began trickling in and taking advantage of outdoor dining at several restaurants.
Camillo said the reaction to the closure has been positive, especially from the Greenwich Chamber of Commerce.
"There's excitement and anticipation. I think little by little you'll see more people out here after a few months of being inside," he said.
Bysiewicz said she believes the pedestrian mall will have a positive impact on businesses as they look to get back on their feet as reopening in Connecticut continues. There are 27 restaurants along Greenwich Avenue, and 17 in Phase 1 alone.
"Since May 20, I have traveled to different parts of our state to see how businesses are preparing to welcome back customers under phase 1. One thing is clear: municipal leaders and business owners are coming up with innovative and creative ways to help expand outdoor dining or create a safe shopping experience for consumers," she said. "By closing down parts of a roadway to vehicular traffic or installing concrete barriers, local restaurants will be able to add more tables that are six feet apart and cater to more customers."
Vicente Siguenza, owner of Harvest Wine Bar & Restaurant and South Bay Mediterranean Kitchen, both located in Phase 1, said he is excited about the pedestrian mall and what it could mean for the merchants on Greenwich Avenue.
South Bay had been closed for three months and did not have takeout services. On Monday, several tables were set up outside and customers were enjoying lunch.
"I'm very excited. This is the best thing they could do. It's going to be amazing for the businesses on the Avenue and for the consumers," Siguenza said, noting that he'll have about 12-15 tables on the sidewalk at South Bay, and 8-10 at Harvest.
Participating businesses must obey all federal, state, and local laws and ordinances, and social distancing must be adhered to in accordance with Department of Health standards.
Theresa O'Connor, manager at Diane's Books located at 8 Grigg St., just off of Greenwich Avenue, said she believes the pedestrian mall won't have a big impact on the store because of a lack of parking.
"I'm happy that the restaurants are able to serve, but it's been harder for customers to come to our store. They usually pull up in their car and run in. They can't do that now," she said. "Essentially closing Greenwich Avenue has closed Grigg Street, a one way street."
Pete Sheth, who works at Zyn's, an old school newsstand store on Greenwich Avenue, is concerned about the lack of parking as well.
"Our customers are quick in and out. They're not going to spend more than 5-10 minutes in the whole store. They're not going to walk 2-3 blocks to get small stuff like a newspaper," he said.
Camillo said the town will adjust and evolve to businesses who are adversely impacted, and possibly add parking if need be. Right now, the only vehicles that will have access to Greenwich Avenue will be for trash pickup, commercial vehicles for the delivery of supplies, and emergency vehicles.
Plans for Phase 2 and 3 are already in the works, and could be presented to the Board of Selectmen during their next meeting on June 11. Camillo said there won't be much more than two weeks between the implementation of each phase.
Phase 2 will close the Avenue to vehicular traffic from Putnam Avenue to Lewis Street, and Phase 3 will include Lewis to Havemeyer Place. The closures will be in effect all day.
Handicap parking stalls will be available on side streets, and curbside pickup locations for businesses will be available at the top of Arch Street, Fawcet Place and Railroad Avenue.
Additional parking will also be available at People's United Bank via access at Railroad Avenue.
Camillo said the plans to close down Greenwich Avenue to vehicular traffic has had a lot of moving parts, but he credited those at Town Hall, and the police and fire departments for working as a team to help make it come to fruition.
Camillo has long been a proponent of connecting Greenwich Avenue to the waterfront, and bringing back the old time pedestrian mall feel in downtown Greenwich, which he said will be a multi-year process. He mentioned that perhaps in the future, a trolley system can return to Greenwich Avenue, originating from Town Hall and run every 30 minutes.
"I do think in the next few years you're going to see a different Greenwich Avenue," he said.
But as the weather warms up and people begin to come outside, Greenwich residents must remain vigilant against the coronavirus.
"There's some sense of normalcy right now and that's a good thing," he said, referring to activity on Greenwich Avenue. "As long as we keep our eye on the ball and don't take our foot off the gas pedal, it'll get better. We have to make sure we still remember where we are."
Bysiewicz praised Camillo and the town for navigating one of the first big coronavirus hotspots in the state.
"Throughout this pandemic, we have seen state and municipal leaders step up when we need them most. COVID-19 hit Fairfield County hard," Bysiewicz said. "Since the start of this public health emergency, First Selectman Camillo, the Board of Selectmen, and other local and state officials, have been instrumental in protecting the health and safety of Greenwich residents. The town acted swiftly to close schools, and now during phase 1 of reopening, Greenwich and its health department are finding ways to help boost local restaurants and businesses."​