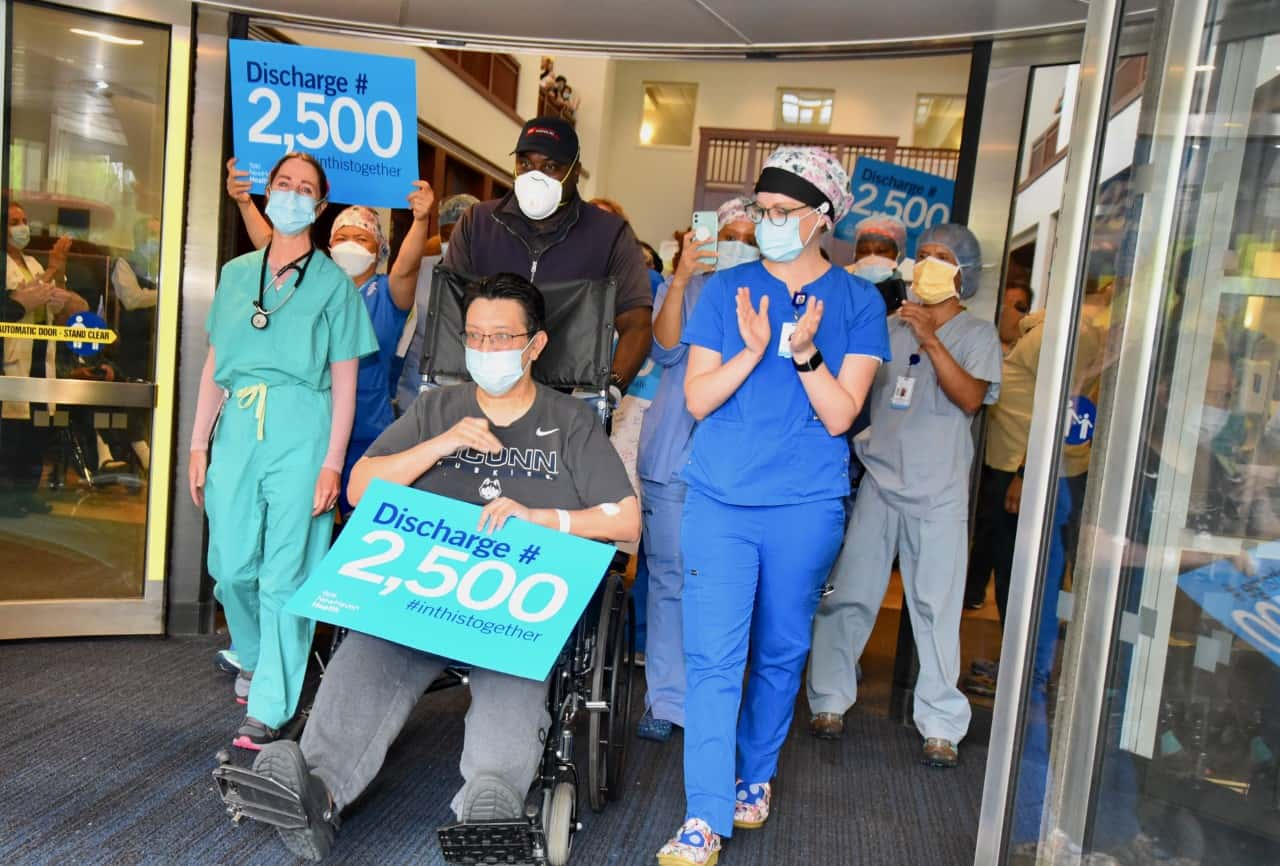 By Richard Kaufman
Sentinel Reporter
The sounds of cheers and applause echoed along Perryridge Road in front of Greenwich Hospital on Monday afternoon, as Yale New Haven Health celebrated the release of its 2,500th recovered COVID-19 patient.
Gabriel Cid, 44, a Greenwich resident, exited the hospital's main entrance to a thunderous roar from hospital staff. He was admitted to Greenwich Hospital on April 12, spent 30 days in the Intensive Care Unit, and 21 days on a ventilator.
"The fact that about a month ago, I went into the Emergency Room door and today I came out the front door is a testament to the love and support that every nurse and doctor here has for patients. They never stopped fighting for me, and I never stopped fighting for my family," Cid said.
Cid's family looked on as he emerged from the main entrance in a wheelchair, and rushed towards him with tears in their eyes, reunited after weeks apart. They were decked out in New York Mets gear, Cid's favorite team.
"This has been the most trying month of our lives. We were so close to losing our father, and all odds were against him. It's a miracle," said Ana, one of Cid's three daughters. "There were days where we got some bad news, there were days it was better; we didn't know for the longest time. We're happy he made it, and he defeated the odds. It's a very humbling situation. No day is going to be taken for granted ever again with my father."
Victoria Victory, a registered nurse (RN) at Greenwich Hospital, normally works in the Recovery Room. But because the hospital had canceled elective procedures amidst the surge of coronavirus, she was deployed to the ICU, where she worked for six weeks.
It was there where she cared for Cid for about three days over the course of his stay.
"He was quite sick. He was a person you needed to pray for," Victory said.
As Victory learned more about Cid's family, the whole situation began to hit home for her, because she has three children of her own.
"Everyone is always talking about how [coronavirus] affects older patients, and clearly this wasn't the case," she added. "I cared about all of my patients, but there was something about this one. I kept pulling for him everyday."
After Victory had moved on from Cid to care for other patients, she would try to keep tabs on how he was doing, even when he was moved out of the ICU.
"We know that they've been extubated and left the ICU, but then after that, we never really hear what happens to these patients," she said.
Eventually, Victory returned to the Recovery Room about two weeks ago, since the hospital is beginning to come up with plans to resume elective surgeries.
While working in the ICU, she was never able to attend discharges. But on Monday, when word came down that Yale New Haven Health was releasing its 2,500th recovered COVID patient, Victory had some time to go downstairs.
"When someone told me who it was, I said, 'Oh my God! This is amazing,' Victory said. "It was really exciting to see [Gabriel] awake and alert, because I never got to see that at all. He had a mask on. You couldn't see the smile, but you could see the smile in his eyes."
Dr. Michael Franco, the Medical Director for the ICU at Greenwich Hospital, said Monday was "a very good day" for everyone.
"All of these patients are miracle stories when they come off [ventilators]," Franco said. "Unfortunately, a lot of patients get so ill that they're on a ventilator in the ICU and they don't make it. So a patient like this is always heartwarming and reinforcing for us."
Because the last few months have been stressful and tough, Victory added that Cid's release was important for her.
"There were days I left work in tears. I would cry in the car, not knowing if what I had done was helping. We need to see this. We need to see these uplifting stories," she said. "We need to see that we're making a difference. I've had to sacrifice staying away from my husband and children; I think a lot of nurses did that to try and self isolate as much as possible. It's been two weeks since I left the ICU, so my husband and I are finally back in the same room. I see that there's hope, there's a glimmer. It's there. We're doing the best we can and there are good outcomes, and it's great to see."
Ann Marie McGory, Executive Director for Critical Care Services, said it was stirring to see Cid's progress.
"With COVID-19, the disease doesn't always progress the way we'd like it to. He's one of our champions and he did very well," she said.
McGory said that the hospital has teams put together who are in constant communication with families of those who are hospitalized, in order to keep them up to date and informed of what's going on. Because no outside visitors are allowed, nurses often use Zoom or FaceTime for loved ones. McGory said it's "heartbreaking" to see patients separated from their families.
But Cid will soon be reunited for good with his three daughters, Ana, Elizabeth and Alexandra, and his wife, Consuelo, after completing rehab, hopefully within the next two weeks.
It wouldn't be possible without the care and support of Greenwich Hospital, and Cid's fighting spirit.
"The work they do is tremendous. They're angels," Cid said of those that took care of him. "There's no way I can repay them for the life they gave me back."