By: Bobbi Eggers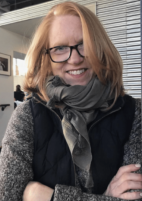 If the last several weeks have taught us nothing else, more than ever, your home is your sanctuary…at least it should be. Even as mobility eases up, we will be more house-centric than before. This moment is giving us an opportunity to get to know and get to truly live in our homes. We are sitting in chairs we hadn't really sat in, using a corner as a Zoom space. I actually hadn't realized my two favorite cowhide chairs that look so nice are so uncomfortable. They have now been banished to an unused corner, replaced by my comfy chair that is lovingly worn. The Velveteen Rabbit.
How can we create a happier, more user-friendly environment for the increased hours we are spending at home? It cannot be just about aesthetics but about the feeling it evokes. We know that doesn't fix everything, but it certainly can help. As a Creative Director, my surroundings can make or break me. They matter. I have several professional interior design friends. I admire their sense of style, each one uniquely different. As the walls close in, I've asked them for some advice.
Andrea Jovine has decades of experience in the fashion industry and in interior design and has a magnificent sense of proportion and textural blends. We have spent many hours passionately dissecting style trends, where they come from, and where they are going. Our friends all agree, her dinner parties are gloriously styled, setting tabletops with fabrics and textures, candles in various sizes, fresh produce or flowers cascading along the center- an Instagrammers delight. Andrea can magically transform a room. She offers some quick fixes you can do on your own and also some longer term solutions. "Paint has always been an inexpensive way to change the feeling of a room. It's easy to do and can be a fulfilling activity during these stressful days. Color is a good elevator of moods," she says. "Be brave and pick something uplifting that makes you happy or create a peaceful canvas with a neutral palette."
Reorganizing space and the things you own helps the flow of the house but is also cathartic. What was old is new again- just in a different place. Maybe your library would make the perfect intimate dining room. Rearrange the flow. Get rid of the things that make you uncomfortable, like my erstwhile cowhide chairs. It feels much better. "Take your old photos and create a family art wall to remind you of the joy in your life," Andrea suggests. "Move your artwork around. In doing so, it creates a sense of newness and you begin to appreciate things by seeing them in a new light. We tend not to notice something if it's been in one place too long. Artwork has a way of changing a room better than anything else."
Guess what? Antiques are coming back in style, if they are carefully mixed with the new. Happy colors, wood tones and wall papers, too. Brown is the new black. Chippendale? Time will tell. We've gotten away from the hotel/austere to authentic design that reflects your personality, interests, and the places you have travelled- a storytelling of you, in your home sanctuary. That should make you much more comfortable.
One look at Douglas Graneto and you know he has incredible style. His color combinations and talent for color and pattern collections is breathtaking. With a background in furniture design, he is known for juxtaposing modernism with vintage and individuality. Douglas and his partner, Wear Culvahouse, live in a mid-country contemporary space with walls of glass that bring the outdoors inside. Blending the peacefulness of the outdoors into their home comes naturally to both of them. "Try adding some plants or fresh cut branches from outside. There are some helpful floral arranging tutorials out there to spark creativity," Douglas says. Their irresistible sense of warmth and calm comes naturally to both of them. "There isn't a better time to embrace the Hygge lifestyle; light your favorite scented candle, slip on a pair of cozy slippers and transform your workspace into a special sanctuary." The Danes created Hygge because they need to survive cold, dark days and boredom. By adopting simple rituals into their daily life, it brings a sense of comfort and peacefulness.
Intimidated by design? Don't know how to take the first step? Facetime or Zoom with your favorite decorator. Walk around the room with your tablet and talk with a professional who can offer suggestions. A consultation is usually free and can be a nice way to connect, to see if they are a good fit to work with. It's probably smart to get a jump start now. When they can come into people's houses again, they are all going to be super busy.
Douglas enjoys having an initial conversation with people to understand their goals and dreams and then likes to create a mood board, shared digitally, and discussed on Zoom. "It's a nice way to visualize a room, make adjustments, and manage expectations. After this, the nuts and bolts of putting your room together flows naturally."
Andrea agrees, "With Facetime, Skype and Zoom, I am able to see the space and communicate with my clients. We're used to working remotely with so many clients around the country, around the world. It's not as hard as you think." And the good news is, "Many of my suppliers are offering deep discounts to designers during this time, so there are some great opportunities now."
This is the time to make your house perfect for you, to bring familiarity and calm into your life. You are home. Build the life you love.