May 9, 2020
Joyful Discovery Together… and You Can Too!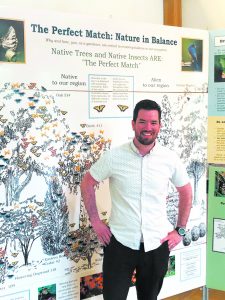 By: Eli Schaffer
"Wookahpoo! Wookahpoo!" My 22-month-old son exclaims. As director of the Greenwich Audubon Center, I must admit I have encouraged an early love for birds in our son, Jude. We have kept our bird feeders filled even though the many year-long residents and spring migrants now have insects to feast on as the plant life of our region roars back to life. We have seen many birds from our back door, and Jude can now identify some by sound alone including "Boo-Jays" (Blue Jays), "Kohs" (Crows) and adorably, "Mac-n-Cheese" (Chickadees.) However, there is one bird that has proved to be his favorite, and that up until a few days ago, we had only seen in a YouTube video – about a thousand times, the Pileated Woodpecker.
The largest woodpecker in America can be instantly recognized by its bright red head feathers and its almost monkey-like call. They use their specially evolved heads – complete with tongues that wrap around their brains – to excavate large nesting cavities, find insects to eat, and to communicate by drumming. For anyone whose siding unfortunately served the purpose of territory or mating drumming, they know all too well, that the Pileated Woodpecker has a powerful peck that can be heard from far away.
As we were taking in the evening bird call chorus recently, we heard the distinctive call followed by a deep drumming on a dead tree nearby and Jude did what he does every time he hears a bird. He stopped, turned his head, put a finger to his cheek and said "What's that noise?" We ran towards the sound and looked up. To his amazement and my joy, he pointed and yelled "Wookahpoo! Wookahpoo!"
I share this story, not only because I hope it makes you smile, but also because it features an activity that you can do alone, with children of any age, from a window, sidewalk or city park and even from your computer as you join us every Wednesday and Saturday morning on the Greenwich Audubon Facebook page for our Dawn Chorus Live program with Bird Education Specialist, Ryan MacLean.
Birding is a fantastic way to bring a little direction and purpose to a nature exploration, wherever you choose to explore from. With instantly recognizable backyard favorites and rare neo-tropical migrants alike, birds offer so much to look at, to talk about and to discover. It won't take long before you begin to notice distinct personalities and signature behaviors. For little learners, see if they can call out the colors they see, or where they are (high up in the sky, on a branch, walking on the ground, etc.) For grade school students, let your imaginations take the lead and try narrating what the birds might be saying to each other. Anyone can participate as a fledgling ornithologists (bird scientists) by recording observations in a nature journal or on the eBird app.
With migration and nesting season here, a great way to round out your birding adventure is to take a conservation action with real and lasting positive impact for the over 200 birds that call Greenwich home for some or all of the year. Check out our website or social media pages for ideas like providing nesting material or crafting your own window decals. As the weather warms and windows open, join us in celebrating the many ways exploring nature can bring us together through joy, adventure and appreciation of our beautiful natural world.