May 8, 2020
Town of Greenwich Successfully Reopens Several Parks, Marinas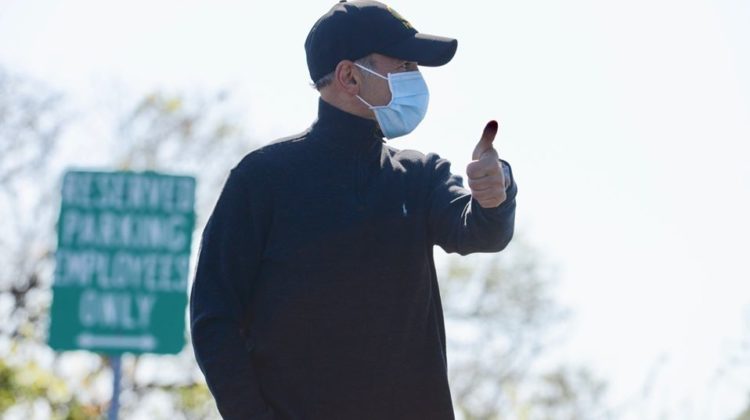 By Richard Kaufman
Sentinel Reporter
The partial reopening of several Greenwich parks and the town's four marinas this week was a success, First Selectman Fred Camillo said on Friday.
"Yesterday went really well. We had very few issues. People were very happy to be out and about," Camillo said.
About 20 cars were lined up to enter Greenwich Point Park at 7 a.m. on Thursday, but the line dissipated and there was a good flow of traffic between cars, bicycles, joggers and walkers throughout the day.
Camillo noted that he has received a few calls with suggestions about the route at Greenwich Point Park, and the idea of putting an officer on a bicycle to patrol the area.
"The best ideas come from the people, and we'll certainly listen," Camillo added. The town plans on posting signs clarifying face mask and distancing guidelines.
Camillo encouraged residents to use the marinas. Byram Shore, Cos Cob, Grass Island & Greenwich Point Marina all reopened on Thursday with no problem.
"We want people out there. We want people to enjoy the Sound, but we want them to make sure they don't congregate together out there and pull their boats up to each other like they'd do in a normal summer, because this is not a normal summer," he said, noting that he's ready to go out on a kayak soon.
Cos Cob Park reopened on Monday, and the Town announced on Friday that the hours of availability there will be extended by one hour to 3:30 p.m., effective May 11.
The last entry to all parks and marinas will be one hour before the posted closing time.
"We have plans to keep extending. This is allowing us to ease into the openings to make sure everything runs smoothly. So far it's going really well and we've had positive feedback from it. Thank you to all our Parks and Recreation monitors, and to the Greenwich Police force for keeping an eye on all of our parks," Camillo said.
More announcements on expanded hours of availability at parks are expected early next week.
Full park and marina guidelines, as well as maps, can be found here.
Update on coronavirus in Greenwich
As of Friday, according to the town Health Department, there are 719 Greenwich residents who have tested positive for COVID-19, up from 710 reported on Wednesday.
Greenwich Hospital is reporting that as of Friday, there are 56 COVID-19 positive patients being treated in several different hospital units. So far, 428 patients have been discharged from the hospital to continue their recuperation at home.
There have been 5,549 people tested at the hospital's outpatient test site, with 1,763 testing positive. These numbers reflect patients who live in Greenwich as well as those from other municipalities in Connecticut and in Westchester County.
The Connecticut Department of Public Health reports that since the coronavirus pandemic began, 42 Greenwich residents have died, as of Thursday. 
Filling Out the Census
Camillo is urging residents to do their part and get counted in the 2020 Census.
"It's critical when it comes to our representation at the state and Congress, and also funding on the local and state level. It's very important," he said.
For people who do not have access to a computer, they can complete the census by calling these numbers: English: 1-844-330-2020/Spanish:1-844-468- 2020/ Chinese (Mandarin) 1-844-391-2020/ Chinese (Cantonese) 1-844-398-2020/Haitian Creole: 1-844-474-2020.
Other resources for residents and businesses and other helpful tips
For residents with questions about COVID-19, please call the Greenwich HealthDepartment's phone lines: 203-622 -7865; 203-622-7703; 203-622-7614; 203-622- 7842 and 203-622-7836.
To reach the Domestic Abuse Services staff at the YWCA, please call the 24/7 hotline at 203-622-0003.
Residents, who need assistance with basic needs, including food, can call the Department of Human Services at 203-622-3800.
Members of the public are encouraged to sign-up for the Town's Emergency AlertNotification System at greenwichct.bbcportal.com/Entry
If you are concerned about an activity or a group not following COVID-19 protocols, please call the Greenwich Police Department's non-emergency phone number: 203-622- 8004.
Don't have a face mask? Many people with COVID-19 are asymptomatic or pre-symptomatic, meaning they can transmit the virus without knowing they have it. Easy to follow instructions to make cloth facial masks can be found here.
Tags:
Covid-19
,
greenwich
,
Greenwich Hospital
,
Greenwich Town Hall
,
Town of Greenwich