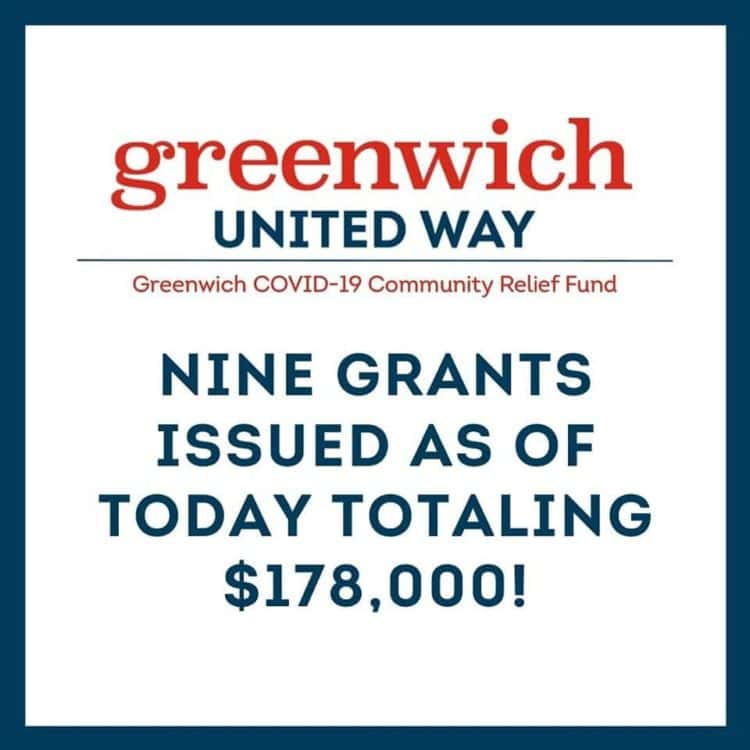 The Greenwich United Way's Greenwich COVID-19 Community Relief Fund surpassed its initial $500,000 goal, thanks to a recent large gift from an anonymous donor. The fund is increasing its target to $600,000 to more thoroughly address the increasing unmet needs in town with the ongoing pandemic and mounting challenges for residents.
"To see how our community has rallied to support their neighbors in need is certainly moving," said David Rabin, CEO of Greenwich United Way. "While our nine grants are hard at work, getting help to those in town who need it most, there is still a lot of work to do. So many Greenwich residents are facing hardships that never could have been foreseen or planned for. This is where the GUW is most qualified and able to step in and address these challenges quickly and effectively. We are currently reviewing an additional seven applications that we will be funding shortly."
The fund supports disaster relief and recovery efforts of non-profit local agencies. Nine grants have been issued so far to the following organizations: Abilis, Greenwich Boys & Girls Club of Greenwich, Filling in the Blanks, Food Rescue US, Jewish Family Services, Kids In Crisis, Meals on Wheels, River House and YWCA of Greenwich.
After kicking off in mid-March with a gift from the Town of Greenwich, the fund has since received almost 300 contributions from individuals and organizations including Dalio Philanthropies and Greenwich Professional Fire Fighters IAFF Local 1042.
Grant applications are still being accepted for non-profit local agencies supporting relevant relief efforts and can be submitted to GUW's Director of Community Impact, Robert Moore at rmoore@greenwichunitedway.org. Donations can be made to the fund here: greenwichunitedway.org/greenwich-covid-19-community-relief-fund