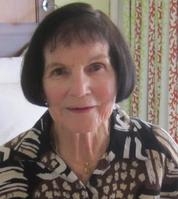 Marion Keegan Neal, age 93, a Greenwich, CT native and Registered Nurse passed away at home on April 16, 2020.
Daughter of the late Francis, Sr., and Alice McCourt Keegan, Marion attended Byram School and graduated from Greenwich High School in 1944. As a member of the Cadet Nursing Corps she graduated from Misericordia Hospital School of Nursing in Manhattan, NY, in 1947, earning her RN degree. She worked for 44 years at United Hospital in Port Chester, NY. After her retirement from nursing, she volunteered in kindergarten at North Mianus School for several years and most recently as a volunteer teaching assistant at Sacred Heart Church Religious Education Program with the First Communion class.
Marion is survived by her daughter, Alice Neal of Greenwich, CT. She is also survived by her brother, Thomas Keegan (Marie) of Murrells Inlet, SC; sister-in-law Marie Keegan of Venice, FL; cousins Marianne Coughlin (Dr. Robert Davis, MD) of New York, NY; and Dr. Jim Coughlin (Dr. Mary Quinn) of Carmel, NY; and several nieces and nephews.
She was predeceased by her parents and brothers Paul Keegan, Sr., James Keegan, and Frank Keegan, Jr.
Marion will always be cherished and remembered as a gentle (yet very strong), loving, faith-filled, kind woman with a great sense of humor. She taught beautiful life lessons to her family and friends by the way she lived her life. Marion was humble and always worried about others rather than herself. A child of the Depression she valued empathy, a strong work ethic, loyalty, honesty and compassion. Marion was known as a great listener and observer, which made her such a great nurse, mother and friend. She dealt with her illnesses for so many years and always did so with such grace and dignity, minimizing that anything was even wrong. She greatly loved her daughter, her brothers and families, her friends, her church, her home and her canine companion.
The family would like to thank Dr. Dickerman Hollister, MD and Dr. Franklin Loria, MD and their wonderful staff for their outstanding care and extraordinary compassionate throughout the years.
Due to the current pandemic situation, a graveside service was held for family on Monday, April 20 at St. Mary's Cemetery in Rye Brook, NY. A Memorial Funeral Mass will be scheduled at a later date at Sacred Heart Church in Greenwich.
In lieu of flowers memorial contributions can be made to Sacred Heart Church, 95A Henry Street, Greenwich, CT 06830.