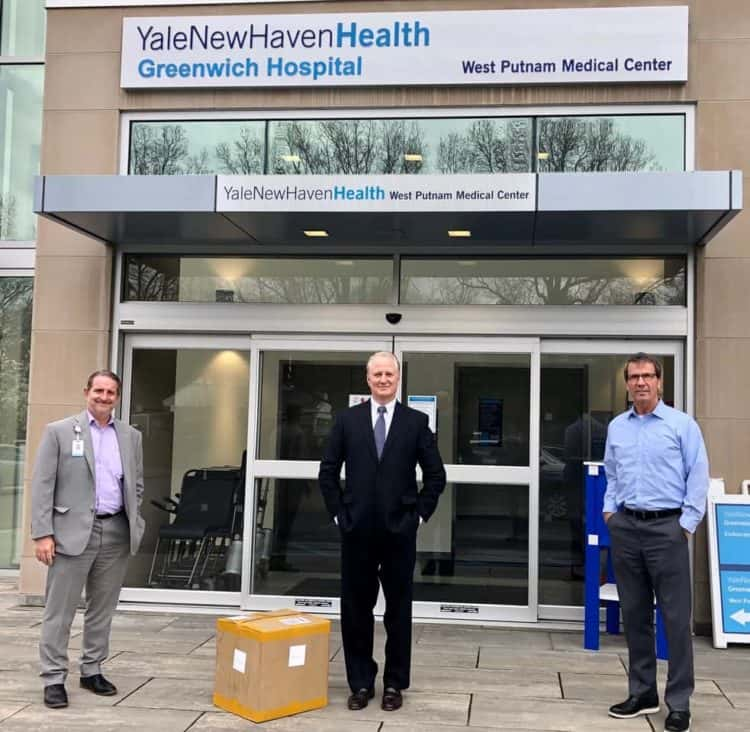 Through their relationship with the Greenwich United Way, Greenwich residents Michelle and Laurence Allen have donated two oxygen generators to the Greenwich Hospital for use in surge areas where liquid oxygen is not available.
Because of their portability, they can also be sent home with patients who otherwise would not have access to oxygen. The oxygen generators (also known as concentrators) provide 30- 93% oxygen purity, enabling the treatment of COVID-19 patients with milder symptoms, freeing up increasingly limited ICU space for patients requiring critical care.
"After losing our son to opioids, our family became more sensitive to and proactive about health issues. In 2016, we started the Allen Research Endowment with the mission of helping develop and provide access to new medical technologies," said Laurence Allen. "Upon learning about the spread of COVID-19 in January, we felt it had the potential to be a serious respiratory virus. We believe getting oxygen to inflamed lungs is critical to prevent respiratory failure and cardiac arrest, which result from a lack of oxygen in the lungs or bloodstream. We preemptively acquired oxygen generators and other equipment for use by our employees and to donate to hospitals. It's a privilege to help Greenwich Hospital care for patients."
"I continue to be impressed with the people of Greenwich and their commitment to helping neighbors in their time of need," said David Rabin, CEO of Greenwich United Way. "During crises like these, the importance of our work is even more significant as we are the one organization in town able to bring together Greenwich's many resources available to address the various unmet, unforeseen needs. It is an honor to make the connection between the Allen Family and Greenwich Hospital."
"We are so appreciative of the Allens' generous donation," said Norman Roth, president and CEO of Greenwich Hospital. "During these unprecedented times, we are in awe of the generosity of the community and so grateful for all the support. Equipment like this can truly impact patient care."
The Allens have lived in Greenwich for more than 20 years. Mrs. Allen is the regent for the Greenwich chapter of the Daughters of the American Revolution and Mr. Allen is the Managing Member of NYPPEX, a marketplace providing access to secondary market liquidity for interests in private equity funds.
To learn more about the Allen Research Endowment, visit allenrsch.org